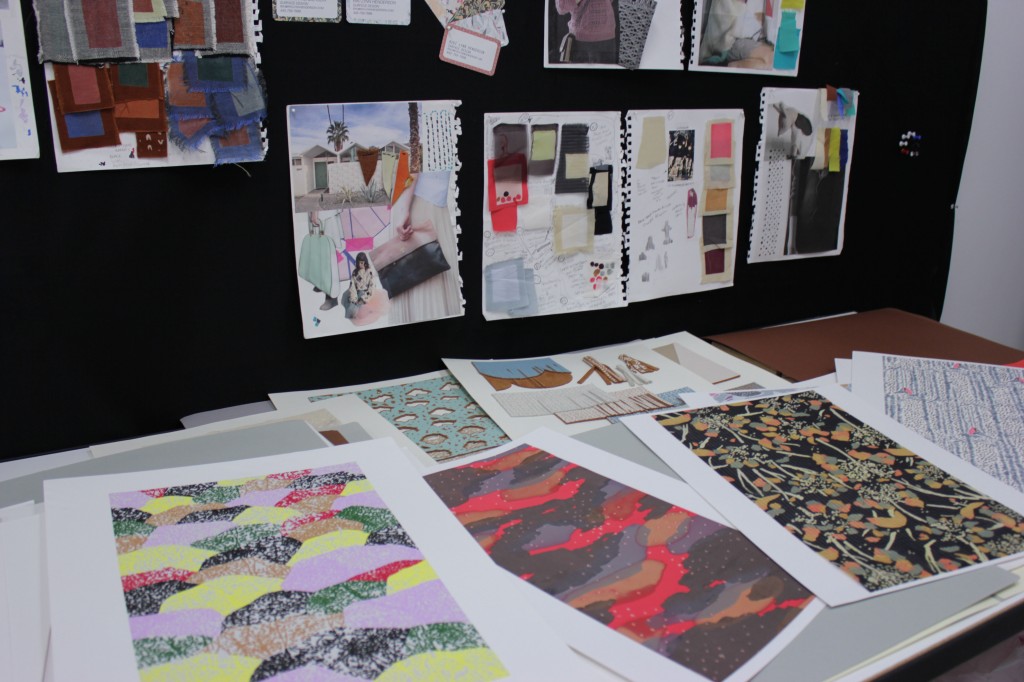 Our latest Student Spotlight features Riki Lynn Henderson, an MFA Textile Design student who recently completed her thesis project. Riki's multi-faceted print collections include a broad range of materials and motifs, ranging from leathers and silks to flowers and rocks. We caught up with Riki to talk about her road to the textile lab, her amazing final work, and her post-graduate plans!
Have you always loved fashion?
I have always been interested in fabric and sewing and making things with my hands. That was what we did for fun as kids. I collected wallpaper samples and stationary, and made tiny things out of fabric scraps. I've always loved pattern and decoration, and have been sewing since before it was probably safe for me to be operating a sewing machine.
Why did you decide to study textile design?
Having completed my BFA in Fashion Design, I decided that textiles and print design was something on which I wanted to further concentrate. I am interested in pattern and materiality more than innovative design. For me, textile design just seems to fit with my artistic aesthetic, that has sort of been with me since I was a kid.
What were the most valuable things you learned both in and out of the classroom?
One of the most valuable things I learned during my time in the grad program was to think big and follow through. Instead of assuming I couldn't do or finish something, I just had to learn to go for it and use every resource I could to make it happen. I learned to trust in my acquired skills, as well as become comfortable with my personal aesthetic and shape it appropriately for a variety of markets. I think most importantly I learned the value of keeping a very lively sketchbook and documenting all of my visual inspiration, thoughts and process. This is a big part of my creative process, and is where I personally feel the most accomplished. This way of working is what really led me to develop my aesthetic.
[justified_image_grid row_height=300 height_deviation=50 ids="21921,21920,21923″]

Can you tell us about your final project?
My final project consists of 9 collections, completed during the last half of my time at the Academy. It is very colorful and illustrative and ranges in materiality from leather, to sheer, printed silks, to mixed media pieces made with layers of wax. Each collection tells a different type of story for a different market, but they are still very cohesive.
If you could design textiles for anyone or anything, who or what would it be?
If I could design textiles for anyone it would be for Miuccia Prada. Really, I would love to design for anyone who uses fabric, pattern, and color to tell a story: Marni, Christopher Kane, a lot of other British designers. or anything, who or what would it be?
What are your post-graduation plans?
I was very lucky to secure a job before school ended. I've started working as full-time Textile Designer for Camilla Olson here in the Bay Area. My job consists of everything from keeping the textile studio running, to sourcing materials, designing and printing yardage, and innovating our company's print process. We print our designs using metal; it's a chemical reaction with the fabric. It's a lot of work, and very dirty and physical at times, but I love the process and being in the studio. It's the perfect job I had imagined, but didn't think I would actually find so quickly.
[justified_image_grid row_height=300 height_deviation=50 ids="21930,21931,21929,21928,21926,21924,21927,21907,21915,21914,21925,21922,21919,21910,21918,21908,21917,21909,21916,21913,21906,21912,21911″]

Check out more of Riki's work on her website!
For more Student Spotlights, click here.