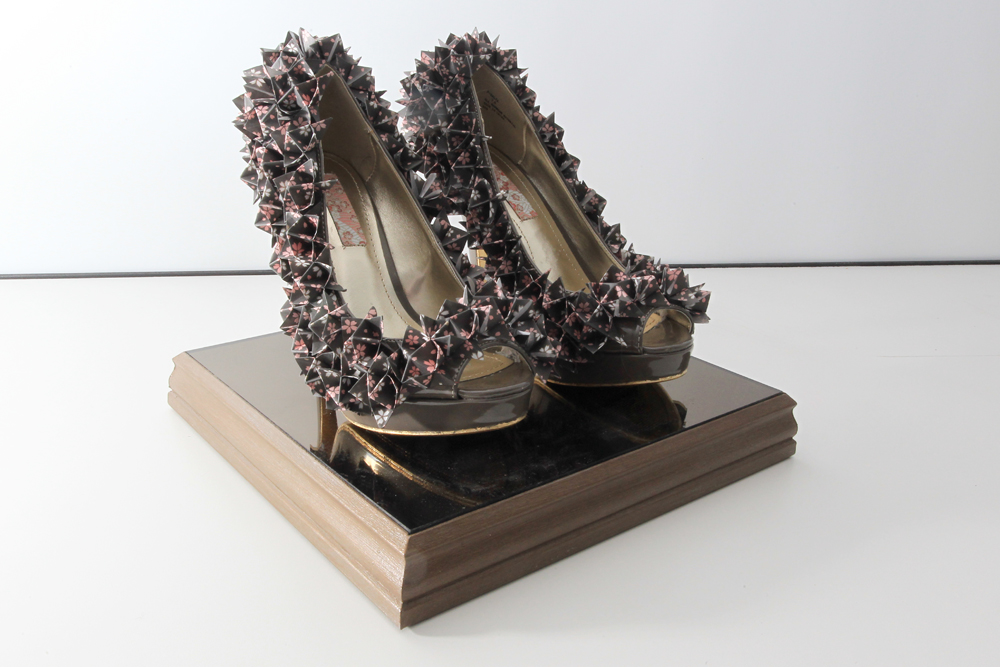 Brown & pink origami shoes by Gina C.W. Chou.
Tomorrow's "In Our Shoes" charity event features one-of a kind art pieces designed by Academy of Art University fashion students to be auctioned in support of Art for Recovery.  Repurposed shoes are the foundation for these unique works which represent the altered lives of those living with cancer.  The Ernest H. Rosenbaum M.D. Art For Recovery program at the UCSF Helen Diller Family Comprehensive Cancer Center provides a healing community where adults can artistically express the intense feelings that arise when battling life-threatening illnesses.
University  students worked on the shoes in a Visual Merchandising Reclaimed Objects class taught by instructor Judith Zimrin.  The students who participated in the project include Tao Chen, Gina CW Chou, Lorraine Etchell, Simon Huang, Ariana Lum, Julie Martin, Nuttakarn Siriwatna, and Jazmin White.
Where: MatrixFillmore, 3138 Fillmore Street
When: Wednesday, February 27th from 6:00 PM – 9:00 PM
Tickets start at $75 and are available for purchase here.
[justified_image_grid row_height=200 height_deviation=25 ids="21945,21946,21947,21948, 21950,21951,21952,21953,21954,21955″]