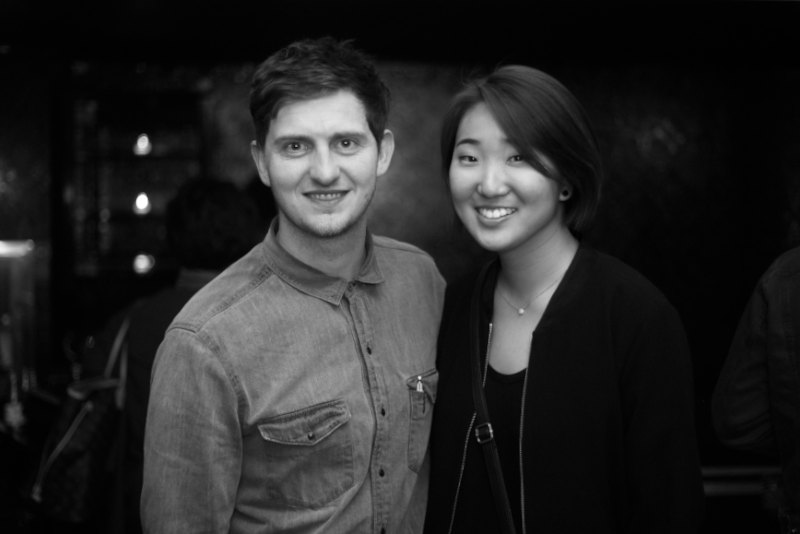 Winner of the Joe's Blackbook Scholarship for Men's Wear, Jesse Rhoads (left), and finalist, Esther Shim, at the reception for the 2013 competition in New York. Photo courtesy of Ryan Scott.
Last week, the ACE Hotel in New York hosted the final round judging for student designs submitted for the annual Joe's Blackbook Design Competition. Juniors from the top design schools in the country compete every year for the invaluable opportunity to present their projects to industry employers and the ultimate first prize: a $10,000 scholarship. Judges include executives from The Gap, Burkman Brothers, Donna Karan, Rag + Bone, Daryl K and Kate Spade to name a few. This year, Fashion School Daily is thrilled to announce that Men's Wear Design student Esther Shim was selected as one of the six finalists in the competition, and Men's Wear & Knitwear Design student Jesse Rhoads was awarded the 2013 Joe's Blackbook Scholarship for Men's Wear. We caught up with Esther and Jesse, newly returned from New York, to congratulate the designers and talk Blackbook in the Big Apple.
Tell me about what inspired the design projects you submitted for consideration.
JR: The concept for this project began with the idea of reinterpreting classic nautical. Early research into well-worn fisherman sweaters from the late 1800's led me on a search to find unique ways to treat knits and provide them with durable finishes. These finishes allowed me to incorporate up-cycled knits into the collection, using surplus military sweaters to create accessories such as a convertible backpack/shoulder bag and a molded knit hat, as well as carrying over into the design of my outerwear. The fusion of classic and innovative, new and used, sumptuous and rugged, and country and city are the essence of the garments.
ES: My inspiration comes from being intrigued by the attitude and emotion expressed in the lifestyle of skate culture. Not taking a literal translation of the lifestyle, but the spirit of each individual engulfed in it. Their unique, off-kilter, style compared to the societal norm.  A great reference that helped my thought process was watching the "Dogtown and Z-Boys" (2001) documentary. I wanted a collection that represented the quality of being domestically produced, and had a dressed up but still sporty, casual, essence to each look.
[justified_image_grid row_height=300 height_deviation=50 ids="23127,23128″]
Inspiration boards by Jesse Rhoads (left) and Esther Shim.
What was the hardest part about creating your collection? 
ES: Probably having everything down to the littlest detail be cohesive. I stitched and restitched all of the contents of the pages down on canvas, image by image. I wanted to illustrate the vision of a collection in a way where there needs no explanation, just a lot of attention to the details. Dedicating yourself to execute this successfully really helps you improve and gain understanding from those looking at your project.
What did you when you found out you had been selected as a finalist?
JR: I called my Mom and Dad. Exactly what you do when you hear amazing news.
ES: When I got the phone call, I didn't believe what was going on. The first thing that popped into my head was how many people I have to thank for this opportunity. So many who made this possible. I wanted to call Simon Ungless, John Bauernfeind my instructor, my family, everyone!
Who were the judges you presented to?
JR: Final Round judges included Doug & Ben Burkman (Burkman Bros), Tim Coppens (CFDA nominee for Men's Wear 2013), Stefan Miljanic (Gilded Age), and Tony Kretten (Gap). 
ES: They all took time out of their busy schedules to listen to three men's wear students present their work. They asked tough questions, and gave feedback from a professional standpoint. It was great to have that insight, and to be able to meet them all afterwards at the reception.
Jesse, how did it feel when you were told you had been chosen as the winner of this year's competition?
JR: I felt shocked and honored. The two other finalists were extremely talented and submitted beautiful work, including Esther. The opportunity to present my work to such an amazing panel of judges, and to then be chosen by them, was a surreal experience.
[justified_image_grid row_height=300 height_deviation=50 ids="23151,23152″]
Competition design lineups by Jesse Rhoads (left) and Esther Shim.
What was your favorite part of being in New York?
ES: The best part about being in New York would have to be just being amidst the hustle and bustle of the city that never sleeps. The flagship stores on every street and all the corporate buildings in walking distance from each other! I loved just being able to have a glimpse of such a thriving, famous city in the duration of my short stay. I met amazing people and couldn't have experienced it any better than the way I did.
JR: People watching. It's always intriguing to visit different neighborhoods in the city and observe what's happening on the streets. It's a place where you can see a bit of the best and the worst all in one sitting.
 Congratulations to Jesse Rhoads and Esther Shim. To learn more about the Joe's Blackbook Design Competition, click here.