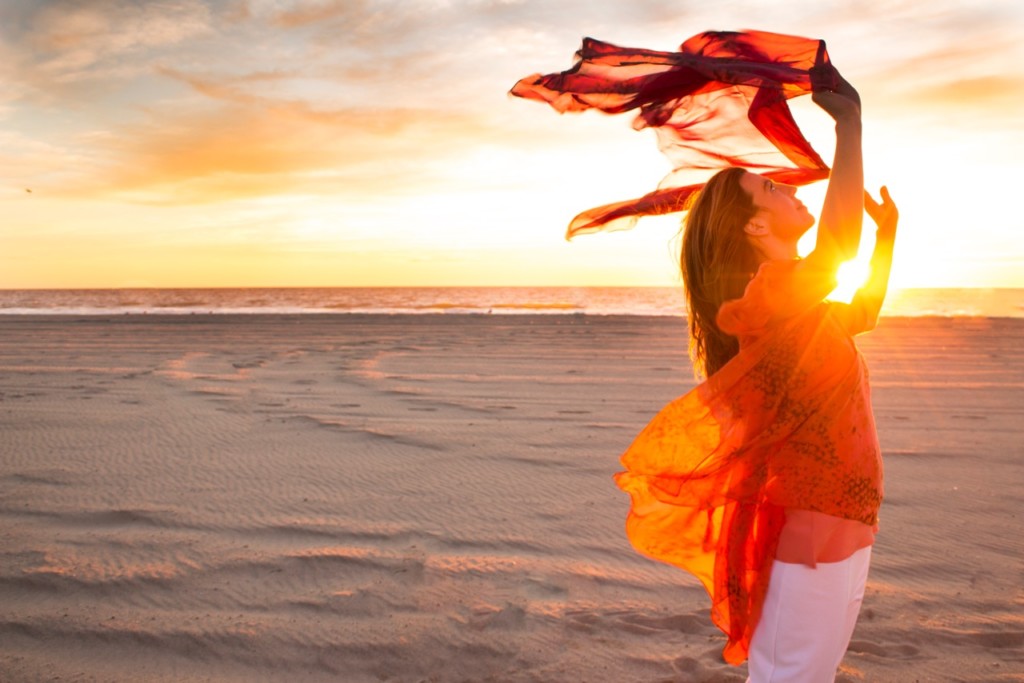 Actress Tanna Frederick for Camilla Olson, Spring 2013. Photo courtesy of Camilla Olson.
Mercedes-Benz Fashion Week Spring 2011 was only the beginning for Fashion & Textile Design Alumna Camilla Olson. Over the last two years, the life sciences entrepreneur turned textile design maven has seen her looks everywhere from Bay Area boutiques to Hollywood red carpets. Camilla sat down with us to talk about what it's been like building a brand from her NorCal studio, the inspiration for her Spring 2013 collection, and how the impact of her designs extends beyond the runway.
January marked the anniversary of the launch of your namesake collection? What have the last two years been like?
As an experienced entrepreneur, I thought I was well prepared to launch a label designing for women. Due to economic challenges and changes in an intensely competitive market, finding our right place has not been a straight line. The past two years have been about questioning, listening, and researching.  We've always had our core strength, but now I believe we are ready to exploit our advantage. Keeping us strong and moving us forward are a great group of clients, both direct and wholesale, as well as wonderful relationships with several celebrities and corporate partners who have been critical to our success.
Your designs have been worn everywhere from Red Carpets to the White House. Any favorite moments of seeing your pieces in the spotlight?
We love seeing our designs walking the streets of Palo Alto, just as we love seeing celebrities wear them walking the carpet. We're thrilled to know they are being worn in places of distinction. We were so fortunate to develop a relationship with Betsy Franco, author, actor and famous mom [son is Golden Globe Winner and Academy Award nominee, James Franco]. Seeing her on the Oscar red carpet and in People Magazine in our designs keep us smiling.  We've also been blessed with a strong relationship with actress Tanna Frederick, who is both a company friend and serves as the face of our brand. All of these are relationships I never planned or sought out, but they have been significantly important.
What has it been like building a fashion brand in the Bay Area?
Since this is the only place I have tried to build a fashion brand, I have to say it's been fun. Our fashion and textile design studios are in Silicon Valley, so we are influenced by technology and look for ways to  take advantage of our surroundings. We've created amazing relationships with organizations here such the Four Seasons Hotel Silicon Valley, Women's Health Stanford, and Tiffany & Co. and Gleim Jewelers, among others.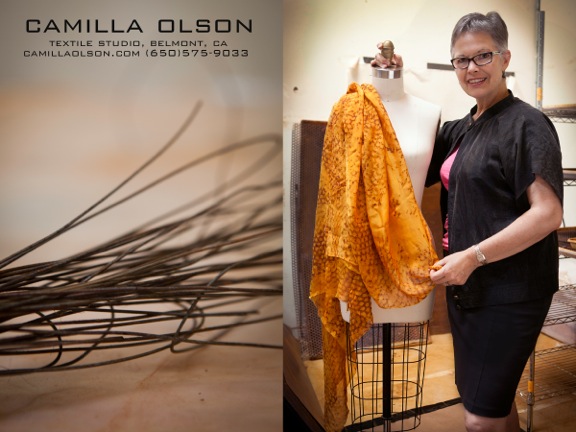 Photo courtesy of Camilla Olson.
What inspired your Spring 2013 collection?
Music was our inspiration for Spring 2013. We looked at sheet music, historical and modern instruments, speakers, clothing worn by musicians, and notable music houses.
Tell me about your involvement with Project Save our Surf (PSOS)?
In addition to being the face of our brand, Tanna Frederick is co-founder of PSOS [a non-profit organization dedicated to the conservation of our oceans, freshwater and marine life] and we have done two fundraisers to support the project. This past October our fall collection was part of an eco-fashion show in Santa Monica, and last month we held a trunk show there with half of the proceeds going to PSOS. We also have donated our remaining samples from 2012 to the organization.
What are you currently obsessed with? 
Please don't ask that!  I am so obsessed with wanting to make short videos. I wish I had more time to make them. Tanna and I are in the process of planning a few. Look out for them in a month or so.
Camilla Olson's Spring 2013 Collection trunk show will be going at Leaf & Petal in Palo Alto from April 11th-14th. To shop more of Camilla Olson's designs, click here.