Our final Discarded to Divine Jury Award Winner is Zonic Kwong – who took home the prize in the Men's Clothing and Accessories category!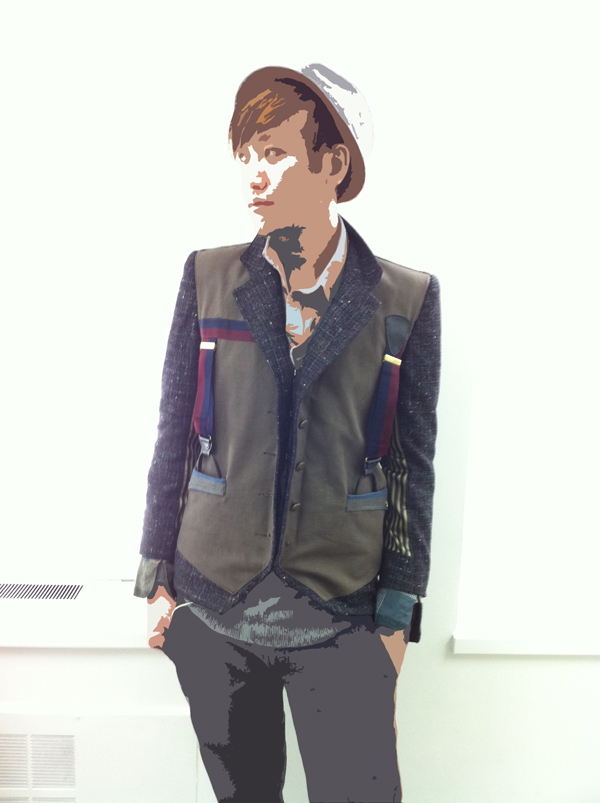 Zonic Kwong's men's wear jacket, "Made In America".
Name: Zonic Kwong
Major: Menswear Fashion Design
Hometown: Hong Kong
What materials did you use and was it easy to work with them?
My design was made with a combination of five discarded items. It includes a medium weight tweed wool jacket, flannel/brushed cotton button up shirt, a striped cotton poplin shirt, a vest and a suspender with leather back patch. The fabrics are mostly medium weight, so they were pretty stable to work with – expect for some of the seam areas when the fabrics are stacked and sewn together, they needed a little extra attention.
What inspired your design?
My inspiration was first sparked by Anti-Mass from Michael Daigian Design installation at the de Young Museum. It is a beautiful art piece that contains a combination several pieces of burnt wood from a church floating in the air. I just couldn't take my eyes away from it and it put me into a deep thought. I was thinking just how amazing it can be to use things that people see as rubbish and transform them into a beautiful art piece. This also carries out the idea of the Discarded to Divine concept. So I started my research on the the word fractured because of the broken pieces of woods, and I thought about how Michael Daigian transformed these burnt pieces of wood that others see as rubbish into something beautiful and amazing, and who else in real life can take fractured pieces and put them back together?
So my main inspiration came from the detective hero that we see in old time movies. Detectives saw the consquences of an event, and they are able to tell you the reason for it, by tracing back how everything was connected at the first place and how things happen in a sequence. It is just like solving a fractured puzzle by putting everything together to create a beautiful picture. Therefore, this project was based on the old time detectives style; London, late Victorian to early 19th century period when men like to wear their shirt collars standing up. The jacket incorporated this idea; it is supposed to be worn with the collar standing up. Hook and eye was used in the center front closure, so after the front is buttoned up, it'll show a smooth way down with the standing collar. Moreover, as the front was close, people can still see the style on the sides.
Follow the jump to read more!
What was the most challenging aspect of the project?
The most challenging aspect of the project for me is to connect the pockets of the outer layer (the vest) to the tweed jacket's pocket, so it become a double pocket. It was hard because I really like the original lining fabric of the vest, and I want to reserve the fabric, so with limited fabric to use, I really had to spend some time to figure out the construction of it.
What was your reaction when you found out you'd won the Jury Award?
When I first received an email that notify me as one of the winner, I had to read it twice to make sure it was real. I was so excited! It meant so much to me when after spending so much time and work on a project, that people out there think it is good. In addition, I am very honored to have this opportunity to be able to help people that are in need and this is also what I'm looking forward about the Gala & Auction – to have more young designers to know about this event and to participate in this meaningful charity. As designers, we are creators, so I think it will be very meaningful to help people to create a better life.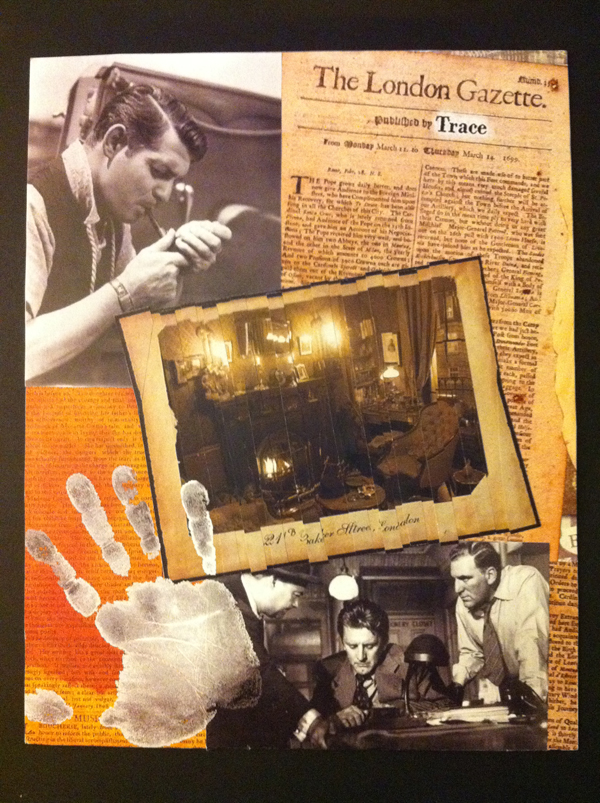 Zonic's moodboard.
To learn more about Discarded to Divine, or to buy tickets to the gala, click here.