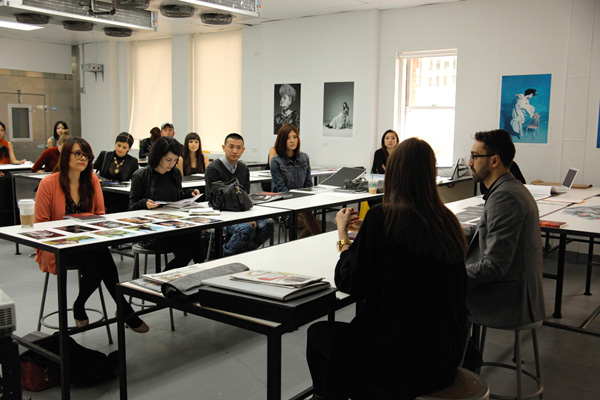 Jayne Seward and Stephan Rabimov speak to styling students. Photo Courtesy of Randy Brooke.
In addition to our amazing Guests of Honor, we had several other guests visit the School of Fashion for the Graduation Fashion Show and Awards Ceremony, including Stephan Rabimov and Jayne Seward. Stephan is the editor-in-chief of DEPESHA, a Russian culture magazine at the intersection of fashion, art, literature, and modernity. Jayne is currently the fashion editor at California Apparel News, has also written for STYLE.COM, BritishVogue.com, and Surface, and has extensive experience styling celebrity clients, films, and television shows.
On Thursday, May 3rd, Stephan and Jayne visited Flore Morton's styling class, and spoke to students about the industry, offering some sage advice gleaned from their years of experience. Jayne discussed her beginnings as a stylist, and stressed the importance of interning and gaining as much experience as you can. She also talked about commercial styling, which isn't always a career goal, but can be extremely important if you're trying to earn a living.
Follow the jump to read more!
Stephan talked to students from the point-of-view of an editor. He emphasized the need for stylists to really know and understand the particular publication that they are pitching to – you have to be familiar with their audience and what they want to see. Both Stephan and Jayne took the time to look at each of the students' portfolios. Stephan even went over the lay out of each students book – giving feedback on which images should be included, which should be left out, and the order that best displayed their work and range.
Thank you to Stephan and Jayne for taking the time to talk with our students – your advice is invaluable!
[imagebrowser id=3]