If you need to know the five top summer trends, you need to look no further than the advice from the fashion oracle, Simon Doonan.
Last week, in his column for Slate titled "Attack of the $39,000 Backpack," he lists some of the best (some offbeat, some not) trends for the summer — the first being an interesting kind of footwear: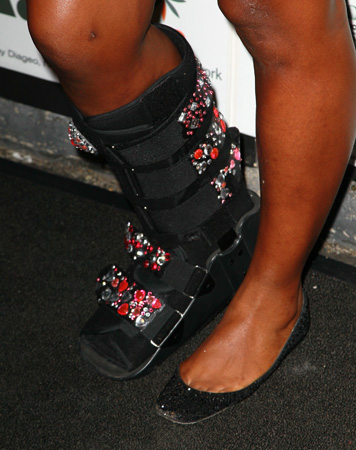 Yes, it's the infamous "iron boot." Here's what Mr. Doonan had to say:
Every time I leave my house I encounter a glamorous chippie hobbling down the street with a broken foot encased on one of these massively unwieldy, high-tech orthopedic gladiatorial thingies. I have started to count them, and am averaging five per day.
New York isn't the only city with the ongoing iron boot trend. It you look around San Francisco, you are sure to spot one or two of these by just walking a couple of blocks.
Other trends that have caught Mr. Doonan's eye are: 1.) the Breton sailor top, 2.) tattered Daisy Duke short shorts, 3.) man shorts at the office, and 4.) the backpack.
Of course, we think the iron boot is the most important.
To read his full dissertation on these trends read his column in its entirety at Slate.com.