San Francisco was home again this year to the second annual Silicon Valley Fashion Week?! And yes, the punctuation marks are intentional.
That's because this three-day event, which took place Thursday, Oct. 20, through Saturday, Oct. 22. was like no other fashion show. They might not have shown the most stylish trends – at least not the ones you're used to seeing on the runway –  and Anna Wintour was not sitting in the front row. But you could see the latest creative innovations from wearable tech, the "maker" movement, the crowdfunding community, and Burning Man – some even presented by drone models!
The host, Betabrand, is an online retailer based in San Francisco famous for products like "dress pants yoga pants" and "bike-to-work wear." This year, Zappos, a Las Vegas e-commerce acquired by Amazon.com, sponsored the event, which was held at Gantry, a new venue situated between Twitter and UBER headquarters at 1425 Market Street. Tickets, priced at $20, were reportedly sold out on the first day.
SVFW?! questioned the very meaning of fashion.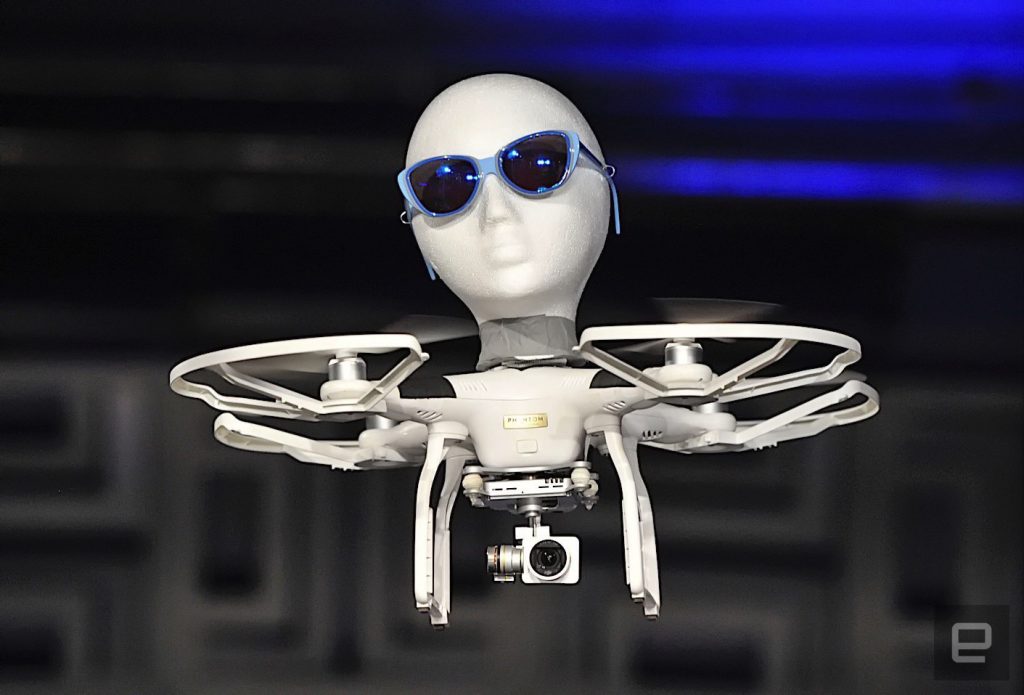 "You shouldn't be adapting yourself to the outfit that you are wearing. It's the outfit that should adapt to the lifestyle that you have," said Jess from Horvath Clothing while demonstrating a "non-spill'' dress that does not stain if liquids are accidentally dropped on it. Her demo made this the only fashion show where guests could see crews mopping the floor as Vitamin Water was thrown at her on the runway.
On the final night, master of ceremonies Mustafa Khan sported a catchy red metallic top with a high-stand collar and furry ombre monster pants.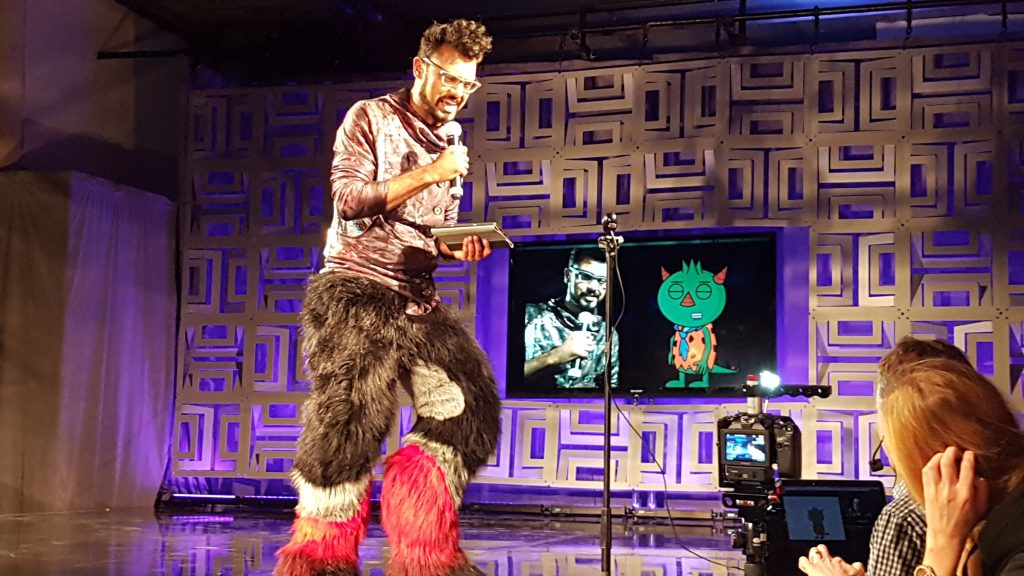 Many attendees arrived in fun outfits: lit up Chinese lanterns, a sailor costume, someone dressed as a CIA agent, fighter masks and theatrical LED-lit clothing.
And let's not forget fashionistas dressed to the nines, like New York City artist and designer Heidi Lee. She caught the audience's attention with her Swarovski-covered "Endless Echo Hat," created by a 3-D printer from a scan of her face.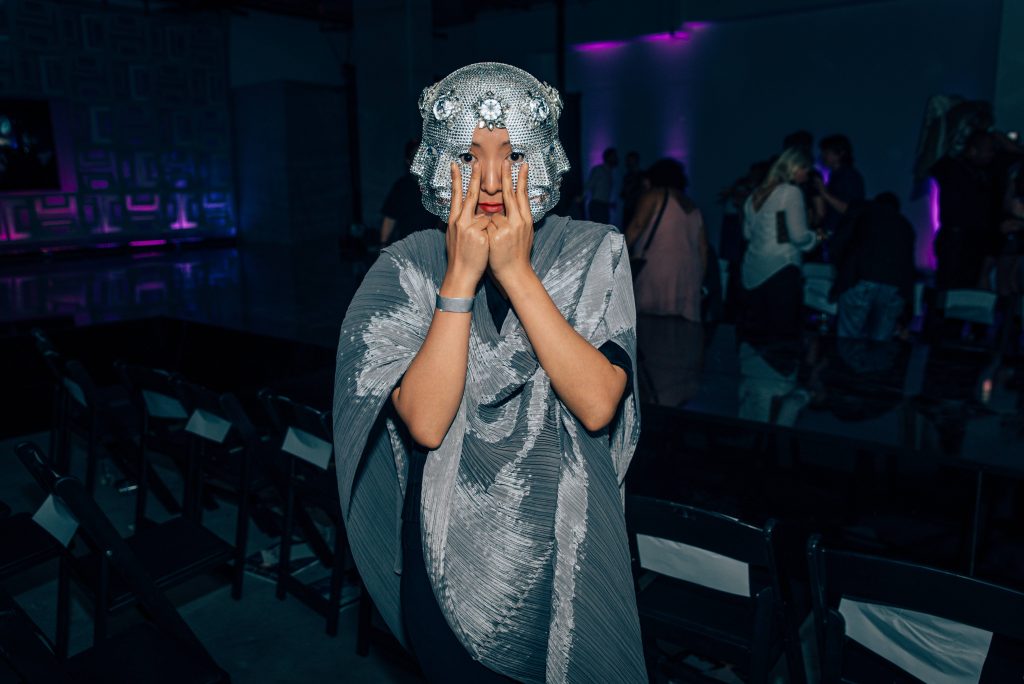 The Bay Area's goal of integrating technology and fashion is a lot more than just Google Glass and Apple Watch.
SVFW?! was all about innovation and potential. It was part fashion, part variety and part trade show, with an estimated thirty designers and tech companies like Pebble Smartwatch and Adobe unveiling new products and looks.
Some outfits were costumey, including laser cut acrylic dragonfly wings, an Edwardian ball gown made out of the San Francisco Examiner and Bay Guardian newspapers and a "pixeldelic" vest, and boots. However, it was the wearables that stole the show.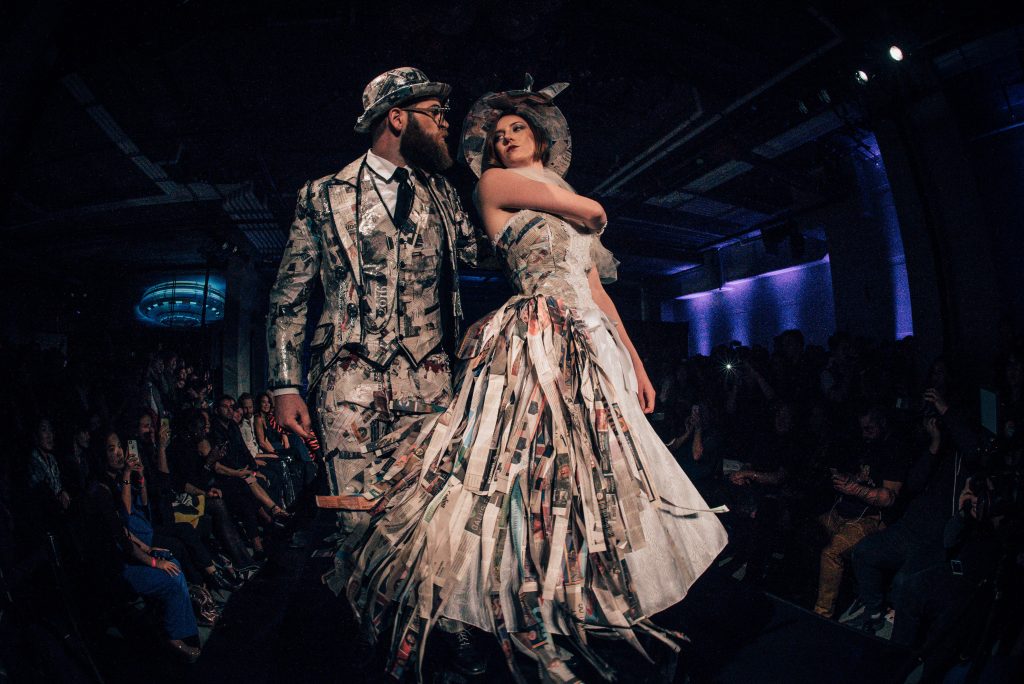 We saw many familiar Academy of Art University fashion students, who were volunteering for and attending the event. But for those who missed the action, here are some highlights: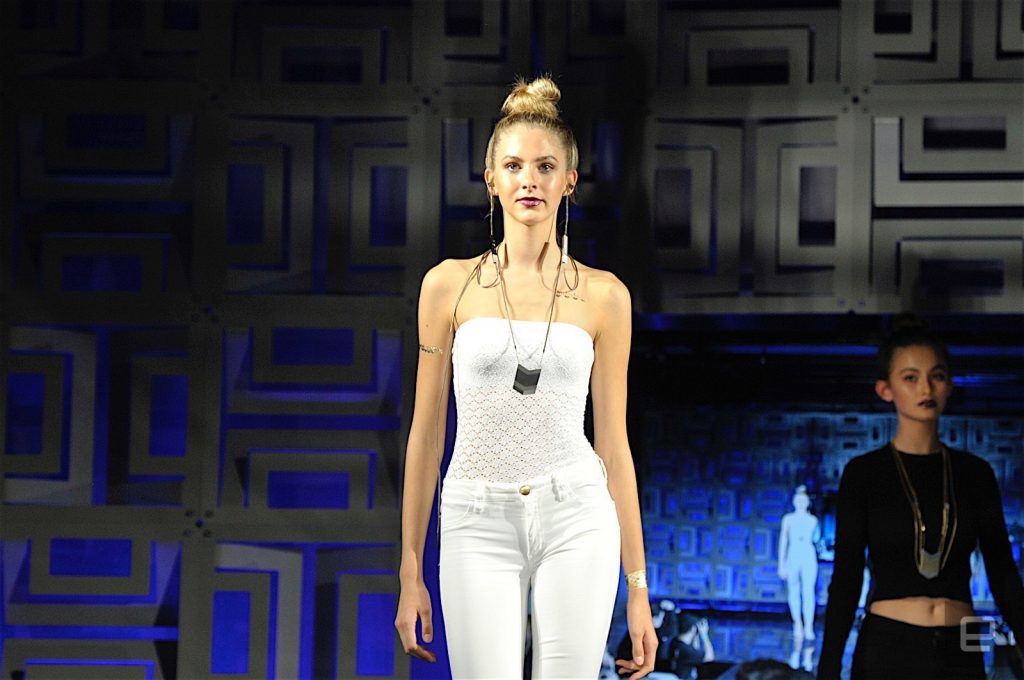 Tinsel was founded by Aniyia Williams and Monia Santinello in 2014 with a goal of creating stylish yet functional products for women.
The Dipper is a chevron-shaped necklace that also functions as a headphone, using a regular 3.5mm audio connector, a three-button remote, and a microphone. It is made almost entirely of metals: stainless steel chains plated with gold, gunmetal, and silver. Currently, the product is sold out, but you can join the waitlist to purchase the elegant earbud jewelry for $199.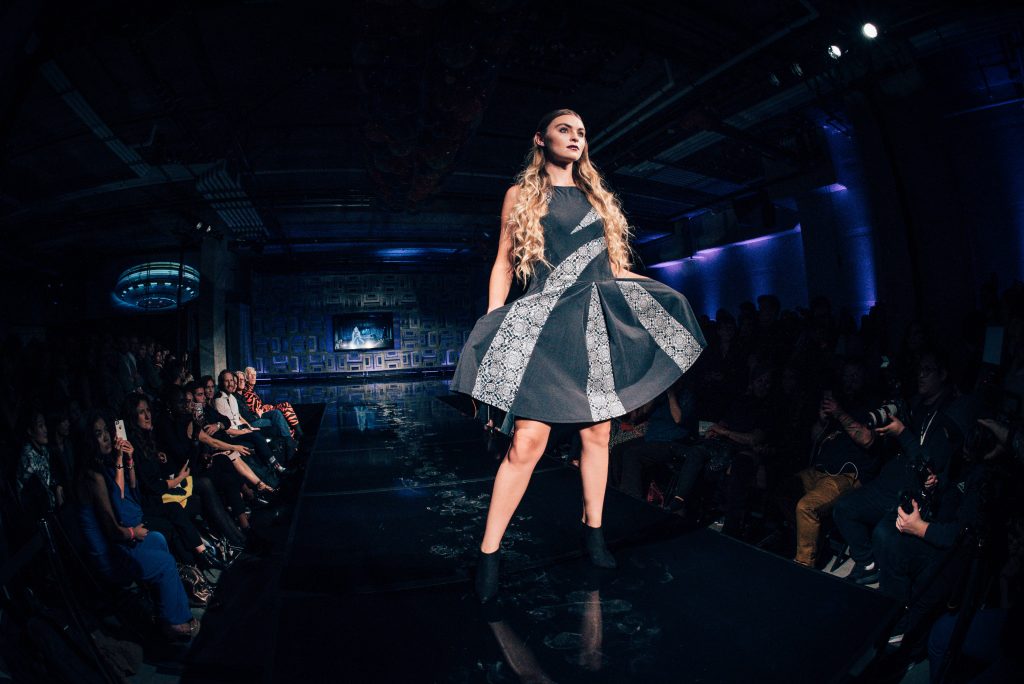 This dress has geometric-print panels made of 3M™ Scotchlite™ reflective material with millions of tiny glass beads.
"The 3M dress is showing another dimension of what's possible with reflective fabric," said Chris Lindland, Betabrand founder and CEO. You can get the dress from the Betabrand website for $178.
Switch Embassy's Programmable LED Apparel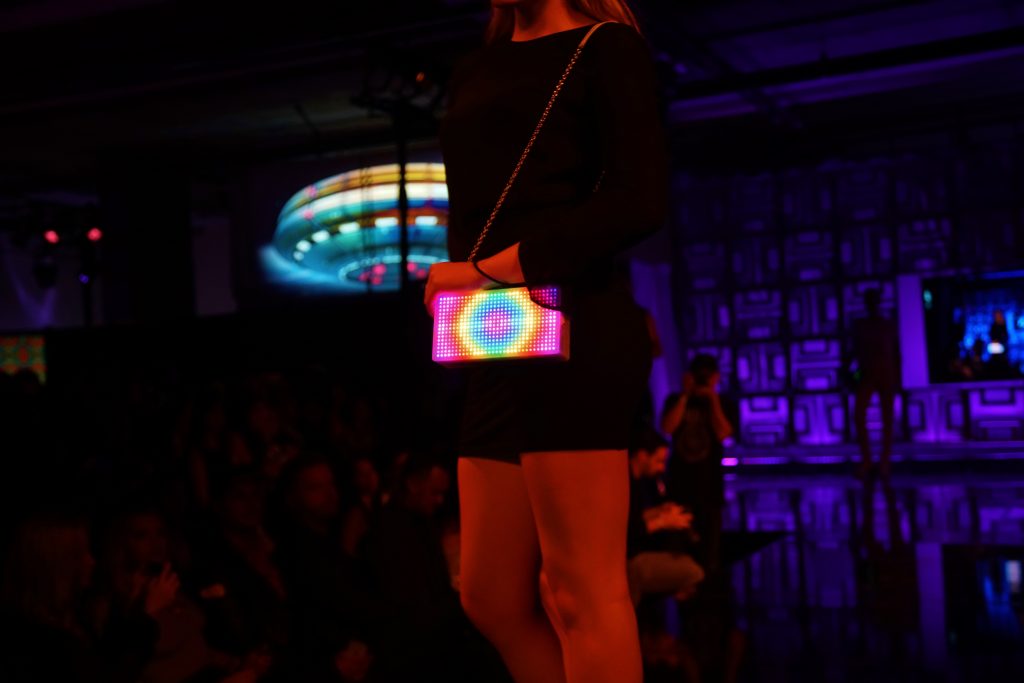 Switch Embassy CEO and Creative Director Alison Lewis specializes in design and technology. The company focuses on fashion technology with cutting edge smart fabrics.
Switch Embassy presented illuminated clutches, tshirtOS, and Geometry Darling handbags. They consist of LED bulbs that can be programmed with an app to create multiple words and animations.  She also showed a dress with lights that moved in sync with your heartbeat.
"There's a place for kitschiness and fun," Lewis told the New York Times. "We could have less clothing in our closets and have pieces that change and work with our moods and personalities on a daily basis. Technology is a tool. It's how we use it that's really exciting.

Boho Coats was founded by Katrina Ponina, who was inspired by her first Burning Man trip in 2009. "Like most of the people here, I had a nice job in a tech company," said Ponina. "In 2016 I quit my job and went to school to study fashion."
Boho Coats represents the soul of San Francisco. Their reversible bohemian coats are handmade locally, using faux fur for those who are animal friendly and fed up with the mass produced items. One of its chief selling points is customization, which is trending in fashion. For SVFW, Ponina specially made coats using fiber optics, total control lighting, LED lights, and L-wire.

It was the Bloom Bra's debut on the SVFW runway. As Elise Kaye, founder and CEO, explained her creation to the audience:  "There is nothing out there for well-endowed women. And believe it or not, the average bra size has grown from 34 B to 34 DD. When I started talking with more and more women, this was a challenge."
Bloom Bras creates one of the world's first fully adjustable bras. The patented design was developed by celebrity corset designer Camilla Huey, whose work has been worn by the likes of Oprah Winfrey, Wendy Williams, and Katy Perry.
With a lifting strap, cup adjuster, breathable mesh back front opening, and divot control, women can say goodbye to the awful underwire. It fits all body types and is comfortable for all activity.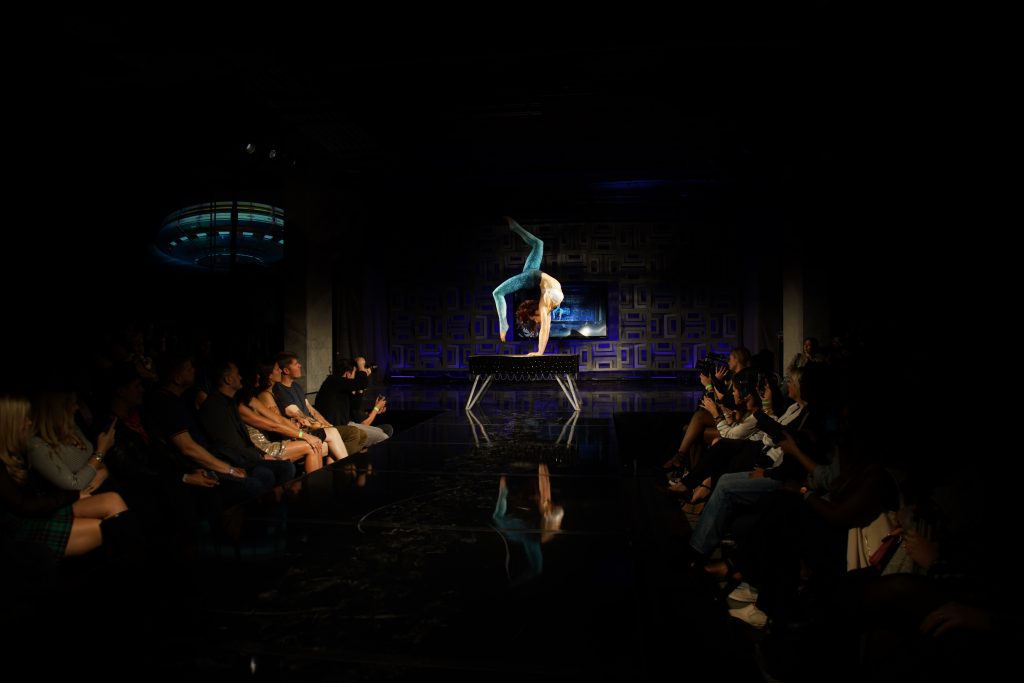 One thing for sure: SVFW?! was a lot of fun, and definitely entertaining. There were models (real people, drones, and a llama) dancing on the runway, balloons, booze, latest dance numbers, a hula hoop show, acrobatic performance by Paradizo, Zappo's human claw life-sized claw machine, and Black Light Visual's arm dip body marbling – all elements you don't commonly find in a fashion week.
And humor aside, we are curious to see what SVFW?! has to offer next year. As fashion continues merging with technology, we can't deny the potential of drone deliveries, clothing controlled by apps, and utilitarian wearables in the brave new world of the fashionable future.
Text by Marisa Tania, BA Fashion Journalism