SHOP657, the School of Fashion's innovative collaborative store, located on 657 Sutter Street at the former home of Marty's Liquor and Gourmet (original signage intact), is open and going strong this summer with new merchandise.
The store was recently re-envisioned to have a more gallery-like feel. If you haven't stopped by recently then take the time to visit. Store hours are Tuesday-Saturday, 12-6.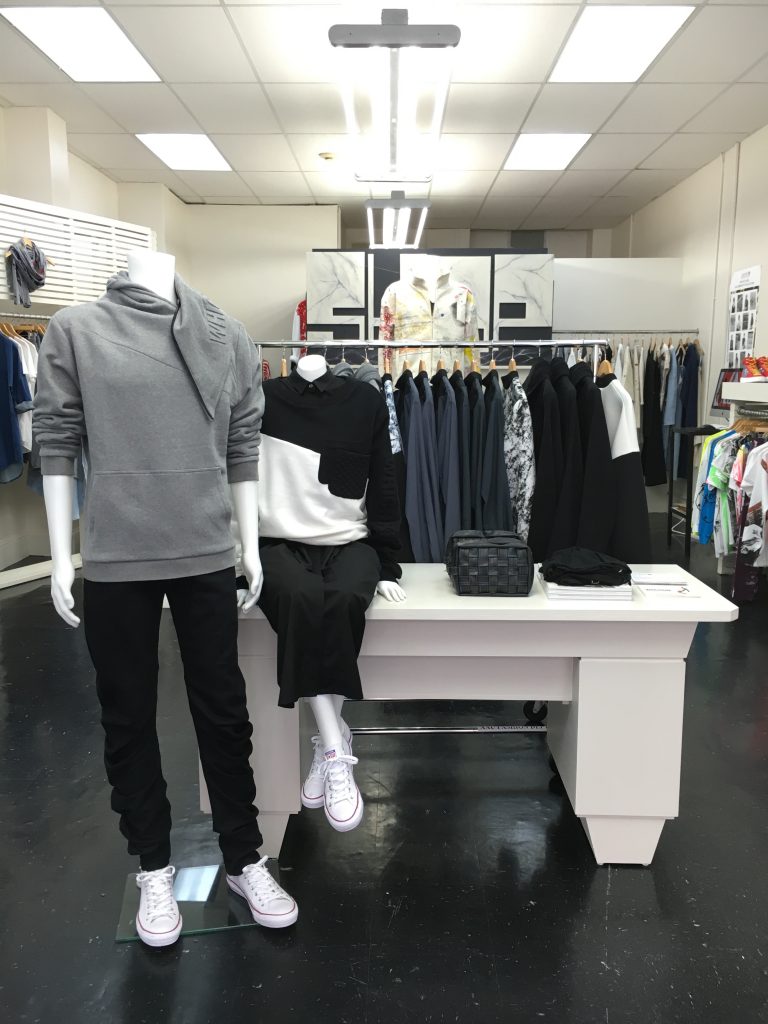 This weekend, SHOP657 will present a trunk show featuring the menswear collection WHICHKIM, a line created by Dahae Kim, 2009 BFA Menswear Design alumna. While a student at Academy of Art University, Dahae was selected by the CFDA for a portfolio scholarship and also awarded a San Francisco Fashion Award for Best Emerging Men's Wear Designer of the Year in 2012. She was one of the designers in San Francisco's The Fashion Incubator (FiSF) , so make time this Saturday to visit SHOP657 as this will definitely be worth attending.  The event takes place, Saturday, July 16 at 12 p.m. RSVP here. 
Be sure to check out the most popular SHOP657 items that are flying out the door just as soon as they are produced and delivered – Academy of Art University sweatshirts with the university logo retooled by Textile Design students. The soft cotton knit sweatshirts with an ultra-plush fleece interior are priced at $54 and as always, Academy students, alumni and staff receive 10 percent off the purchase price.
"I believe that the success of the sweatshirts derives from their uniqueness," said SHOP657 store manager (and School of Fashion alumnus) Danny Dinh. "Each sweatshirt is slightly different, so the buyer will enjoy a personalized one-of-a-kind piece.''
An additional store favorite is from internationally known textile designer Ben Copperwheat, who also recently created and teaches specialized online courses.
Known for his unique, vibrant graphic prints, Copperwheat's in-store collection "was inspired by his public heroes and consists of electric colors and symbolic references to important factors in his life," Dinh said.
"Our most popular pieces are his printed David Bowie t-shirt, and hearts leggings. The prices range from $50 to $110. There has been excellent feedback from customers about the collections, especially from our international customers."
Also featured are Shihkai Tai's red Baja sneakers that focus on functionality and sustainability through the use of recycled materials. Tai is a 2015 MFA Fashion Merchandising alumnus.
Currently on display and available for purchase this fall, is the private label collection that opened the 2016 Graduation Fashion Show created by a group of students from different areas of study using the same inspiration of a trip through the Tenderloin combined with Lewis Carroll's "Alice in Wonderland.''
Dinh's own line, Project White Elephant, is featured in the store as well.  Produced in his home town of Ho Chi Minh City, he describes it as "a womenswear apparel brand that focuses on using collaborations as a means to promote the art community." Check out PWE's website to see their recently released Fall collection.
And recent additions are in stock from fulltime Digital Design instructor Chelsea Snyder who has created an inventive line of stylish carry-all's for pets called Kangapooch. She conceived the idea for the carry-all's, which are locally produced with organic cotton, while taking her dog Issa on a trip to Antwerp on a design fellowship while still a student in the School of Fashion.  SHOP657 is also offering four of her hand-designed clutches made from woven bike tires, each with a different look and offered at lower prices for store customers.
Jinah Oh, Director of Fashion Merchandising, and Sharon Murphy, Graduate Merchandising Director, oversee the store which is used as a tool for Visual Merchandising and Fashion Merchandising students who have been hard at work renovating and rebranding SHOP657. The store is used by Merchandising and Visual Merchandising classes in keeping with the purpose of giving students real world experience in their area of study. Internships are also offered. Currently, Merchandising student Arushi Jaiswal is interning there for the summer.
"When SHOP657 relaunched in late-May of this year, our intention was to still keep the integrity of the shop as a retail platform for current students and past alumni," Dinh said. "We wanted to evolve this idea to include a private label curated through the BFA graduating class and faculty. We are using SHOP 657 to introduce this private label to the public and get insight for later production in the future. The store itself also acts a teaching model for current students, educating them from manufacturing to sales."
So do yourself a favor and "pop in'' to this unusual store – a far cry from what you might see in mall culture – to celebrate the work of School of Fashion students and faculty. Trust us – you might even see something you want to buy!
https://www.facebook.com/SHOP657/