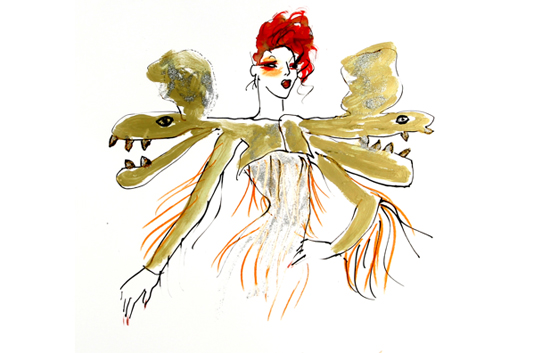 Friday, September 3rd
3:30pm
Morgan Auditorium at 491 Post Street
Gladys Perint Palmer reports on Paris Haute Couture Fall '10 / Winter '11 collections – her photos, her observations, her illustrations. Extra transportation will be provided from campus buildings holding fashion classes to Morgan Auditorium for the presentation.
Special Guest: legendary British fashion designer, Zandra Rhodes, CBE is joining Gladys for her presentation. Zandra Rhodes will share her photos, inspiration, and design process for the costumes she created for the 2010 opening season of the San Francisco Opera's Aida. Open to all.

Monday, September 6th
University offices and buildings are closed in observance of Labor Day.
Windows, Windows, Windows
Tuesday, September 7th
79 New Montgomery will unveil newly decorated 'back to school' windows featuring a tie-in with the windows of luxury retailer, Neiman Marcus, and the global retail event, Fashion's Night Out.

Thursday, September 3rd- Tuesday, September 13th: In honor of Fashion's Night Out, Neiman Marcus' Stockton Street windows will exhibit the highly anticipated new issue of the School of Fashion's180 magazine, as well as select garments from graduates Sabah Mansoor Husain and Marina Solomatnikova that debuted during the Academy Art University Fall / Winter '10 show at Mercedes-Benz New York Fashion Week.
Friday, September 10th
5:00pm – 8:00pm
Fashion's Night Out at Neiman Marcus
The School of Fashion joins Neiman Marcus, exclusively, for Fashion's Night Out. Faculty, students, and graduates will be on each floor throughout Neiman Marcus with exhibits, collections, and demonstrations. Open to the public.
Friday, September 10th 8:00pm EST / 5:00pm PST
Academy of Art University's fashion show at Mercedes-Benz New York Fashion Week
The show will stream live from the Academy of Art University website www.academyart.edu
Information, images, and video of the show will be posted on our blog. The latest issue of the School of Fashion's magazine 180 also launches on this date in San Francisco at Fashion's Night Out and in New York at the Academy of Art University fashion show.
Follow the jump for more events.


Friday, September 17th
The de Young Museum
5:00pm – 8:45pm (7:00pm fashion show)
Cultural Encounters: Friday Night Soirées at the de Young presents "Mexico 2010"
In celebration of the Bicentennial of the Independence of Mexico, the de Young Museum presents an evening in honor of Mexico's artistic creativity. The 7:00pm fashion show features garments designed by BFA and MFA students of the School of Fashion. For additional details about the activities taking place during the event, please visit: http://deyoung.famsf.org/deyoung/calendar/cultural-encounters-Friday-night-soir-es-de-young-presents-mexico-2010 Free admission. Open to the public.
Make sure you follow all of the School of Fashion's Social Media sites:
Blog www.fashionschooldaily.com
Twitter www.twitter.com/aaufashion
Facebook become a fan of "Academy of Art University School of Fashion"
Please check in with the each of these sites regularly for updated and detailed information pertaining to the above announcements, as well as additional developments and opportunities.