Joy & Mario might be new to the footwear industry, but the brand that has successfully merged fashion, comfort and sustainability has stolen the attention of shoe lovers from all over. Established in the sunny and bright Los Angeles, several seasons ago, Joy & Mario revamped the classic espadrilles into a more modern footwear by incorporating hi-tech recycled materials. Ensuring its chic espadrilles were all manufactured using fair labor practices whilst maintaining high quality footwear is paramount for this brand, which recently collaborated with WWF.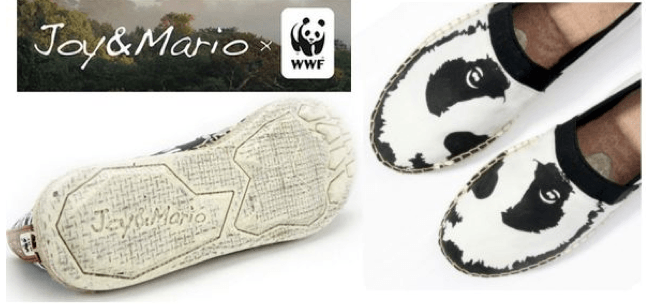 Not too long ago, Joy & Mario held an International Design Contest with hope of finding new talents from various top fashion design schools around the world. The contest came about with the help of the brand's Creative Director, Yuan Meng or Alice, who is also an alumna of Academy of Art University. Graduated in 2012 with MFA in Fashion Design, Meng also serves as the judge in the contest along with; DSW Senior Buyer, Ann Whisler; Founder of Lori's Shoes, Lori Andre; Director of the School of Fashion at Academy of Art University, Simon Ungless and Dillards Internet Buyer, Sydney Royal. Winner's designs will be produced at the discretion of Joy & Mario on top of $1,000 cash reward and internship opportunity. The competition that was held between September 15th through October 15th brought forth two winners from U.S.A; Natalya Robinson and Bridget Tyrrell, who are both attending Academy of Art University School of Fashion. Also, one winner from China and Japan were also chosen. FSD caught up with the creative force behind this up and coming footwear brand, Yuan Meng.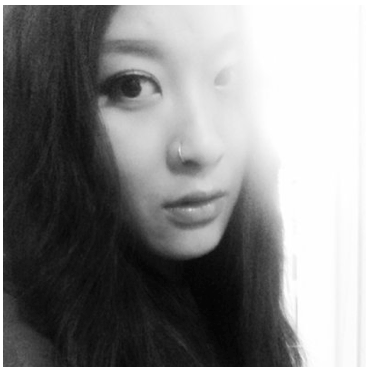 Fashion School Daily: Congratulations on the success of WWF collection and the International Design Contest! Before we dive into the competition, how did you end up working for Joy & Mario? What are your responsibilities as Creative Director? Have you always been particularly interested in footwear design?
Yuan Meng: In Jan 2013, Joy & Mario was searching for new talent designer in shoe design worldwide. Out of hundreds of prospective designers, I demonstrated my talent and potential through my creations. Joy & Mario provided me the position as the International Creative Director and created a position for me in the China office.  As a member of the Chinese National Garment Association I am able to provide a unique perspective of the market in China and use my knowledge of trends both in China and US to help guide the design direction for our American counterparts. I have always loved footwear and am very excited to be a part of such a unique and innovative industry.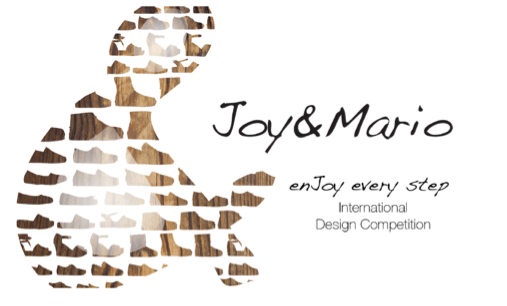 FSD: Let's talk about the contest, how did it all come about? What made Joy & Mario do the contest on an international scale? And what were the difficulties you encountered doing an international contest?
YM: The international design contest came about as a way to strengthen the unique relationships Joy & Mario has cultivated around the world.  As an international brand we are able to meet talented designers from all over the world, it was our idea to bring these designers together and give them the opportunity to present their work to experienced footwear industry professionals in order to give them valuable perspective on the global footwear market.  As with any international project there is always a challenge with language and cultural differences, Google translate helped us out a lot with the project.
FSD: Top fashion design schools from four countries; U.S.A, Italy, China and Japan, participated in the contest. How did you narrow down into these four countries? And how did you choose the participating schools?
YM: We selected the schools based on who in our company has connections to alumni from the schools, or the actual schools as well as the level of talent that the schools had a reputation for developing.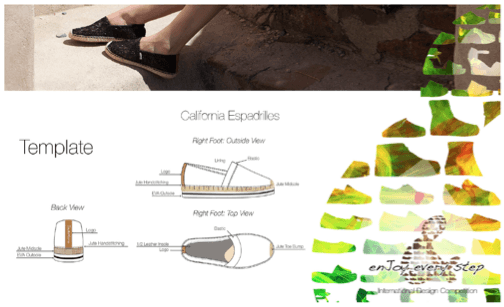 FSD: What are the criteria you are looking for from the winners' designs?
YM: For the winning entries we were looking at the thoughtfulness of the designs, the overall presentation of the projects, and the marketability of the designs.
FSD: From the many submissions you received, were there any designs that surprised you and stole your attention? If so, what was it?
YM: Everyone involved in the project was so impressed with the level of talent that the students exhibited.  This was very surprising and made it very hard to pick the winners.
The interview wouldn't complete without interviewing the two winners of the Joy & Mario International Design Competition; Bridget Tyrrell and Natalya Robinson. So naturally, we sat down and chatted with the two winners from U.S.A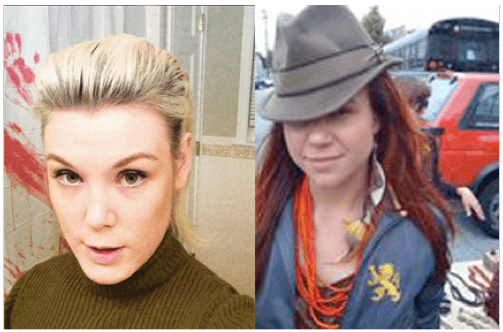 Fashion School Daily: Congratulations for winning the International Design Contest!! Can you briefly tell us about your self? What made you pursue an education in fashion? And why did you choose the Academy of Art University?
Bridget Tyrrell: I'm originally from New Jersey. My high school had a lot of classes in the arts, and fashion and sewing courses were a part of that. I knew I wanted to attend college for fashion, in the field of design, and being a moody teenager I wanted to get far, far away. However, the Academy was the right fit for me and I've been very fortunate to live in San Francisco.
Natalya Sheveleva: My journey into becoming a designer started with my solo one-way ticket to America when I was 15 years old.  Coming to America as an experience was best described in my opinion with a quote "Freedom means the opportunity to be what we never thought we would be." By Daniel J. Boorstin quotes (American social historian and educator, 1914) Coming from a classic Russian education, because my excellent performance in academic work my parents treated my passions of dance and art as trivial. Movement has always been a big part of my self-identity. I think it influenced my absolute criteria of comfort and ease in my design philosophy. This flow eventually steered me towards knitwear, but it is the richness of my Russian heritage that inspires my design aesthetic day to day. I started as a self-taught enthusiast, decision to start school was a personal contract to strive my h­ardest and become the best that I can be for my chosen career. I started my fashion degree at another college in the city until I won Academy of Art Award Presidential Scholarship in design competition. Once I took my first Textile class at the Academy of Art University, I understood that textile sensibility was always the most potent ingredient of my design work.
FSD: How did you find out about the contest?
NS: Joy & Mario International Design Competition was a Textile Design 5 class project Directed by Rhona MacKenzie, Associate Textile Director for the Academy of Art University School of Fashion.
FSD: What was the most difficult part of the contest? And how did you overcome it?
BT: Because I love shoes so much, when presented with the chance to design a pair, I struggled with my imagination and the feasibility to bring such imagination to live. I had to refrain from attaching faux ostrich feathers, but not for a lack of trying.
NS: It was my first time to design shoes that made it such a challenge in post-editing with an opportunity to play with the scale and angles of the print with sustainability and functionality in mind. I appreciate the socially responsible mission that Joy & Mario project inspires.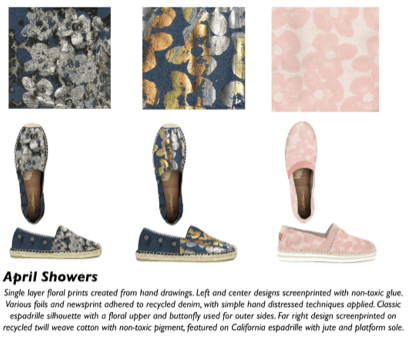 FSD: Tell us about your design submission! And briefly walk us through the creation process of your work
BT: My design is a doodled floral print done three different ways on three different denims. I would have stopped at one, but the more I tried different things, the more I wanted to include them all.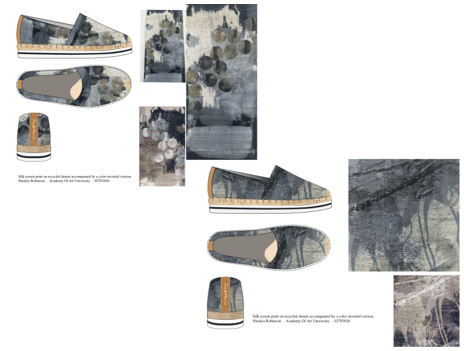 NS: My design entry consisted of environmentally friendly prints incorporating recycled denim printed with water-based pigments. My submission was inspired by a customized recycling campaign, where customers bring their favorite pair of jeans to recycle into a new favorite pair of shoes. Though not exactly financially feasible it is the idea of metamorphosis that inspired me. Something so familiar but different, I mostly used monochromatic screen print overlays to build the surface design. I challenged myself to make the density of denim surface read somewhat transparent and soft.
FSD: What was your first initial reaction when you found out you won the contest?
BT: A lot of things, but first and foremost to call my mom.
NS: Winning this contest was a great honor and a personal affirmation of gratitude to my journey. The opportunity to have my textile designs produced by a high-end brand is priceless.
FSD: How does winning this international contest contribute to your career in the future?
BT: To participate in an international design competition at all, is a great opportunity for a young designer. However winning was crucial for me, with graduation on the horizon, I intend to keep this momentum going.
NS: I had the opportunity to learn and build both Textile Design and Knitwear Portfolio here at the Academy of Art, even though I am graduating as Knitwear major I have a strong Textile Design portfolio to equally lead my future.
Written by, Taufik Marasabessy, BFA Merchandising