The new season of Project Runway airs tomorrow on Lifetime (It's the 8th season? Has it really been that long?) and we have some representation on the design/drama-infused show!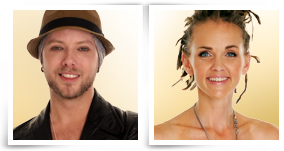 Former fashion school student Michael Drummond (pictured above left) and alumna McKell Maddox, BFA Fashion Design, 2005 (obviously, she's the one on the right) join the ranks of designer hopefuls that will either be "een or owt" (said in a heavy Heidi Klum accent).
And it just so happens that this new is a hot topic of discussion on our Facebook Fan Page.
Check out videos of their casting sessions after the jump.
For more info on the show visit MyLifetime.com.