The news of the moment is not the BP oil spill, the controversial white fashion editor at Essence, Madonna's Material Girl collection at Macy's or the fact that that the cast of Jersey Shore rang the opening bell at the NYSE yesterday (what was up with that?). The big news is Chelsea Clinton's wedding — and this big floppy hat: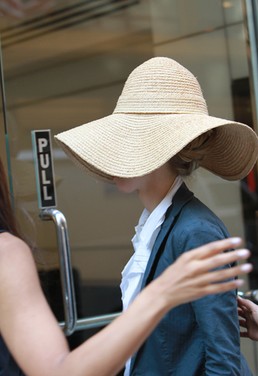 Okay — the hat isn't the big news. Everyone is going into convulsions because they found out she's wearing a Vera Wang dress to do her nuptials to Marc Mezvinsky — her bridesmaids will be wearing Wang too! She was spotted in the floppy hat steppin' out of Vera Wang's midtown boutique in New York. Isn't this news exciting?!
She should just wear that hat to her wedding.
Check out the video for the full story on what could possibly be the wedding of the year: