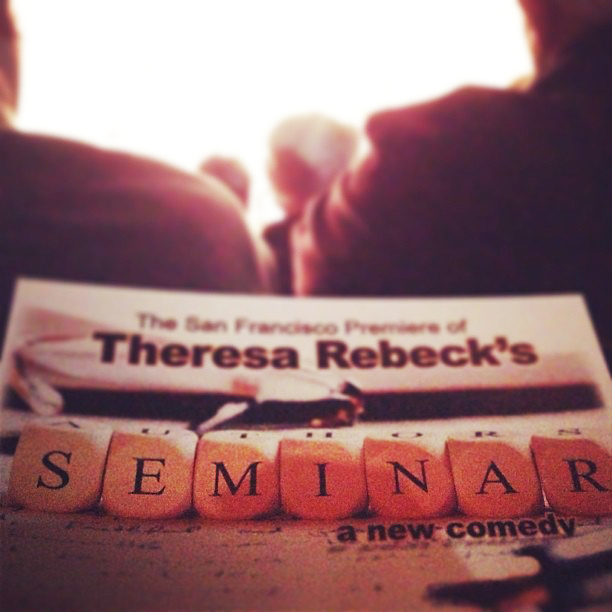 This weekend be sure not to miss the Academy of Art University's production of "Seminar". The School of Acting will perform the provocative comedy by Pulitzer Prize nominee, Theresa Rebeck this weekend at the Sutter Street Theatre. Maggie Whitaker's Costume Production 2 class has collaborated to create the costumes for each character and is assisting each designer with wardrobe during the run of this witty, complex comedy.
Set in present day New York City, "Seminar" follows four young writers who are given the lesson of their lives as they participate in a private seminar hosted by their internationally acclaimed (and completely unorthodox) professor. Deadlines, drafts and dalliances ensue as students confront the reality of a recklessly brilliant editor and his merciless tactics used to take their work to the next level. Some rise and some fall as the wordplay isn't the only thing that turns vicious in this biting comedy.
Congratulations to Nikki Anderson Joy, Sandra Waesche, Monica Ha, Arabella Long and Unico Guo on their creative costume designs.
WHAT: The School of Acting presents Seminar, a comedy by Pulitzer Prize nominee Theresa Rebeck
WHEN: Friday, April 5th at 8:00 PM, Saturday, April 6th at 8:00 PM, Sunday, April 7th at 2:00 PM
WHERE: Sutter Street Theatre at 620 Sutter Street
Admission is free for AAU Students, Staff and Faculty, $20 General / $10 Student. To purchase tickets to see "Seminar" by Theresa Rebeck, click here.