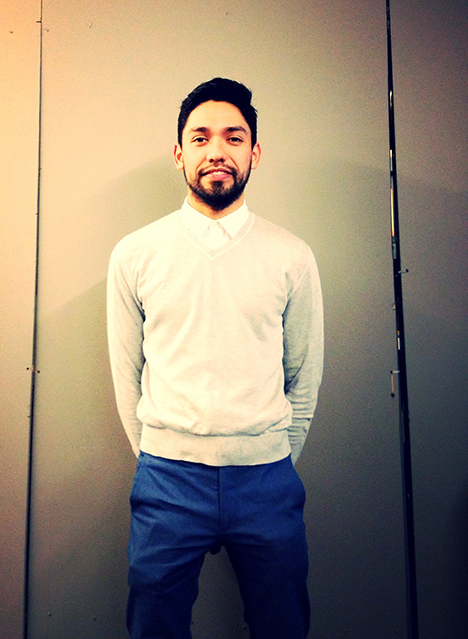 For this week's Alumni Update, Fashion School Daily was able to catch up with MFA Fashion Design graduate, Antonio Campos. In the year since completing his studies, Antonio has moved to New York, worked for three seasons as a design intern at Nolita store and atelier, Zero + Maria Cornejo, and is currently interning with Narciso Rodriguez. It's a seven day work week for this former student, who's also working part time at Restoration Hardware. Below, Antonio tells us more about how he's living his dream (a good thing since it sounds like he doesn't get a ton of time to sleep!)

Why did you decide to study fashion design?  
After finishing my degree in Interior Design, I decided to pursue a degree in Fashion.
How would you describe your aesthetic?
I find myself attracted to clean angular lines.  I like the idea of interpreting sportswear in a high craft, luxe way.

What do you love most about the design process?
Research and development are very exciting to me.  I enjoy working in working in 3D. Sewing and drafting patterns are some of my favorite things to do.
How did you land an awesome internship with Zero + Maria Cornejo?!
Towards the end of my degree, I was enrolled in Mikel Rosen's Professional Practices class. We had an assignment the first day to make a list of 20 companies we would like to work for or jobs that we would like to do. Throughout the semester, I continued to edit and pursue some of the companies that I had on my list. A few weeks before the semester ended, I sent my resume to Zero + Maria Cornejo. A couple of days later, I interviewed with Dane, design director of Zero, and I was lucky enough to land the job.
[justified_image_grid row_height=400 height_deviation=50 ids="22983,22986″]
Designs by Antonio Campo.
First day on the job – how was it?
My first day was very interesting. I had moved to New York one week after I found out I had landed the internship. I had only visited NYC once before I moved here, and it had been a recent trip prior to my move. I remember being very nervous on my first day. I woke up early to give myself plenty of time to get to the design studio. However, I ended up taking the wrong train! Panic started to set in, so I decided to ditch the subway and take a cab. I arrived at the studio, gathered my things, and paid the cab driver. It wasn't long after the cab sped away that I noticed I left my cell phone in the back seat! My attempt to chase the cab down was useless…I couldn't believe my luck. I walked into a neighboring coffee shop to gather myself, and then proceeded to walk into the design studio. As a result, my dramatic morning served as a great ice breaker! Laura, an assistant designer at Zero, lent me her phone to call my lost cell, and my day quickly turned around for the best. The cab driver ended up brining my cell phone back to the design studio. After getting settled in I met the rest of the Zero staff, along with Maria.
What were the most valuable things you learned?
I learned to trust my judgement and design integrity. Maria, Dane, and all of the Zero team have been very supportive. I've learned so much and am truly grateful for the experience.  Working closely alongside people that I respect and admire is a dream.
Any advice you'd give to students starting an internship?  
Work hard, and make sure it's what you want.
[justified_image_grid row_height=400 height_deviation=50 ids="22985,22984,22982,22981″]
Designs by Antonio Campo.
What are you working on now?
After working at Zero as a design intern for three seasons, I decided to part ways. My decision was tough, and I miss the Zero team.  However, I'm lucky to have become friends with with many of them, and we are still in contact. I am currently a design intern at Narciso Rodriguez, and I also work part-time at Restoration Hardware.
What are some of your favorite spots in San Francisco?
Madeline Cafe on New Montgomery, across the street from the 180 New Montgomery building. Quick and simple.
What is your dream job?
I don't know that I have a "dream job." I love design. As long as I get to work on projects that I believe in, I'll be happy.
For more Alumni Updates, click here.