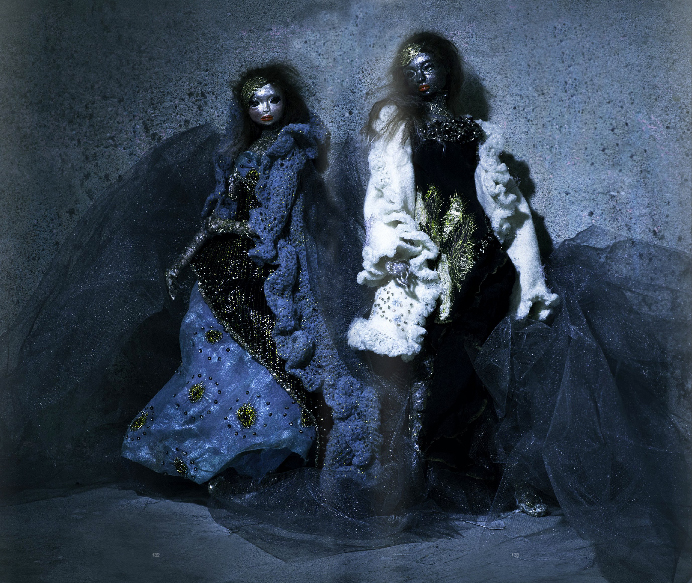 Photography by Bailey Harada Stone. Courtesy of DEPESHA.
Hello Fashion Students! It was practically impossible to pick a single selection for today's Monday Morning Photo from the gorgeous images featured in Volume 6 of DEPESHA. The editorial shoot entitled "Dolces de Reliquias" showcases the collection by Maria A. Romero, a 2012 BFA Fashion Design Alumna. Inspired by her childhood memories of the traditional Mexican candies given out during Christmas nativity ceremonies, Maria sought to recreate the colors and textures of the candies using silk chiffon, silk organza, silk taffeta, and tulle. The photo shoot was done in May 2012 when Stephan Rabimov, editor in chief and publisher of DEPESHA, was a guest of the University for last year's Graduation Fashion Show festivities. Styling and photography students assisted Stephan on set to create the eerily beautiful images for the ten page spread in the issue.
[justified_image_grid row_height=350 height_deviation=50 ids="23043,23044,23046,23049″]
Photography by Bailey Harada Stone. Courtesy of DEPESHA.
Additionally, Volume 6 of the magazine featured Amanda Lepore wearing a jacket by Andrew Wedge, 2010 BFA Fashion Design Alumnus in the spread "Three's Company." The lead off look from Andrew's 2010 collection showcased the designer's innovative manipulation of fur, and was inspired by great white shark attacks. Suffice to say Ms. Lepore, looking fashionably fierce in the feature, is more than doing the garment justice.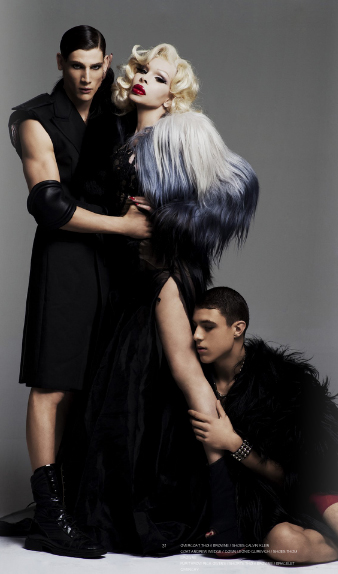 Photography by Victoria Janashvili. Courtesy of DEPESHA.
Congratulations to Maria A. Romero and Andrew Wedge! To see more of DEPESHA's Volume 6 issue, click here.