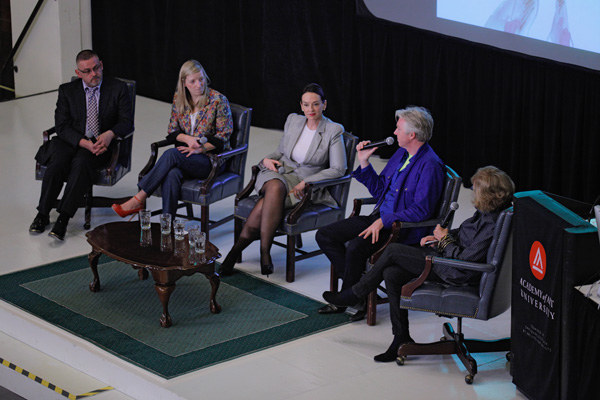 Simon Ungless, Sarah Burton, Dr. Elisa Stephens, Philip Treacy, and Gladys Perint Palmer.
If you missed your chance to see Sarah Burton and Phillip Treacy at the School of Fashion Symposium, here's a wrap-up of the event!!
The guests of honor: Sarah Burton, creative director for Alexander McQueen and Phillip Treacy, milliner, took the stage on Wednesday May 2nd at 9:30am in the Morgan Auditorium. Gladys Perint Palmer, Executive Director of the School of Fashion, led the Q&A discussion along with Simon Ungless, Director of the School of Fashion, and Dr. Elisa Stephens, President of Academy of Art University.
Simon Ungless and Sarah Burton have known each other since 1996, when Simon was her tutor at the Central St. Martins School of Art, in London. Simon is a big fan of Burton's work – he originally recommended her for an internship to McQueen while she was a young student at the school – and loves her philosophy of the craft. For her part, Burton feels that she continues to be in Simon's debt, artistically and professionally. "He really provoked me, made me think in a different way," she recalled.
Her soft-spoken manner was accompanied by quick and thorough responses. She sported a casual look in pale blue jeans, a colorful printed jacket and ankle-strap bright red pointy heels. For a woman with such high-profile status she was completely genuine and down to earth.
The conversation then turned to Treacy who wore a blue track jacket with matching blue sweater, black fitted pants and black boots. He spoke about how hats have come in and out of vogue, commenting that when President Kennedy refused to wear a hat to his inauguration, he "singlehandedly killed the hat industry," telling a (perhaps apocryphal) story that before the Inauguration, JFK and his brothers were spotted kicking a top hat around in the White House.
Treacy, born in Ireland, continued in his humorous light touch. At one point when Gladys expressed concern about how to wear a hat with her eyeglasses, he responded that she could "always switch to contact lenses.'' And when President Stephens asked him about the distinction between the fascinators worn at the recent royal wedding, and more conventional hats, he responded: "I've never liked that word 'Fascinators.' It always sounds like a particularly dodgy sex toy.'' The audience cracked up.
Follow the jump to read more!
Burton spoke about where she finds her inspirations: "It's everywhere, you have to be moved by something." She described how coming from a big family of five children influenced her because her mother took them to museums on Sunday just to get them out from underfoot.
She said she has always been passionate about clothes, but not so much for the fashion per se but because she was intrigued by the research on how clothes were made and the fabrics used.
Asked if he had any follow-up questions, Simon laughed: "Sorry, I'm just obsessing about a pair of shows [for the student fashion show}, that's where my head is at the moment.'' But then he went on to ask Burton her view on how to keep fashion shows relevant interesting, calling some recent efforts "boring'' (not including the recent McQueen collections, of course).
Burton said that before McQueen died, he was toying with the idea of exploring technology in runway presentations, doing Simulcasts of different shows in different parts of the world. But she said that while she acknowledged that the repetition and lack of creativity in many fashion shows can be a problem: "It's cold on a screen, you have to feel it in person." You can sense the passion in her voice when she speaks about her work. Burton's view of the future is bright, "Fashion grows with culture and society but it's always been about the individual." Treacy agrees with this way of thinking, "Everyone wants to feel special."
Treacy, Burton, and Simon reminisced about their friend, the famed fashion eccentric Isabella Blow. Isabella "discovered " McQueen and Treacy and remained a loyal McQueen customer up until the time of her death.
Treacy described her as charming and genuine, "She wanted the hat to be the best thing you have ever made, something fantastic that cheered people up," he adds, "Isabella was living for it." He described how he would sometimes have to hide other customer's hats when she came around – she always wanted his most fantastic creations.
Blow was a staple at all the major fashion shows and would make sure to dress for each and every designer that she attended. She would do all of her costume changes in her car outside. Treacy admired his stylish friend, "Fashion runs on fear and Isabella was fearless," he said.
Despite their busy schedules, Burton and Treacy stayed on after the talk to meet Academy students who were excited at the chance to see their idols, up close, sign autographs, and get their pictures taken. Two of the most talented people in the world of fashion proved also to be two of the least pretentious, and most accessible. It was a morning to remember.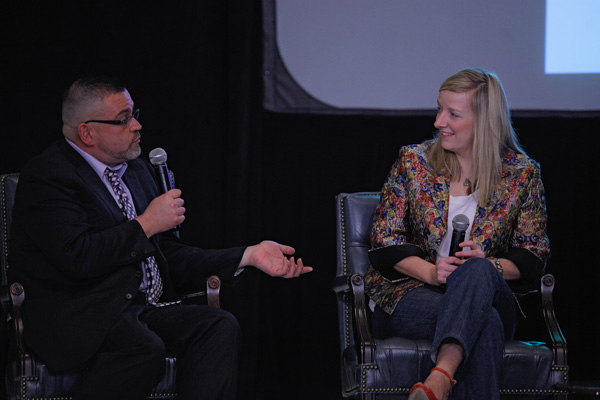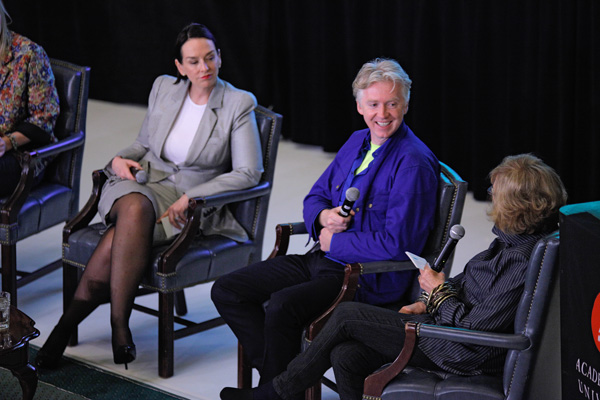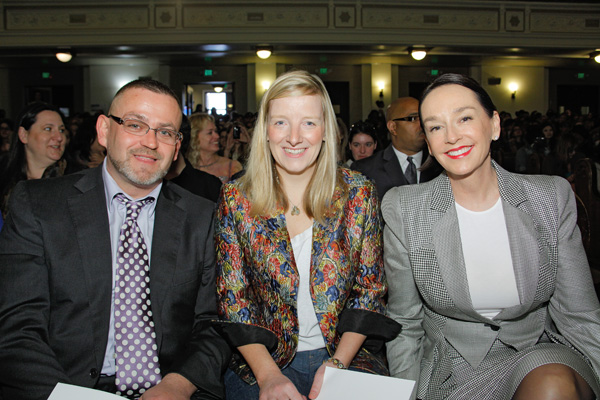 All Photos Courtesy of Randy Brooke.
Written by: Ashley Castanos