The colorful, chaotic and charismatic events for San Francisco Fashion Week 2012 began on Monday, September 24th, with an opening party for San Francisco fashion lovers, among many other daily events all in celebration of fashion in SF.
Although many of our city's fashion elite attended the daily events faithfully, it was clear that the most attended and anticipated events of the week were the runway shows that occurred Friday, Saturday and Sunday.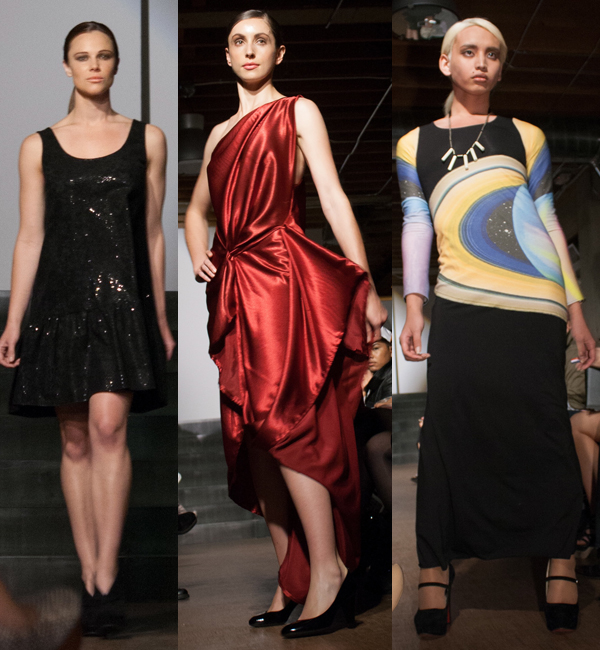 Far left: Model wearing a sequins shift dress by Mikelsen designs. Middle: Model posing for photographers in a satin evening dress by Rebecca Cho. Far Right: Model posing in a futuristic maxi dress from the Shenova by Holly Renee line.
On Friday, the Emerging Designers Show featured six up-and-coming designers from all walks of the fashion spectrum, including male urban street wear, ultra feminine couture-inspired gowns and even dresses made solely of latex. Each designer had a distinct point of view and varying sources of inspiration in mind when creating their respective lines, ranging from an urban lifestyle to Madonna, which was evident and mostly well executed in their designs.
Follow the jump to read more!
"I always pull from my emotions, definitely. Something that I really tend to gravitate towards is music and just the raw feeling at the time that I'm making a garment. It's all just spontaneous, honestly," said high-fashion inspired designer Brandon Murphy.
Designer Rodrigo Trujillo said, "This collection is called 'Human Nature' inspired by Madonna's 'Human Nature' video, where she's wearing vinyl and latex, so I wanted to do something like that and go farther."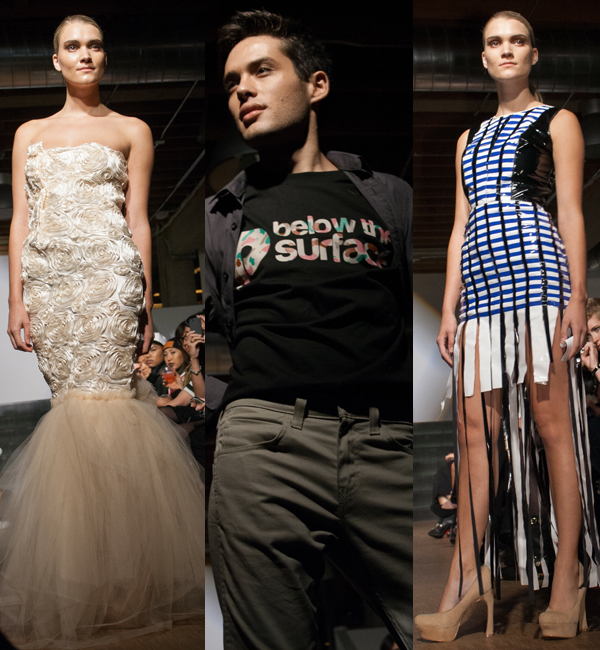 From L-R: Intricate floral and tulle gown by Brandon Murphy; Model posing for the cameras in street wear line Below the Surface; Latex and fringe dress by designer Rodrigo Trujillo, inspired by Madonna.
Although the emerging designers – Mikelsen, Rebecca Cho, Shenova by Holly Renee, Brandon Murphy, Below The Surface and Rodrigo Trujillo – may not all be residents of the Bay Area, they all reflected aspects of its inhabitants' style in their designs.
Classic, fun and flirty, dramatic, unexpected and over-the-top – all characteristics of the designs shown and San Francisco's eclectic style.
Written by Alexa Palacios, read more from Alexa on her blog. Photos by Ariel Spaugh.