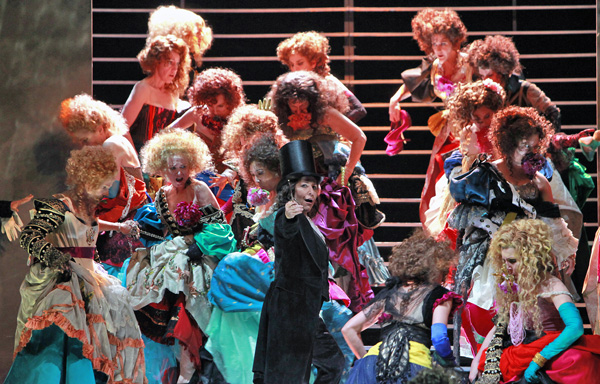 Photo by Cory Weaver, Courtesy of the San Francisco Opera. 
Last Thursday, students from the School of Fashion and members of Beyond the Front Row had a unique and inspiring opportunity to go see the final dress rehearsal for The Capulets and the Montagues at the War Memorial Opera House. The tragic Shakespeare play has such iconic characters but this production was something completely new and like nothing I had ever seen, including the stunning costumes by world-renowned fashion designer Christian Lacroix.
The black curtain rose to a dark red and gray gradient background with thirty or so English riding saddles hung in the air, with men dressed in beautifully tailored coats and top hats. At that moment we all looked at each other and knew we were going to see something really spectacular. This production of Romeo and Juliet was done with such a dark, masculine overtone and there wasn't a moment my eyes stopped moving across the stage.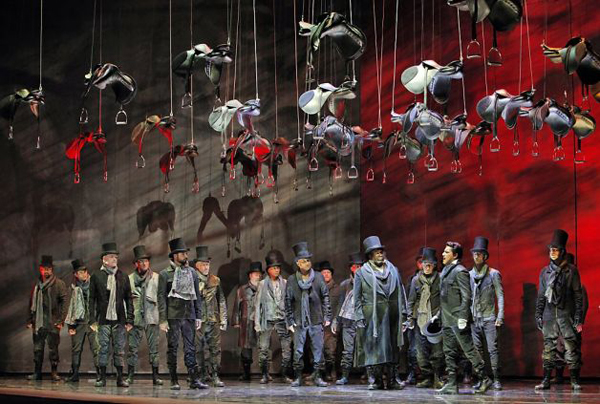 Photo by Cory Weaver, Courtesy of the San Francisco Opera. 
Follow the jump to read more!
Lacroix really outdid himself in the wedding scene of the opera. The courtesans made their way up a huge set of bleacher like steps into the church for Juliet's wedding. The layered patchwork dresses were adorned in striking greens, yellows and fuchsias, a mixture of bright color and clashing textures. It truly was a sight to see!
After the opera was over, our group had the honor of speaking with Christopher Verdosci, the Assistant Costume Director for the San Francisco Opera Administration. He answered student's questions, and had some very insightful and fun stories of his own to share. "I have to tell you all about a character in seconds, with just what they are wearing," he explained. He also described some of the challenges of his job and spoke of his dedicated team that helped create such an amazing show.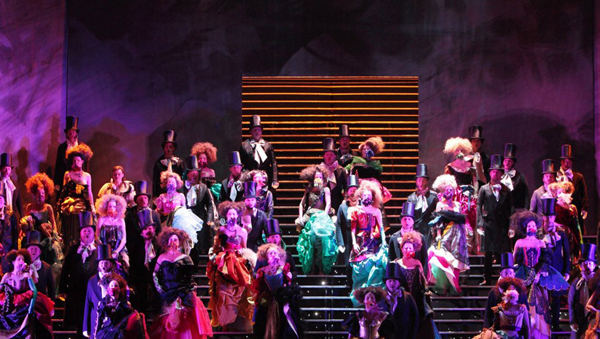 Photo by Cory Weaver, Courtesy of the San Francisco Opera. 
Thank you so much to the San Francisco Opera for this amazing opportunity and to Beyond the Front Row for organizing this special event. I know we all can't wait to see what's next!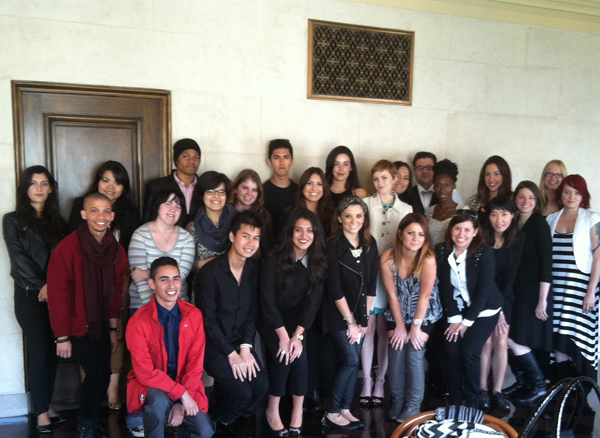 Students from the costume design classes and Beyond the Front Row.
Written by Lita Teplitz.