The Academy of Art University's fashion club, Beyond the Front Row, turned the hallway of their fashion building into an environmentally conscious catwalk for the first event since the club's re-launch.
Called Runway Repurposed, the event was produced by the fashion club after Gary Miller, Fashion Director, challenged them to create a show centered around a sustainable design project for Fashion Design 2 students, who were tasked with creating looks made from repurposed materials. Zippers, seatbelts, traffic vests, tangled wires, PVC, cotton wool and clothing from Goodwill were just some of the unconventional materials used by the students to construct their garments. Many of the materials were acquired from Scrap, a non-profit creative 'reuse' center full of fabric and art supplies.
Mona Meng constructed a multi-colored dress entirely from furry bathroom mats. "My mom is a hoarder. She collects bathroom carpets, and one day I saw one, and it stirred something in me, and I thought, 'I'm gonna do a garment out of that,'" she said. Meng had to use grommets to hold the pieces together because the material wouldn't allow for traditional stitching. "I labored. I had a lot of fun, and I learned a lot from this collection. I don't think I would have ever done anything like this if I didn't have the opportunity to do something repurposed."
Other interesting constructions included a leather top made by Alexandra Archibald from an old bag she purchased at an antique fair. Seyeon Park made an orange and green checkered dress using seat belts and buckles.
Many of the designers found inspiration in the theme of female empowerment. Strong women were central to Laura Rego's black velvet gown, which was fringed with long metallic paper clips. "I got inspired by women warriors," she said. "I went to Scrap and found these paper clips, which are my metals, and I wanted to make it kind of an armour shape, something protective but also flowy."
Designer Faith Winston had a similar aim. "The whole inspiration was women's revolution, showing your feminist side," she explained. With a corset constructed from leather gloves and belt buckles used as straps, her garment is reminiscent of a modern-day gladiator. Kristen Milsner made a dress entirely from ties from her father's closet and Goodwill. "I got the inspiration from what is going on politically with women being equal. I thought about how I could bring a men's aspect into women's clothing," she said.
For many of the students, this is the first time their work is being showcased in a fashion show. Usually, students have to wait until their senior year to be featured in the graduation fashion show. Freshmen students and BtFR members Mursalin Mufti, Katie Smyth and Kristina Gross worked with MFA Fashion Design student Yi (Bonnie) Pan and junior Product Development student and BtFR co-president, Isis Bryant, on a collaboration dress, made by quilting different patches of fabrics.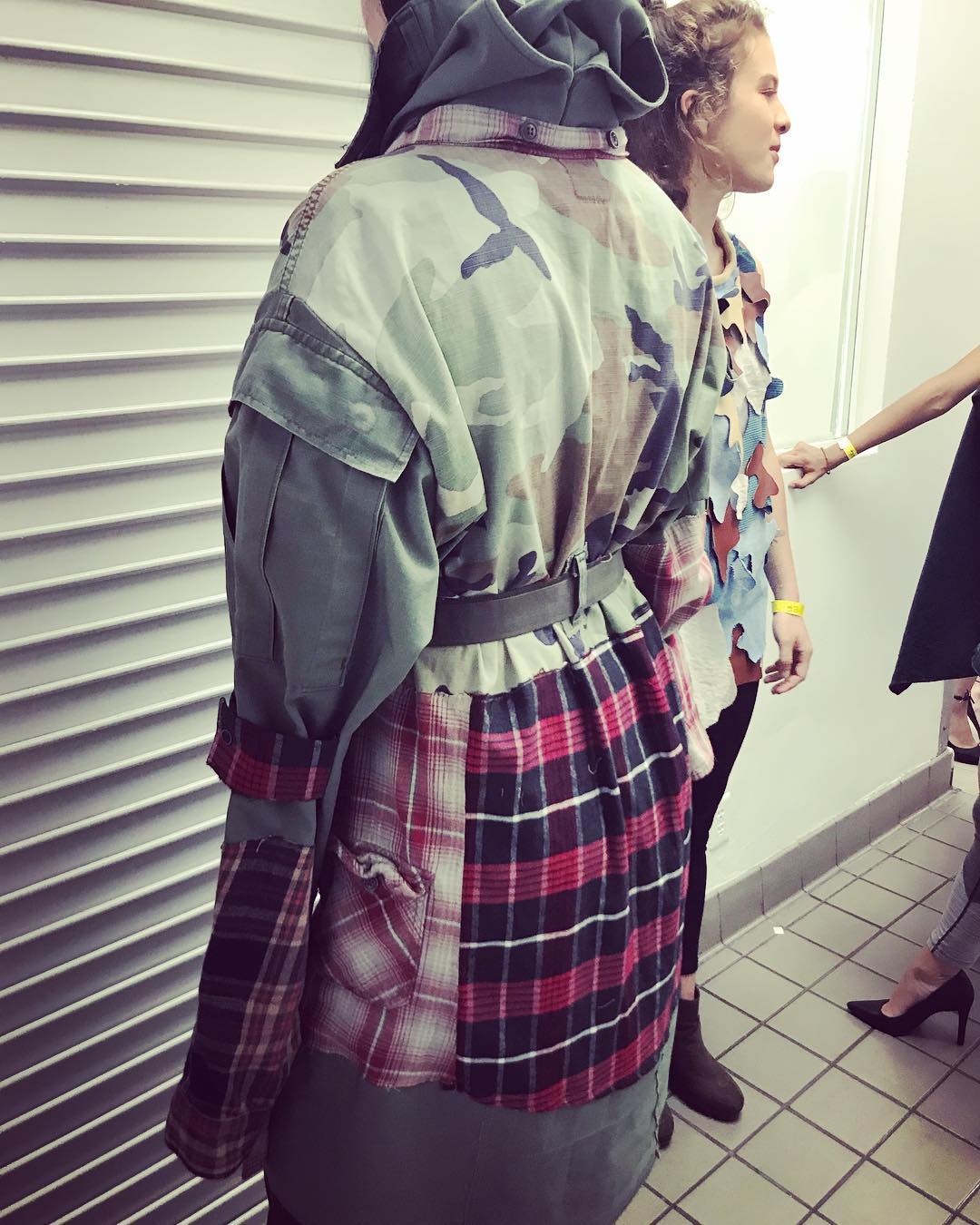 "This is what I wanted to do — to make a runway look and be able to show what I create, rather than just being stuck in a classroom and creating on my own and not being able to showcase it," Mufti said. "I'm really happy with what Beyond the Front Row is doing."
Instructor Jurgen Oeltjenbruns agrees. "Working with students on a purposeful project where the outcome is tangible is priceless," he said. "Witnessing the excitement and experiencing the energy prior and throughout the show gives me great hope for the future of meaningful designs and future leaders that can change the way we consume fashion right now."
Instructor Wa Shan Yeung is equally as proud of his students.  "They all very talented level 2 students. I am so glad that they were able to put everything all together in a short time." He also thinks the theme of using repurposed materials is relevant to the way the industry works today. "Fashion clothing being made from recycled items is becoming commonplace today," he said.
Co-president, Sierra Dugas, is equally optimistic about the future of Beyond the Front Row. "I think that after the re-launch, there was some confusion about the fashion club and what we were capable of," she said. "This is a great way to get us out there and show people what we're all about."
Text by Adriana Georgiades, MA Fashion Journalism