The annual Runway Repurposed fashion show sends students to thrift stores and waste bins, with marvelous results
The Fall 2018 semester concluded with the return of the Academy of Art University's second annual Runway Repurposed fashion show, in which sophomore students showcased designs made from repurposed or upcycled materials.
Orchestrated by Beyond the Front Row (BtFR) – the official School of Fashion's student club – the event promotes fashion sustainability and encourages design students to exhibit their skills and creativity. Young designers created garments by repurposing old or unwanted clothing items and materials—clothes from thrift stores, their own closets and fabric scraps—turning them into one-of-a-kind pieces that demonstrated innovation.
Designer: Ekster Theera @extraangsupanich

Designer: Candice Tianyu Ju @itsnotcandiceee

Designer: Andrea Meza @_andreaosuno
Most of the Academy's students have to wait until their senior year to show their designs on a runway, so projects like Runway Repurposed offers invaluable experience and helps build confidence early-on. "It's really awesome to be able to do this as a student," said Katie Waller (BFA fashion design) who used an old coat, a pair of leggings and a box of muslin scraps to construct a fringed suit.
Designer: Crystal Garcia @selenag20_

Designer: Katie Waller @katly1298

Designer: Bufan Chen
Practical experiences like Runway Repurposed motivated design student Olivia Roquemore to transfer from online classes to onsite. "Here you get hands-on experience, and you have teachers helping you every step of the way," she said.
Roquemore, who turned a few neoprene wetsuits from Goodwill into a show-stopping black dress draped with red yarn, admits that using unconventional materials is challenging. "Neoprene is hard to work with. You can't sew it because it has a rubber layer in it, so you have to find ways to put it together without using a needle," she explained.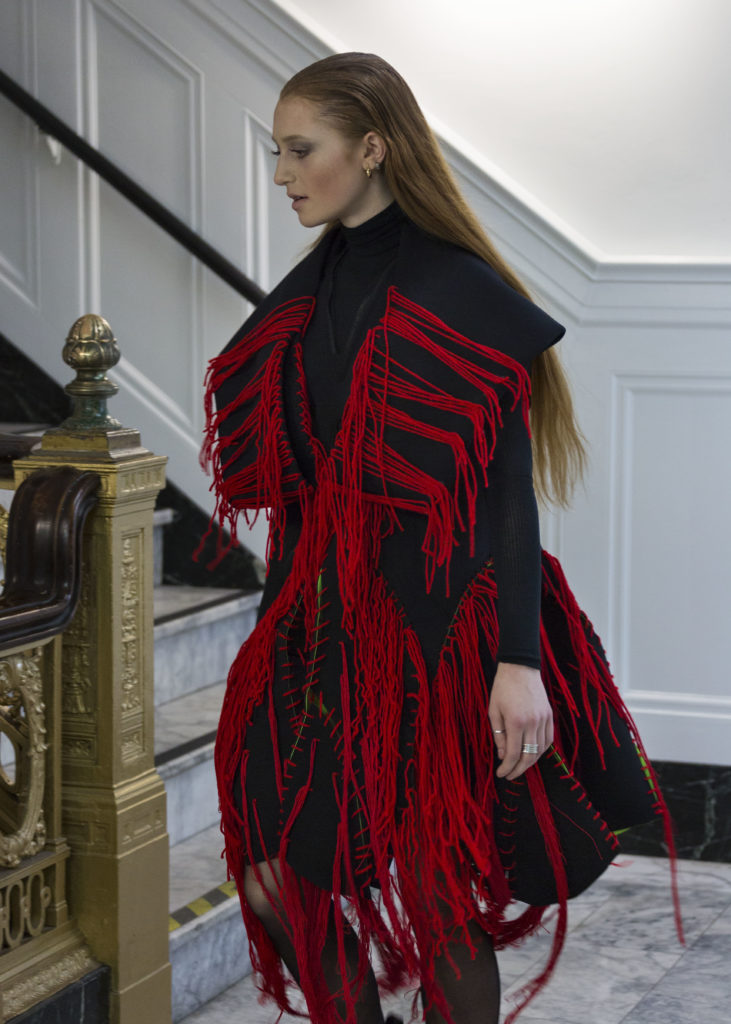 MFA fashion design student Hector Marquez used a box full of what he described as "hideous lace trim that no one wants to use" to create a textured, neon green and yellow dress. Marquez appreciates the way the school promotes the incorporation of sustainability in student work, because it's "both relevant and necessary in today's industry," he said.
"You have designers now who are selling high-end clothing that has been repurposed and that makes use of fabrics that were in a previous season's fashion line. Our environment needs help. If we don't become proactive and take steps to convert fashion into a more sustainable industry, fashion is going to become obsolete." 
Designer: Ziti Yin @gabrielle_yin

Designer: Jianhul Deng @jianhui_deng

Designer: Caroline Exner @ceexner
In keeping with the sustainability theme of Runway Repurposed, BtFR partnered with Recology SF, the city's Waste Management Division, and Material ConneXion, the on-campus material library, to present a talk about limiting waste and rethinking material use. The talk immediately followed the fashion show and was open to Beyond the Front Row members, students, faculty, and staff.
Designer: Balu Chandrasekaran @whynotbalu

Designer: Mursalin Mufti @mursalinmufti

Designer: Katie Smyth @katiee_smythh
Recology SF's Waste Zero Specialist, Hilary Ego, led a talk on San Francisco's 'zero waste initiative' and how it relates to fashion sustainability. She educated students on the importance of recycling and urged the listeners, both as designers and consumers, to make smarter, more sustainable choices.
"Refuse fast fashion," Ego said. "Try to buy things that are durable. Don't just buy something that's in-season now; think about how you can use it long-term." She also advised students to shop at San Francisco's various thrift stores, and to adopt environmental considerations as part of their design processes. 
The Academy's onsite specialist from Material ConneXion, Miranda Lindelow, presented samples of 10 sustainable fabrics in an interactive display, aiming to inspire students to reconsider materials selection for future collections. From various 'leathers' made from apples, salmon, mushrooms and bacterial cellulose, to fabrics containing cork, banana fibers and Icelandic seaweed, the exhibit presented designers with unconventional alternatives for creating more sustainable fashion lines.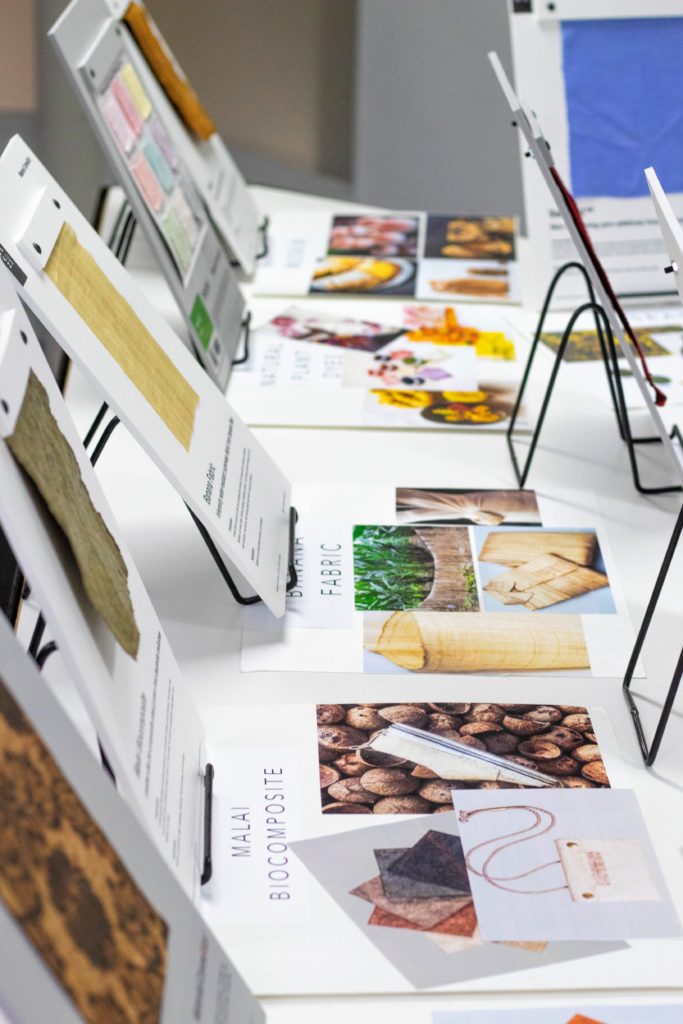 "Most of our students are serious about being kind to our environment and being responsible with fabric and waste," said fashion design instructor Sebastian Wa Shan Yeung, who guided the participating students during the design and construction process. If Runway Repurposed is any indication of the direction the fashion industry is headed in, it is both comforting and exciting to know that sustainability is at the forefront of emerging designers' visions.
Words by Adriana Georgiades, MA Fashion Journalism
Runway photos by Amber Lokatys