Back in 1999, Upper Playground was just a small record store that one day decided to sell T-shirts printed with the work of local artists. When San Francisco-based artists Sam Flores and Jeremy Fish first joined founder Matt Revelli in this project, they had no idea it would blow up into an international streetwear company that would take their art all over the world. That's exactly the lesson they want to ingrain in the minds of young, aspiring artists: put your art out there in whatever way you can, because you never know where it may end up.
No one could have possibly predicted the success of Upper Playground. When Flores was first approached to work on designs for the brand, he turned his work in on yellow legal paper, simply because he had no idea how to use a computer. "There were no lofty goals, we just wanted to make cool shit," he says. And when Fish joined, it was because he recognized his friend's artwork in the store's window and decided to walk in and ask to be a part of the project. "I just liked it and thought it was a cool thing," he says.
"Elephant Jam's" T-shirt by Jeremy Fish. Credit: Upper Playground.

"Boomboxface" T-shirt by Sam Flores. redit: Upper Playground.
The brand spread globally, opening up stores and galleries in San Francisco, Berkeley, Portland, Seattle, Mexico City and London and selling online to customers all over the world. With artwork themes heavily embedded in San Francisco's culture, the brand has come to be a kind of landmark, immediately recognizable as a San Francisco staple. You've probably seen the sticker of their logo – a walrus with two long fangs – plastered all over the city. But despite the success of the brand, Flores and Fish stress that the potential payoff should not be a motivating factor in young artists' drive. Rather, he advises, take on projects that inspire you, and collaborate with the people you know and trust.
"Certain things pay you in a way you can't put a number on, and kick open doors that otherwise might not have been opened," says Fish. "Sometimes it makes sense to just do something with your buddies because you never know who it's going to land in front of. Those kind of opportunities are priceless."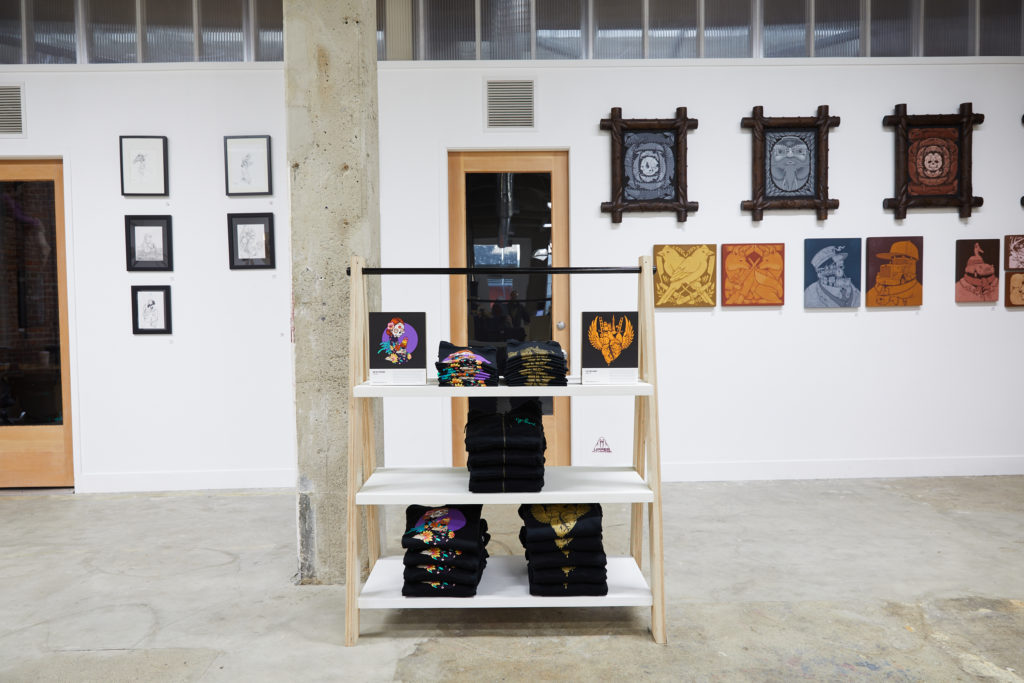 Currently, a pop up art exhibition curated by Upper Playground is on display at American Giant's flagship store in San Francisco. The two artists met there to talk about their careers at a panel discussion last month, where they spoke about the brand and what it means to them.
For Flores, it was the opportunity to be able to create art that reflected the city that inspired him that drew him to Upper Playground. "SF was just such a melting pot. Anything goes and everything goes. You can do whatever you want – I kind of wanted to reflect that in my art," he said.
For Fish, one of the differentiating factors about Upper Playground was that it was the first brand that made the artists, and not the product, the focal point. There was no anonymity. "They wanted people to know us and know our stuff, and care about it," he said.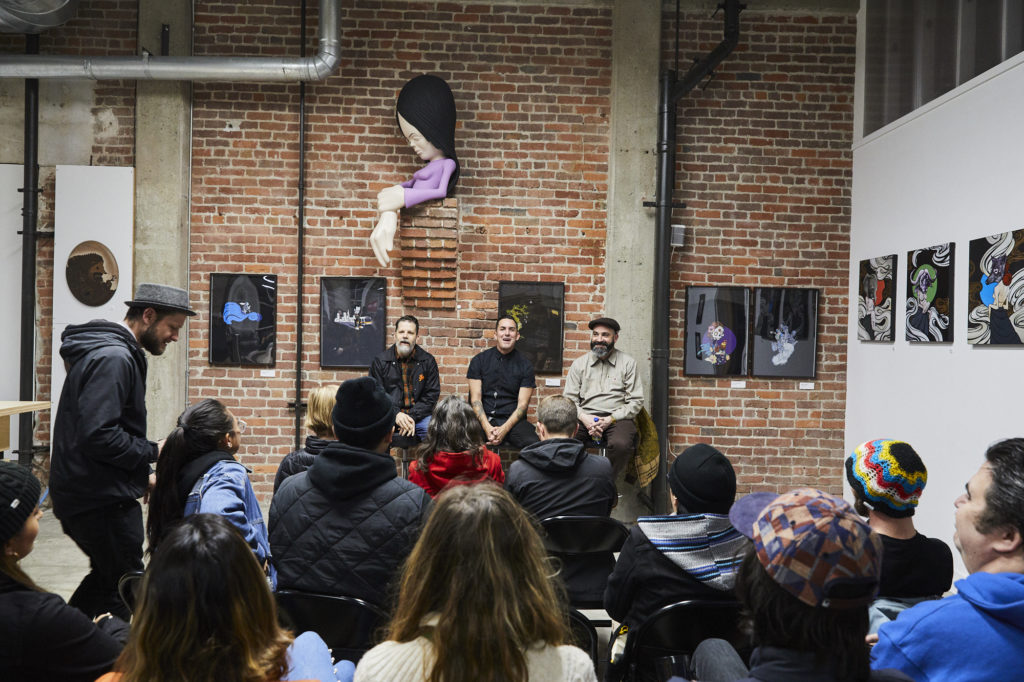 At the time, using clothing as a vehicle for promoting art was a new avenue, one that bore a huge risk for artists. Back then, one could only be a fine artist who displayed their work exclusively in galleries, or a sellout who used their art for commercial gain. There was no gray area, according to Brian Flynn, founder of the creative agency Hybrid Design and the clothing store Super7, who moderated the panel discussion. For both Flores and Fish, working with Upper Playground was new ground. A huge gamble—but according to Fish, it's what all artists should strive to do. "Put your work in front of people, try finding new avenues and new audiences to enjoy what you're making," he said. "The easiest advice is to take risks."
Words by Adriana Georgiades, MA Fashion Journalism.