School of fashion instructors, Rob Curry and JR Watson, are hosting a series of movies that are sure to enhance your appreciation for fashion and film. They started off with sci-fi sexiness of Barbarella (Jane Fonda+ space age metallic style=HOT) and on Wednesday, July 29 the duo will be screening La Reine Margot based on the novel by Alexandre Dumas.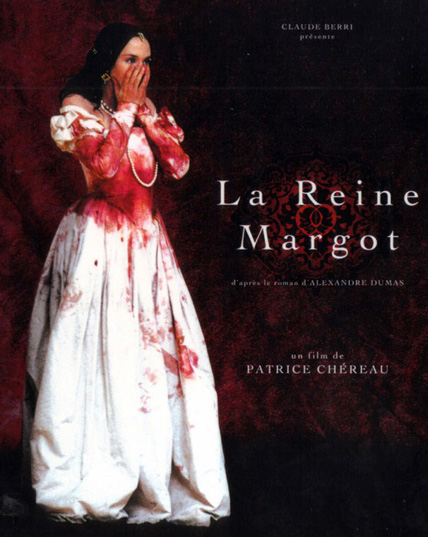 No, this is not a zombie movie. Nor is it a slasher film. Sure, there is a blood-soaked dress, but that doesn't necessarily mean there is horror involved. Well, in this case there is. The film is about the the St. Bartholomew's Day Massacre in 1572 Paris.
Here's the skinny on the story: Catholic Catherine de Medici arranges the marriage of her daughter Margueritte (Margot) de Valois (sister to King Charles IX) to Protestant Henri de Navarre (Bourbon dynasty – first Bourbon king) This brings in thousands of Protestants to the Catholic dominated Paris. After the wedding, there is a huge massacre of these Protestants resulting in the confinement of Henri and Margot in the Louvre.
Now that's a love story.
If your interested in watching the movie, here are the deets:
WHAT: Rob and JR screen La Reine Margot
WHEN: 3:30 p.m. Wednesday, July 29, 2009
WHERE: 79 New Montgomery Theater
Stay tuned for more movies with Rob and JR!