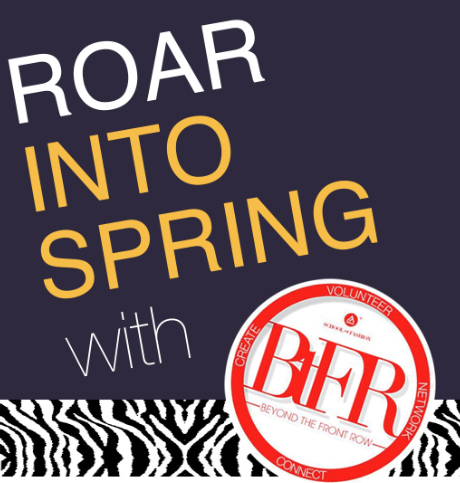 We've got our eyes (of the tiger, a fighter, dancing through the…you get the idea) turned towards Spring 2014! Beyond the Front Row is hosting, BtFROAR, their final meeting of the semester on Thursday, December 5th from 5:00 – 7:00 PM!
BtFR board members will be signing up volunteers for Spring 2014 events including the May Graduation Fashion Show, Discarded to Divine and the School of Fashion Pop-Up Shop, as well as mc-ing the evening's "Style Off".
#BtFROAR will offer student styling teams the opportunity to compete for fab prizes awarded by the night's judges, Keanan Duffty, JR Watson and Diamoneek Belton. Styling teams can have up to three members, and can enter by messaging Beyond the Front Row via Facebook.**
The evening's call of the wild theme pays tribute to The David Sheldrick Wildlife Trust, who Beyond the Front Row will be generously adopting an elephant  from on behalf of its members.
Whether you come to style, sign up for events or just celebrate the end of the semester, we'll look forward to seeing all you BtFR-ers there…looking fierce!
**The deadline for teams to sign up is no later than Monday, December 2nd. For more information be sure to check out BtFR's Facebook , Twitter and Instagram, #BtFROAR