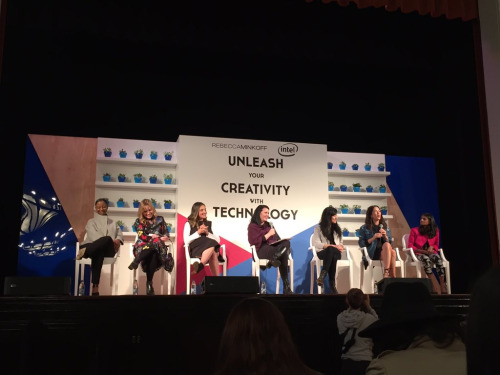 It's not everyday that one gets to see and listen to a panel of women who've individually found success in the world of tech. But on April 11, I got to see just that.
I went to UC Berkeley's Unleash Your Creativity With Technology talk sponsored by Intel to see Rebecca Minkoff talk about technology's impact on fashion. As a fashion journalism student, my main incentive in attending the event was to see a famous designer talk about her career. However, it was quite enlightening to learn how women are taking charge in fashion and tech—a field that still feels distant despite my living in San Francisco.
On stage in front of several undergraduate and graduate females, seven distinguished women with great business insight shared their secrets to succeeding in STEM related fields. Tiffany Shaleen Reardon, Director of EECS Diverstiy & Achievement at UC Berkeley, led the talk and helped direct the conversation in a way that the attendees could relate to. Alongside Minkoff was Alexandra Bernadotte, founder and CEO of Beyond 12, Renee Wittemyer, Intel Director of policy, Hillary Kerr, co-founder of Who What Wear, Jess Lee, co-founder and CEO of Polyvore, and Brit Morin, founder and CEO Brit + Co. Each woman shared her background and explained how she uses it to her advantage in a STEM job, or as Morin referred to it, STEAM, "because you can't have science without art."
The panelists discussed a variety of topics from how they got started online to more personal topics like knowing when to let go of toxic friendships. When asked about facing rejection, Minkoff doled out a bit of advice in the form of a mantra: "No is just the beginning of yes—it's never a failure." She shared stories from when she was first starting her career, like when she had to pass out flyers to attract customers, and explained why it was important to never settle or be complacent with current success. According to Minkoff, as women we're part of the maker movement, literally and figuratively, because we can do both—which became clear when Morin pointed to her pregnant belly.
The speakers were gracious, inspiring and motivating. They encouraged us to pursue jobs in this area that's traditionally been male dominant. They reinforced the need for more women to step up and tackle issues that men wouldn't understand.
Minkoff is proof that some job's are better done yourself. "They don't know what a fat mirror is," said Minkoff in reference to her new "smart" dressing rooms.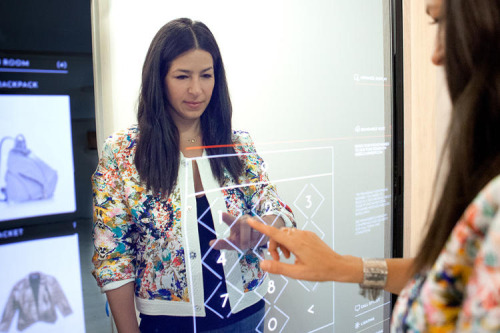 As the panel discussion came to a close, we were given the opportunity to mingle and network with the other attendees. Through my encounters, I found out that there were just as many women in science and tech as there were women in fashion. It was a perfect balance.
Breakout sessions followed with some of the panelists discussing millennials in the workforce or the continuing mergence of fashion and tech. The final event was a raffle draw, in which a first prizewinner—which turned out to be my friend and School of Fashion peer, Courtney Wilkins—received a Rebecca Minkoff bag and a smartwatch presented by Minkoff herself. The next prize consisted of a bag, wallet and a ticket to Rebecca Minkoff's Fall/Winter 2016 show in New York City. This got the crowd excited, and everybody was gripping their tickets.  As she read the numbers one by one, I realized that all of them correlated with my ticket. In a frenzy, I shouted "Woo!" and got the attention of the entire room. I quickly scurried through the crowd and onto the stage to receive my prize from the designer. As she handed me the bag with the ticket sticking out of it, we got our picture taken together. Honestly, it was all a blur, but it's a moment I will never forget.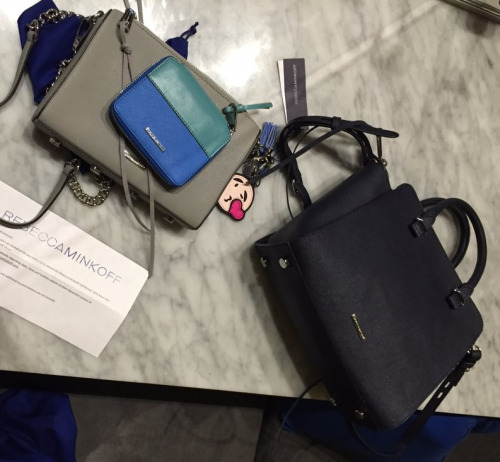 While my own experiences with tech haven't been the smoothest, I feel encouraged to persevere through the obstacles. I admit, I initially went to see Minkoff, but I left with a greater understanding of the industry as a whole and a deep appreciation for all the powerful women that were represented. The overall experience was enlightening and beneficial to my future. They gave me something intangible, yet invaluable—the advice and knowledge of distinguished women who are paving the way towards a more female-empowered future.
Written by Taisiya Vivien Moon, MA Fashion Journalism. Originally posted on FitLeisure.