You may not know it, but a large portion of the clothes hanging in your closet right now has been influenced by the Japanese kimono. Kimono Refashioned, a new exhibition running at the Asian Art Museum until May 5th, explores just that—the influence of the kimono on the Western style and the role it played in creating a global fashion market.
Making your way through the exhibit is like taking a walk through history.
Through the lens of fashion, from late 19th century to present day, the display juxtaposes Western and Japanese designs, set against a backdrop of art from various time periods, depicting elements of Kimono fashion and Japanese culture.
The exhibition begins with 19th century formal gowns, complete with bustiers, trains and corsets, made from materials incorporating Japanese motifs like chrysanthemum, irises, flowing water, and sparrows, and demonstrating how the designs of the time were influenced by the kimono, as shown, for example, by Paul Poiret's "Kimono Coat".
Dress, approx. 1875, by Misses Turner Court Dress Makers. © The Kyoto Costume Institute, photo by Richard Haughton

Dress, 1920–1930, by Paul Poiret (French, 1879–1944) for The House of Paul Poiret. © The Kyoto Costume Institute, photo by Masayuki Hayashi.
As we move into the 1920s, we see how the new loose fitting clothing of the decade mirrored the new liberties afforded to postwar society's women.
On display are designs by Gabrielle Coco Chanel and Madeleine Vionnet, who borrowed elements like large sleeves and kimono-type openings, as well as kimono construction techniques, to create loose, tubular dresses that were created with the new, independent working woman in mind.
As the exhibit progresses towards present day, we see the influence of Japanese manga and anime on modern fashion.
Garments like the Hiroai Ohya's polo shirts, adorned with manga motifs, or Jonathan Anderson's suits covered in robot motifs from the anime Mobile Suit Gundam, demonstrate how this movement liberated fashion from distinctions between high and low style, and between fine art and pop art.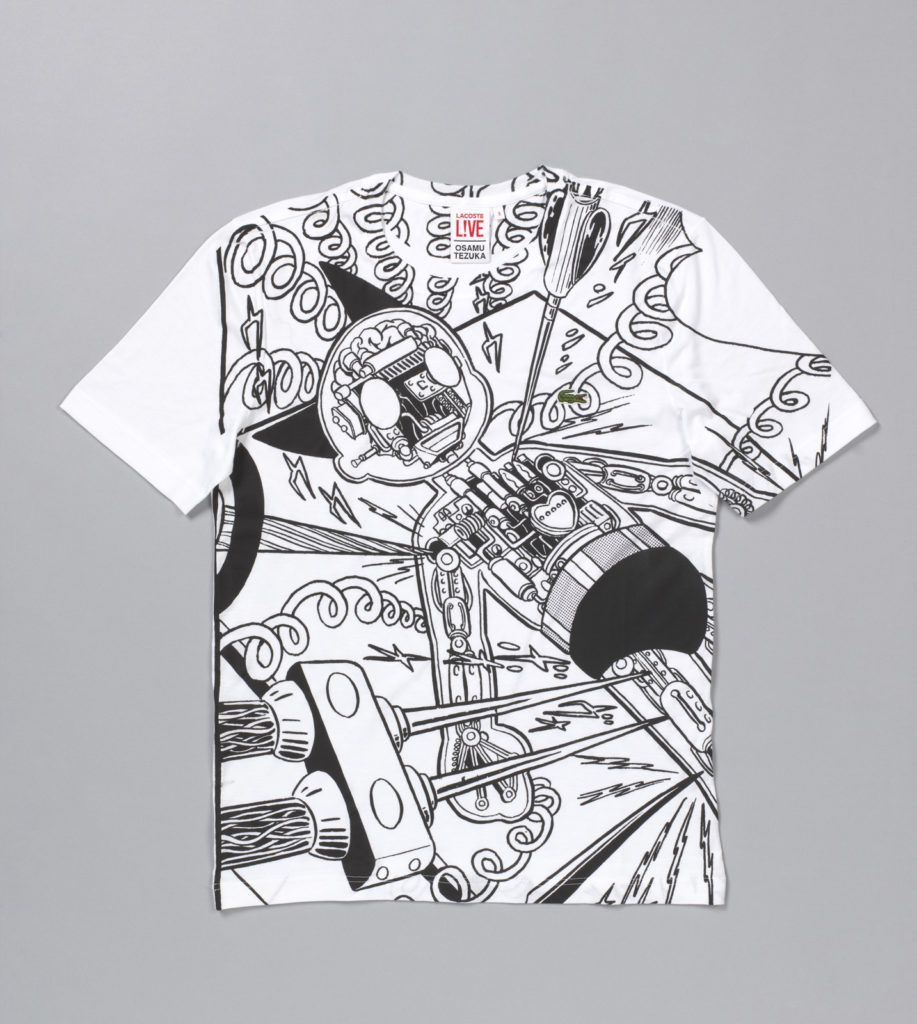 Sourced from vast collection of The Kyoto Costume Institute, the garments on display represent the wide reach of the kimono, from Japan to America, from Yoshi Yamamoto and Rei Kawakubo of Comme des Garçons fame, to Christian Louboutin and John Galliano.
Evening dress, Autumn/Winter 1991, by Rei Kawakubo (Japanese, b. 1942) for Comme des Garçons Noir. © The Kyoto Costume Institute, photo by Takashi Hatakeyama.

Dress, Spring/Summer 1995, by Yohji Yamamoto (Japanese, b. 1943). © The Kyoto Costume Institute, photo by Takashi Hatakeyama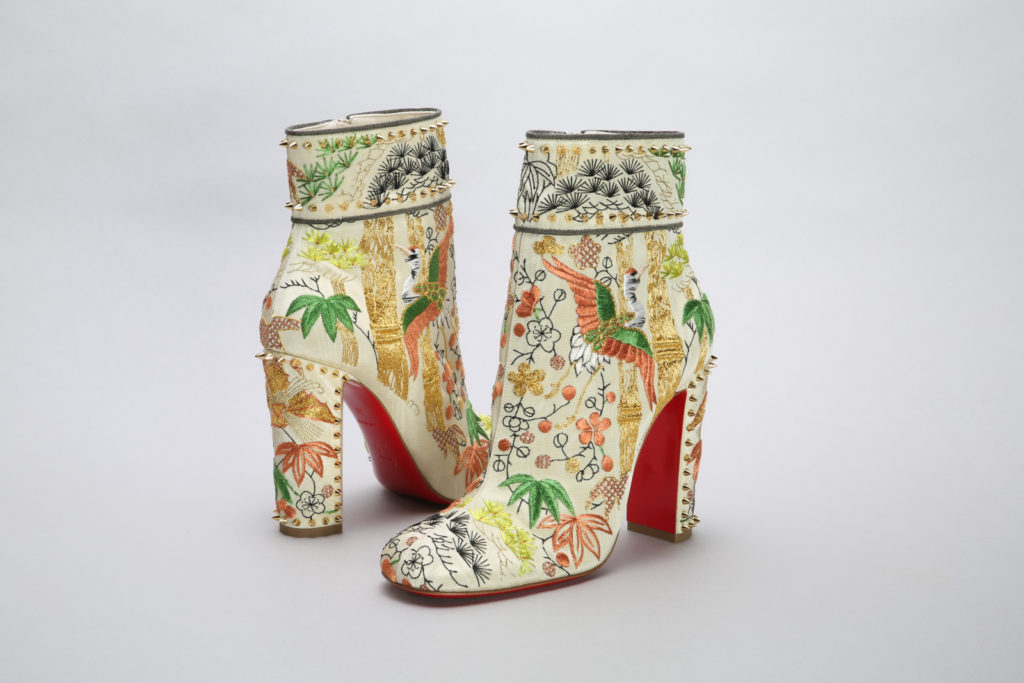 Many of the modern Western designs exhibited from the 1960s, 1990s and early 2000s feature wide sleeves, V-shaped necklines and waist detailing that resembles the Kimono silhouette, such as a blue silk jacket created by Tom Ford for Gucci in 2003.
Other designs embody Japanese construction techniques, like the spider-web binding pattern used by Maurizio Galante to create a pullover, or the Shibori dyeing technique employed by Iris Van Herpen to create a textured dress.
Jacket, Spring/Summer 2003, by Tom Ford (American, b. 1961) for Gucci. © The Kyoto Costume Institute, photo by Takashi Hatakeyama

Dress, from the Iris van Herpen Haute Couture Collection, Autumn/Winter 2016, by Iris van Herpen (Dutch, b. 1984). © The Kyoto Costume Institute, photo by Takashi Hatakeyama
The name of the exhibition attests to its versatility.
"This is not a kimono show," says the Asian Art Museum Director and CEO Jay Xu. "Instead, our exhibition emphasizes the cultural fluidity of Kimono and its expression in modern fashion, vividly demonstrating how a simple item of clothing can contribute to meaningful exchanges of ideas."
The exhibit is a fascinating exploration of the power of fashion to transcend borders and cultures, a must-see for both fashion and art lovers.
Words by Adriana Georgiades, MA Fashion Journalism
Instagram competition: Tag the @asianartmuseum on your Kimono Refashioned-inspired fashion sketches and you could win a year-long membership to the Asian Art Museum, the Kimono Refashioned exhibition catalog and a chance to be featured on the @asianartmuseum's Instagram page! Contest deadline is Friday, March 8, 2019.