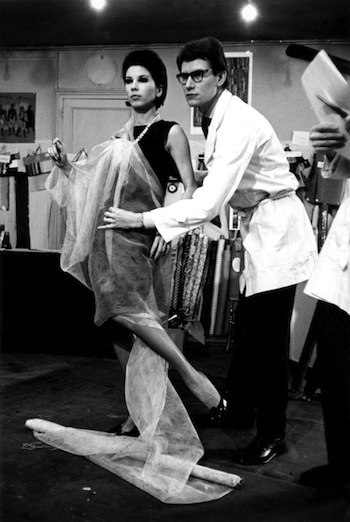 Last year, the San Francisco Film Festival brought us Bill Cunningham New York. This year, they will continue the fashion in film trend with the French documentary Yves Saint Laurent L'amour Fou by director Pierre Thoretton (also known simply as L'amour Fou which loosely translates to "crazy love").
The trailer below is in French, but I don't think you really need to speak the language fluently to understand what the doc is about:
In short, here's a summary of the film:
…Thoretton's first feature captures the well-known highs and lows of this remarkable but also stormy career: Saint Laurent's breakdown when conscripted into the French Army in 1960, during Algeria's Independence War; signature designs like the Mondrian-inspired dresses that epitomized Pop Art chic; his celebration of feminine beauty via muses from Deneuve to Iman; becoming the first haute couture house to "democratize" fashion via affordable prêt-à-porter lines; working compulsively hard and playing harder in the cocaine-fueled celebrity bubble of Studio 54. But Thoretton's film provides us privileged access beyond the headlines. Its primary voice is that of Pierre Berge, Saint Laurent's surviving business and life partner…
For those of you who will be in San Francisco, the film screens in May, and you can purchase tickets here.
Here's another taste of the film (it looks riveting just by the video clips):