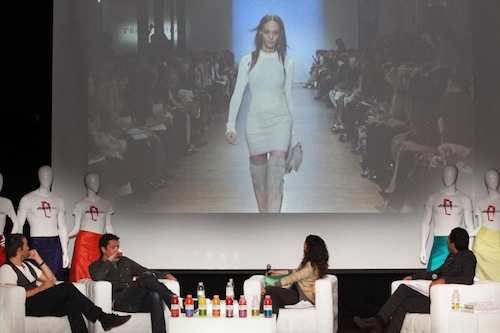 Last week, David Neville and Marcus Wainwright from Rag & Bone as well as Andrea Linett, creative director of eBay fashion paid a visit to our school to talk about their experience in the industry and their insight.
The event included a discussion moderated by Fashion Marketing instructor Gabriel Gima as well as a presentation of Rag & Bone's collection and a Q&A with the students in the audience. The event was to also talk about a contest hosted the Council of Fashion Designers of America and vitaminwater®. The School of Fashion was asked to participate in the "Color Collection T-shirt Design Contest" where students have the opportunity to create a T shirt design that could be produced and sold alongside designers from the CFDA as part of the vitaminwater® color collection. The winner also will receive a $5000 grant to kick off their fashion career. (Click here for more details about the contest.)
The event included lots of insight to the hip men's and women's wear collection by Rag & Bone as well as Linett's experience in print journalism (she used to work at Lucky magazine) and her job at eBay. Check out the gallery of pictures below.
All photos by Bob Toy.