Westminster Abbey was awash with beautiful hats last Friday, mostly by the two important London milliners Philip Treacy and Stephen Jones. They rose to prominence because of their close collaborations with Alexander McQueen (Treacy) and John Galliano (Jones).
Both produce two separate millinery collections, one for clients and for runway.
English women really know how to wear a hat to a grand occasion such as this wedding, the Royal Enclosure at Ascot (horse racing) and Henley Regatta.
However, no woman in her right mind would wear a boar's head (Stephen Jones for Dior) or a ship in full sail (Philip Treacy).
No one except two, now one – truly brilliant fashion eccentrics.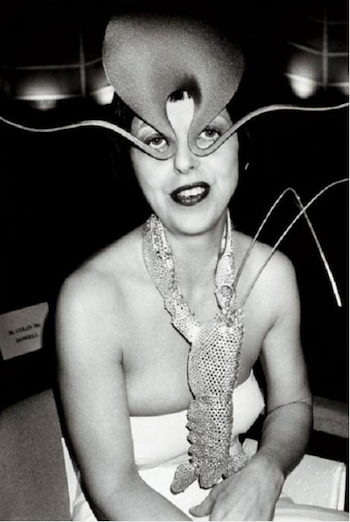 The late Isabella Blow — and who can forget her with an oversized lobster or a golden eagle on her head? And Anna Piaggi of Italian Vogue who gets away with a Statue of Liberty headdress or a tiny clown's hat perched above her eyebrow.
Follow the jump to read more.

Which brings me back to the hats at the wedding. Most of them were flattering, romantic and very pretty. Exotic maybe – not ridiculous.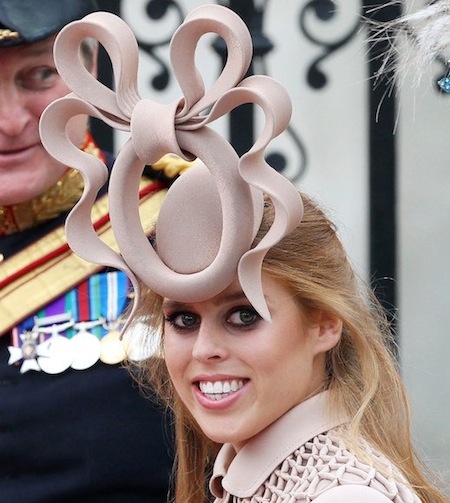 But Philip Treacy (whose work I love) should never have allowed Princess Beatrice of York anywhere near a reference to Isabella. Never. In fact, both she and her sister Princess Eugenie need strong fashion direction, and not only from neck up.
Maybe the new royal bride, who has a perfect sense of style, can help these little girls.
Kate Middleton, now H.R.H. the Duchess of Cambridge, is a young woman with great poise and excellent instincts. She was closely involved with every aspect of the wedding.
Here are some details I really approved:
– The fully grown maple trees inside the Abbey, a reminder of royal support of the environment. On the other hand the eminent historian Simon Schama, (cousin of Leah Garchik of S.F. Chronicle) said, "Those trees in the abbey are of course an echo of gothic vaulting."
– Lesser royals (in great number) who were put into a parade of mini-buses and transported to and from Buckingham Palace. A reminder that public transport is o.k.
– Kate's brother, James Middleton, the only layman to mount the pulpit, to read a passage from the bible was dignified, eloquent and had memorized the words from Romans Chapter 12. This image may help to replace recent tabloid pictures.
– The postponement of the royal honeymoon: no reason has been given but I speculate it is timing. The newly-weds wish to avoid the press frenzy which would surely follow another junket at taxpayers' expense. Yesterday, Prince William resumed his duties as a Search and Rescue Pilot.
Written by: Gladys Perint Palmer
Click here to read more of "Picture This" by GPP. For more on her coverage of the Paris Haute Couture 2011 shows, click here.