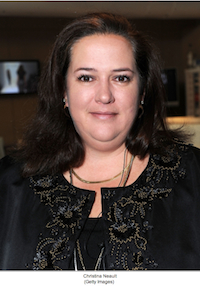 Fashion School Daily caught up with one of our special guests for the upcoming Graduation Fashion Show and Awards Ceremony -– Christina Neault is the Executive Producer of IMG Fashion which includes producing and overseeing every show at Mercedes-Benz Fashion Week at Lincoln Center in New York City.
How did you get to where you are today?
I went to the Fashion Institute of Technology and got a part time job Xeroxing press clippings for a trade organization called The Men's Fashion Association (MFA). They did press events for consumer and regional press. Part-time turned into full-time and within a couple of years I was their fashion show producer. MFA started downsizing as the fashion editors and regional newspapers started going away and I began freelancing with some of our 300+ members doing events, fashion shows and public relations. During that time, I became a venue manager for 7th on Sixth and shortly after IMG purchased 7th on Sixth, I went full-time.
How far in advance does the planning begin for Mercedes-Benz Fashion Week at Lincoln Center?
We are planning MBFW 365 days a year. Some things are planned years out – like dates and street closures.
What are you most happy about with Lincoln Center?
Space, technology and sophistication.
Follow the jump to read more.

For the Fashion Journalism students who want to one day sit in the audience of the shows — what are the requirements to get on the official Mercedes-Benz Fashion Week press list?
All journalists and photographers must be approved by the MBFW press team. They must submit past fashion week coverage and/or two recent examples of work, masthead, etc …
Is there a number one piece of advice that you would give students who desire to be in the industry? Treat everyone with respect and be nice. The girl answering the phone may be CEO several years down the road and she will remember how you treated her.
There are 14 fashion events that are part of IMG's global portfolio, including Mercedes-Benz Fashion Week at Lincoln Center. Do you travel the world for these events?
I am the Executive Producer of our New York and Miami events. We have teams in most of our markets and we all work together depending on the season and what the needs are in that market. So yes I travel but not every season to every market.
Do you have time to take a holiday after fashion week is over?
There is a very short time between the September and February shows so little vacation is possible other than Christmas vacation. I just had a fantastic week in Columbia!
Any holiday destinations planned for the summer?
Summer is difficult –- we have MBFW Miami in July and are crazy with the September addition of MBFW NY in August. My only goal is a few long weekends at the beach.
Are you looking forward to coming to San Francisco?
Absolutely -– it is one of my favorite cities!
You can follow Mercedes-Benz Fashion Week on Twitter: @MBFashionWeek
Volunteer information for Mercedes-Benz Fashion Week: www.mbfashionweek.com/volunteer
For more information on our graduation fashion show and events, click here.