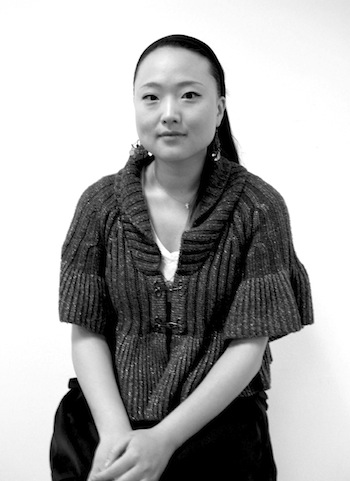 Ashley Jung, B.F.A. Menswear Design, has interned at Garen Ford and speaks four languages. She created her menswear collection made of suede, leather, cotton twill, waterproof rain wear nylon and linen that she hand dyed.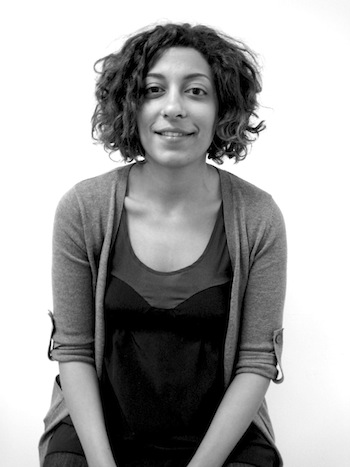 Fayrouz Abi Assi, M.F.A. Fashion Design, has a B.S. in Graphic Design, worked as a senior graphic designer at Phenicis in Lebanon, and interned with Gr.dano. She created her menswear collection using tweed, cashmere wool, wool suiting, wool flannel, selvedge chambray, suede, and goatskin.
Tell us about your inspiration?
Ashley: My inspiration started with human's body muscle structure from an anatomy book. I was interested by so many beautiful shapes of muscles layering inside of our body, and it functions very differently for every single movement. This inspired me to think of playing with classic menswear details. My color inspiration is from a random black and white street picture of raining night of the city, and Richard Diebenkorn's Ocean Park paintings. I wanted to present my collection as a mix of dark and fresh, and soft and manly.
Fayrouz: Inspired by the American depression era and the shades, tones, and layers of Arab desert dwellers.
Follow the jump to read more.

How are you feeling with the show so close?
Ashley: I am very happy and excited. I can't believe that my work will be presented to the public with my name!!
Fayrouz: Excited but Nervous.
Are you sleeping much?
Ashley: Not at all!
Fayrouz: Yes and No.
How do you stay focused?
Ashley: Starbucks venti ice vanilla latte with an extra shot!
Fayrouz: I drink lots of coffee and talk to people outside the program.
What has been your favorite part of working on senior collection?
Ashley: Experimenting of all types of fabric and treatment, especially sewing leather and dyeing linen in the pot.
Fayrouz: Pushing myself to figure things out, Learning more about my personal aesthetic as a designer, and trusting my gut in all the decision-making I came across.
If you could do this year over, what would you change to prepare yourself more?
Ashley: I suffered this year because I didn't know what was coming next.
Fayrouz: Be physically fit to endure the stress, long nights and bad food!
What are your plans after graduation?
Ashley: Sleeping, vacation, recharge and work!
Fayrouz: I am an international student. I would love to get a job here in the U.S. and continue to live the American dream 🙂
For more information on our graduation fashion show and events, click here.