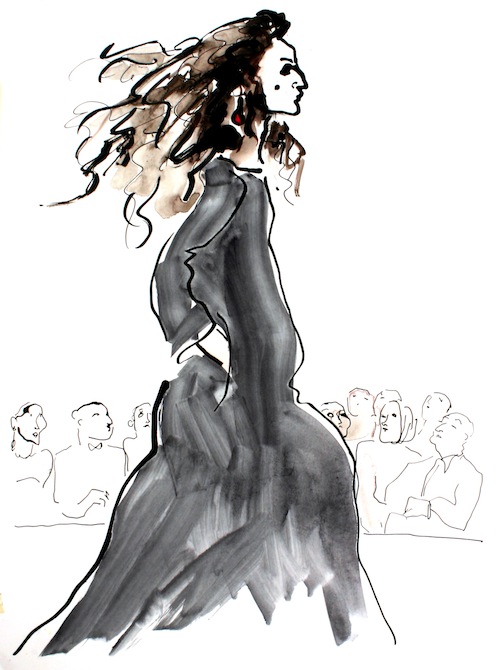 Some people have asked about the poster for our fashion show next week, also used for the invitations. The drawing dates back to 1997.
The woman is Benedetta Barzini on designer Anna Molinari's S/S 1998 runway. Benedetta was in her fifties and still ravishing. The venue was the Fiera in Milan.
Follow the jump to read more.
The daughter of the famous Italian writer Luigi Barzini, Benedetta Barzini was a top New York model in the Sixties. Editor-in-chief of American Vogue, Diana Vreeland, loved her and put her on the cover.
In the early seventies, Benedetta became a journalist, a radical feminist organizer and joined the Italian Communist Party.
Maybe the fact that her film director husband Roberto Faenza left her on the very day she gave birth to twins, had something to do with the choices she made in her life.
In true Italian style she went on to have two more children, became a teacher and still enjoyed modeling…
P.S. Part on an email from Benedetta Barzini to Gladys Perint Palmer, dated April 25 2011:
"Thank you for giving me an ulterior proof of my thoughts about fashion sketches: they capture the shape and spirit of a designer's intentions and are never vulgar. Never. Usually photography simply imposes the point of view of the photographer/editor above any other consideration. What a great talent it is to be able to draw in few seconds forms, movements, even details…Brava!"
Click here to read more of "Picture This" by GPP