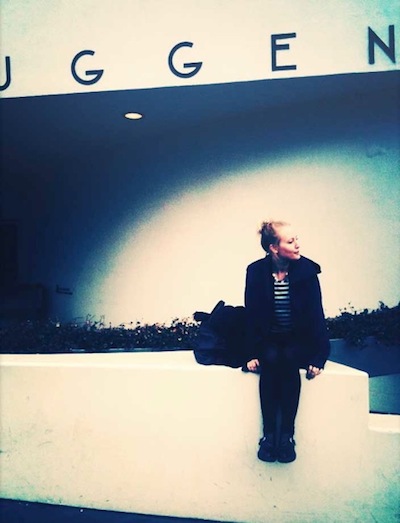 At last year's Graduation Fashion Show and Awards Ceremony, you were selected by menswear designer Patrik Ervell to intern with him in New York. Tell us about the internship. What did you do?
My internship at Patrik Ervell was a great experience. I focused on menswear construction and learned more about the production and details of pattern making. Patrik Ervell is a great example of a small, yet talented and respected brand — with a stronger focus towards quality and functionality rather than mass production.
You are now working at Balenciaga America in NYC. What do you do there?
Balenciaga was an unexpected turn in my career. I have always been a strong believer in following what comes my way, and doing PR at Balenciaga has shown to be one of the best decisions I have made. It is fast paced and intense days with editorial requests and non-stop networking which is very different than what I have done in the past. It has made me see the industry from a completely different angle, and I now realize what it takes to work for a larger fashion house.
How was Mercedes-Benz Fashion Week at Lincoln Center in February? Did you go to any shows?
Honestly, I spent long hours in the showroom since we had our model casting during that week. I did see a couple  (of shows). One of them was of course the Academy of Art University Show.
How do you like NYC?
Strangely enough, I never had an urge to live in NY. I randomly kept coming back because of work and it has been a great place to grow my job experience. After living here for a year, I have seen other sides that has made me appreciate the city more. It is
definitely a city I have to travel away from to be functioning in.
Do you miss San Francisco?
I miss California in general. It has a beauty and energy that I have never experienced anywhere else. San Francisco is a unique city and I see a lot of great things happening there now. It has an interesting combination of nature, technology and design, which is very different than other cities.
What are some of your favorite things to do in NYC?
Wake up early on a Sunday and take the train up North to Dia Beacon; walk around my neighborhood in Chinatown; and the Brooklyn flea market.
What are some things you want to do in 2011?
Work hard. Create. Continue learning