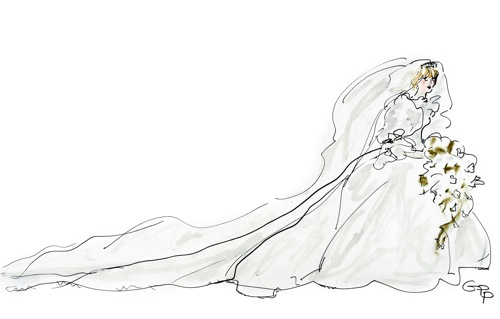 So what have sophisticated New Yorkers been talking about?
The British royal wedding, that's what.
Even though this momentous, and astonishingly unexpected event has been coming for ten years, at the speed of a glacier before global warming.
Cautious fellow, that Wills of Wales.
Did you know that Kate Middleton, will be the oldest royal bride ever. She is 28.
What else have you missed? A Time magazine article published two days after the announcement 'Who needs Marriage?'
It would seem in spite of a royal betrothal, marriage is becoming increasingly irrelevant.
Furthermore, it is whispered, that the royal family, in spite of royal romance, is also becoming increasingly irrelevant.
Who will design Kate's dress? That blue number she wore for the engagement is by Daniella Issa Helayel under the label Issa.
The bets are on an Issa wedding dress. The designer told Vogue, "Our clothes can be worn from the beach to the office and then the red carpet."
Or, from red carpet, to honeymoon, to office?
Princess Diana's 1981 wedding dress by the husband and wife team David and Elizabeth Emanuel — who divorced shortly after that wedding — was constructed to fit over a bullet proof vest.
I propose bullet proof shoes to stop minor royals from shooting themselves in the foot.
I also propose a toast, from all the loyal British subjects in the School of Fashion at the Academy of Art University:
God save our queens, ever relevant and often surprising.
Written by: Gladys Perint Palmer
Click here to read more of "Picture This" by GPP