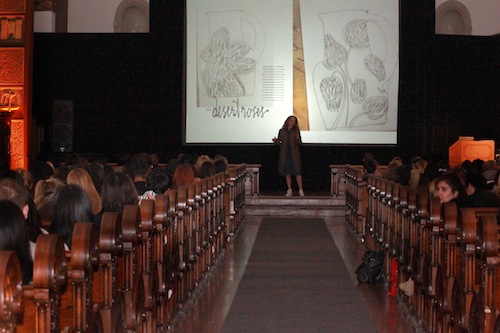 After our spring fashion show, the events kept on going with a special Trend Union event featuring Emmanuelle Linard and Dominique Fallecker. Originally, Lidewij Edelkoort was supposed to be on hand to present trends from Fall 2012/Winter 2013, but unfortunately, she was unable to make it. Fortunately, Linard from Trend Union stepped in and presented the interesting forecast of what we can expect in 2012 and 2013. The main focus was the reinvention of creating a dialogue with the consumer based on emotional connection. She presented a boatload of trends which included the continuing of eco-lifestyle, the idea of the "general store," as well as the ideas of the theatrical and bordello. She also touched on the emergence of sanctuary, re-luxury, vagabond style and marriage in the trend zeitgeist. Meanwhile, Fallecker gave an interesting presentation on La Petite Robe Noire — or as we know it, "The Little Black Dress."
Here are some great photos of the event:
All photos by Bob Toy.