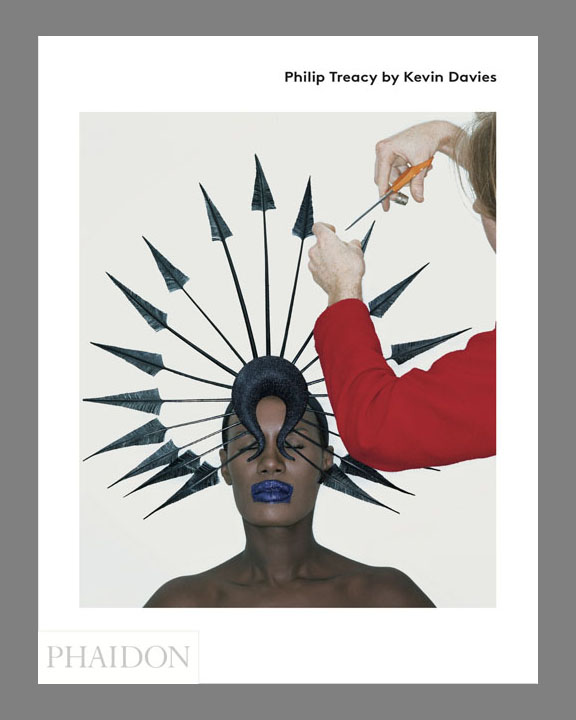 Philip Treacy by Kevin Davies. Photo Courtesy of Kevin Davies.
2012 was quite the year for British milliner, Philip Treacy. In addition to being featured as the 2012 Guest of Honor at the Academy of Art University's Graduation Fashion Show, Treacy's designs graced the head of Camilla Bowles, Duchess of Cornwall, for the Queen's Diamond Jubilee, as well as co-curated the millinery celebration Hatwalk in London during this past summer's Olympic Games.
This month, the designer shows no signs of slowing down with the release of his new book "Philip Treacy by Kevin Davies" out from Phaidon. While Treacy's collaborations with countless designer collections (Alexander McQueen, Karl Lagerfeld and Valentino to name a few) are much celebrated, his work with talented photographer and longtime friend, Kevin Davies, is less known. Davies first met Treacy on a shoot for Vogue in 1991 at the house of Treacy muse Isabella Blow. The book features Davies' photographs of Treacy at his many London studios with images of the designer styling fashion icons including Grace Jones, Naomi Campbell and Daphne Guinness.
The book's culmination highlights the over 30 Treacy designs that outfitted guests for the Royal Wedding in 2011. Treacy describes the event as one of the most exciting times in his career, crediting it as a global reminder that "Hats have always been, and still remain, an important part of our great historical occasions."
Enjoy a few of our favorite toppers from Treacy featured below.
[justified_image_grid row_height=310 height_deviation=50 ids="22343,22344,22356,22339,22349,22372″]

Philip Treacy by Kevin Davies is available for purchase here.