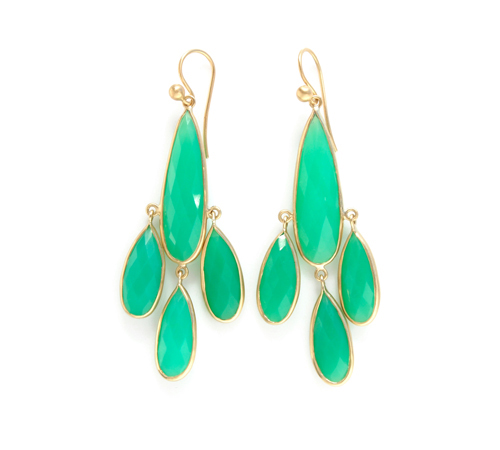 18kt gold & chrysoprase earrings. Photo courtesy of Kothari Design.
Happy Friday everyone. This weekend, it's safe to say San Francisco will be celebrating St. Patrick's Day in its full on, green glory. While typical traditions of observation may not be exactly high fashion (i.e. "Kiss me, I'm Irish" tees and Leprechaun-inspired attire), we don't see anything wrong with sporting the Pantone shade of 2013 in stylish support.
We're currently loving these 18 kt gold and chrysoprase earrings by Oakland based jewelry designer, Tej Kothari. Kothari's design origins date back to India in the 1970's where his mother worked as an antique jewelry dealer. A playful mother-son bargain (if one of his pieces sold, Kothari's mother said he could keep the money) turned an aspiring career path in genetic and molecular biology into the meticulously crafted baubles that are inspired by the Bay Area's diverse landscapes. Kothari's hand selected and custom-cut materials range from diamonds to fossilized dinosaur bones, and demonstrate the designer's eye for beauty, balance, and wearability.
Tej Kothari's gorgeous statement jewels are available at Gump's. To learn more about the designer, click here.