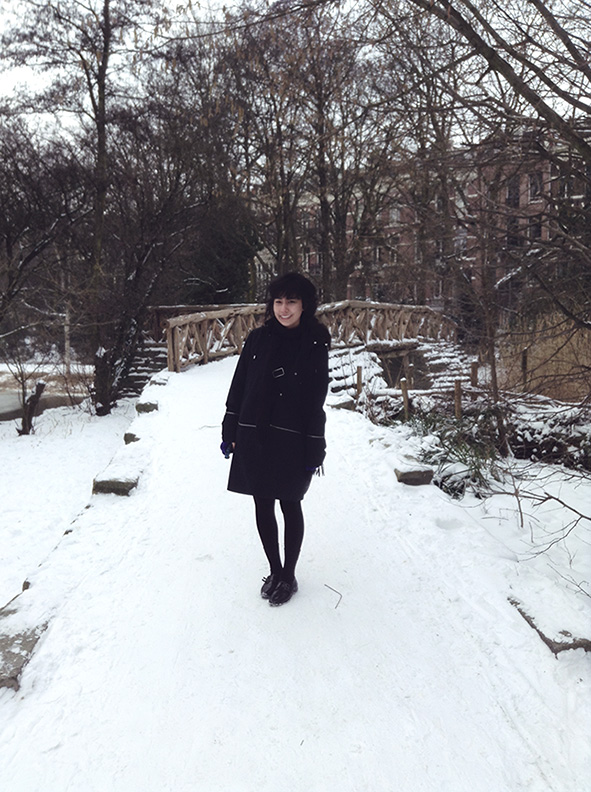 Renata Lindroos graduated from the School of Fashion in May 2012 with a BFA in Fashion Design. Immediately jetting away from the Bay Area, she flew to Amsterdam where she has been selected to intern with Iris Van Herpen. Fashion School Daily caught up with the alum to learn more about her memories of Senior Collection and post-grad adventures abroad.
When did you first become interested in fashion?
After my parents gave up even trying to dress me.
Why did you decide on the Academy of Art University? What was your experience as a student?
The facilities are probably what sold me in the end. The work environment seemed so inviting. The fact that San Francisco is such a beautiful city didn't hurt either. I had a really great experience with so many brilliant teachers who motivated me. Not to mention some lovely friends that helped keep me (sort-of) sane.
Tell us about the process of working toward Senior Collection.
It was a lot of trial, error, and horror movies. Having a chance to put everything that I learned the past three years to the test was great, as was being able to build something from the ground up. It was a constant process, though. Things kept changing and developing, from fabrics to patterns, and somehow by the end of it things all just sort of came together.
How did you feel after seeing your pieces on the runway?
I don't think I've ever smiled so hard in my life.
[justified_image_grid row_height=400 height_deviation=100 ids="22321,22320″]
Photos courtesy of Renata Lindroos.

You're now interning with Iris van Herpen in Amsterdam, how did you land such an amazing opportunity?
I'm not entirely sure. A few emails, an interview, some trial days, and here I am! I'd like to think my portfolio helped though.
What is it like working on couture pieces?
It was a bit nerve-wracking at first. I was constantly worried about accidentally wrecking a garment just by touching it. Thankfully, that hasn't happened. It's definitely put all my technical skills to the test. I'm learning new techniques every day.
How are you enjoying Amsterdam?! Any favorite spots in the city?
Amsterdam is really charming. I bike to work along the canals everyday. It's so picturesque that I sometimes lose myself in the scenery (which is fine and dandy until I run into another bike and get yelled at for being a tourist!)
I do love the library though!
What are you currently obsessed with?
Euroshopper! It's this super inexpensive food brand in Amsterdam. I'm able to get a week's worth of food for about 10e!
[justified_image_grid row_height=400 height_deviation=100 ids="22319,22322″]
Photos courtesy of Renata Lindroos.
For more Alumni Updates, click here.