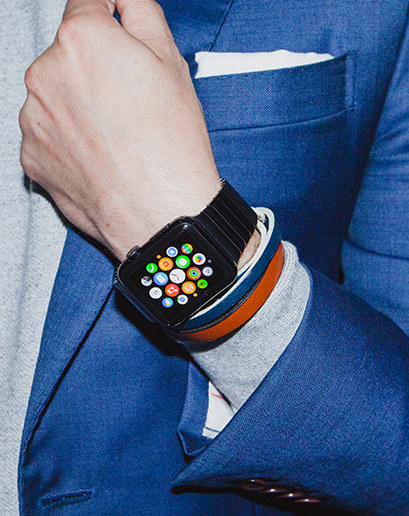 Technology has become an integral part of our everyday lives, while fashion is still the means in which we reflect our social status to the public eye. After all, it wasn't long ago when we weren't able to carry our mobiles, laptops and tablets with ease. Technology wants to catch up with fashion as an element of the social status public display. Enter Smart Fashion. In fact, it is a long-awaited child of the "long-lasting marriage."
As Jonathan Newhouse, Chairman and Chief Executive of Conde Nast International, said, " Apple has created a new sector: techno-luxury" in which technology is becoming luxury and luxury is becoming technology. Many fashion designers are aware that their clients want accessories for their iPhones or iPads. They want something that declares their status symbols and address their positions in society.
Technology has been regularly used by luxury brands to sell products through social media. For example, Burberry's loyal clients were able to buy their favorite looks from the Spring/Summer 2016 collection that was live-streamed during London Fashion Week. The days when the clients had to show great patience until the collection would be available in stores are in the past.
​​In 2014 when Apple CEO Tim Cook presented the Apple Watch, the need for partnership between technology companies and fashion's leading luxury brands became amplified. A high-tech wrist-wear must be useful without sacrificing style. The Apple Watch had to be elegant and brand differentiated in order to appeal to the public and generate a mass desire. However, what happens with the classic and traditional luxury watch brands such as Tag Heuer or Rolex? Should they be worried about the future?
According to Stephane Linder, Chief Executive of Tag Heuer, the Apple Watch is not a luxury product because it's not unique or rare."At $350, it looks more mass market," Linder told the Evening Standard. "A smart watch will be outdated and replaced every year. Luxury is about ease and elegance. There is nothing easy and elegant about carrying around another charger."
There may be some truth to his predictions, but he failed to remember the lesson iPod taught the music industry: it was the iPod that helped Apple get into the music business, which forced EMI Records Ltd to the brink of bankruptcy.
So what does the future hold? What if we will be able to open our car doors with our watch? What if we will be able to call our car to pick us up like the 1980's TV series " Knight Rider?" It's all possible and not a matter of how, but when.
Key companies will fade out. Just because a product is affordable doesn't mean a luxury consumer cannot find the item useful or appealing. Adidas sportswear, Victoria Secret underwear, and the Mini Cooper car are all affordable products that have been purchased by wealthy consumers based on quality. Perhaps technology excels in quality. Technology, as it seems, will outlive us all. Next time you wear an Apple Watch and ask yourself why you bought it, answer in terms of quality, not the status.
Written by Katerina Stamatopoulou, MA Fashion Journalism. Originally posted in Observe Magazine.
This content was produced by Academy of Art University MA Fashion Journalism students as part of their Fashion Journalism coursework.