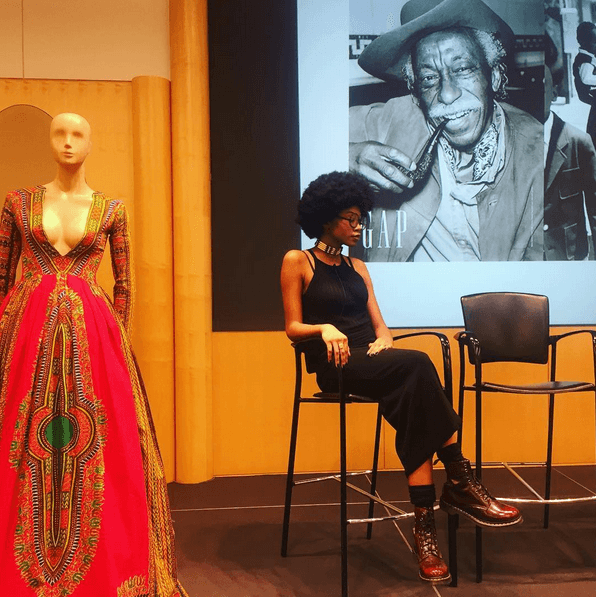 In all honesty, when I was invited to the Gap Inc. and African American Networking Group's (AANG) Black History Month panel, I had mixed feelings. I was excited to meet such an accomplished group of professionals that were African American and in fashion. However, the theme, "leveraging diversity to impact the millennial generation," led me to believe the event would focus on the current market climate of retail fashion and the role diversity plays within it. I expected a traditional, somewhat stylish, business panel, but what I experienced was quite different.
Walking into the event, my fellow Academy of Art University Fashion Merchandising MFA peers and I were instantly greeted by a group of friendly young women and led into a brightly lit room where a DJ was blasting R&B and soul music. The room was filled with a diverse group of people from a multitude of ethnic backgrounds. Dressed in classic and casual styles evocative of Gap's signature style, everyone was buzzing with anticipation.
I knew it was going to be a unique experience, and not wanting to miss a moment of it, I took a seat in the front row. Tremaine Bess opened the event by singing an African American spiritual song. Instantly, the room went silent and the crowd grew pensive. Bess's powerful solo set the tone for the event. Following the stirring introduction came the African-American Network Group (AANG) board members and the featured panelists: Bob Fisher, chairman of Gap Inc.; Matthew Forsythe, senior director of digital product management and omni-channel customer experience at Gap Inc.; Phillip Holmes, senior visual merchandiser for Banana Republic; and Kyemah McEntyre, the 18 year-old designer that custom made her dashiki-inspired prom dress in 2015.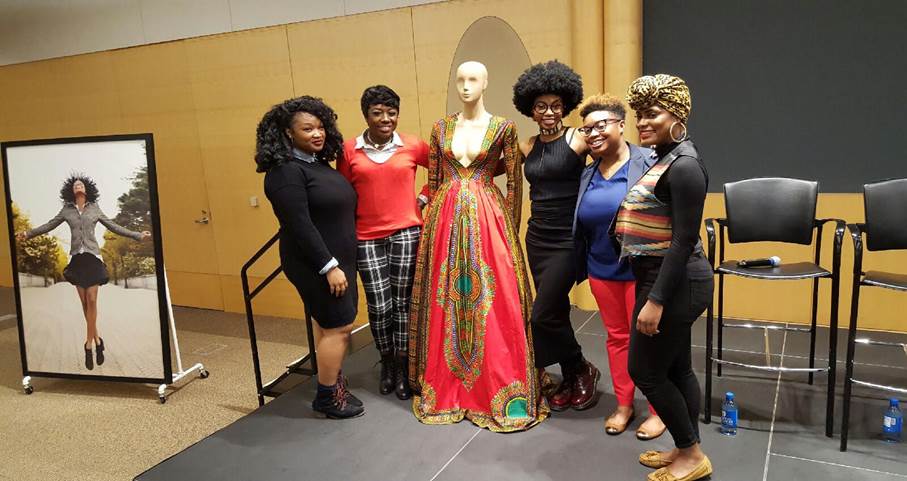 True to my expectations, the discussion initially centered on how diversity—specifically for millennial consumers—is reflected in today's retail environment. According to the panelists, the majority of today's fashion trends emerge through "bottom up marketing," which includes brands targeting outlets such as blogs and social media. In an ever-shrinking world where accessibility and digitization reign, tapping into the lucrative and influential millennial generation requires the embracement of diversification.
The discussion shifted when Holmes addressed an ubiquitous issue in mainstream culture: though popular media and fashion accept and feature black culture, he mused that "cultural blackness" is not as widely accepted.
By the end of the lecture, the floor was open to questions, the majority of which were business-related. Perhaps the most moving question came from a fellow Fashion Merchandising MFA student who shared her personal experiences in the work field after relocating from Atlanta to San Francisco. All too familiar with being identified and discriminated against by the color of her skin—of which she's been told numerous times was "too black"—she felt culturally stigmatized and professional rejected.
"Do you feel like you need to compromise your culture just to get where you are [professionally]?" she asked. The panelists overall response was the same—every working environment has a culture that one must adapt to.
What was surprising and refreshing were the reactions the students' question elicited from the audience. Once the event wrapped up, people eagerly approached the student to thank her for asking the question and being honest about her experiences. As I observed from a few chairs away, I considered how her single question ignited a relevant and necessary dialogue amongst her peers and superiors. This young woman did what no one else had the courage to do. She spoke openly and freely on a public platform on a sensitive, yet pervasive issue.
My experience at the Gap Inc. panel discussion exceeded my expectations. The event brought together so many different people and provided a platform for them to discuss the realities of the work place, the ongoing pursuit for diversity, the experiences that shaped us, and the progressive steps that'll guide the industry to a more colorful future. Not only did this make me more aware of companies in San Francisco that celebrate diversity, but it also increased my confidence in pursuing my professional goals in fashion retail.
Written by Adizzah Mahamah, MFA Fashion Merchandising.