Millennials are challenging the perception of sexual orientation, causing a seismic shift in gender targeted fashions. What aesthetically distinguishes a male and a female, masculine or feminine is not being redefined in clothing, it's disappearing altogether.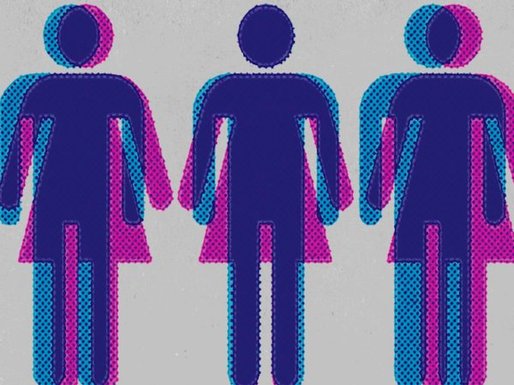 The movement shrugs off conventional gender labels, by refusing to adhere to a socially prescribed sex. It's a progression that is being respected by the fashion industry; designers are choosing not to label menswear and womenswear as two separate entities, but instead blurring the lines between the two, or offering a collection that is completely gender neutral. Vivienne Westwood's recent collection titled 'Unisex', is indeterminate and boundary-free. It features trousers for women and dresses for men, allowing for gender fluidity. It's a concept that she's been aware of for some time. "I remember reading a book set in the future," she told ELLE magazine. "It was written in the 1870s projecting to 1920, and this time traveler said you couldn't tell the difference between men and women. He saw what was coming."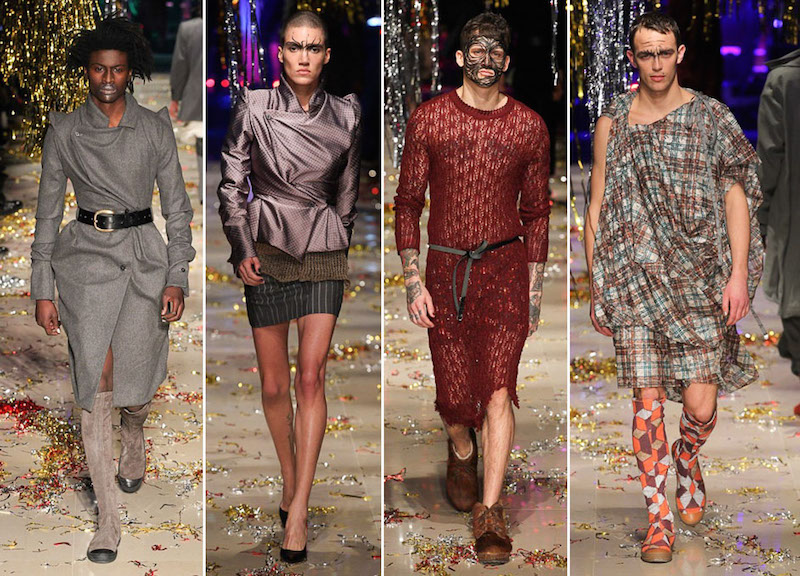 It wasn't until just before World War I that fashion became such a huge signifier of gender. Jo B. Paoletti, a historian at the University of Maryland, found that colors came to be recognized as gender specific as a result of manufacturers and retailers shaping America's preferences; Time magazine printed a chart showing sex appropriate clothes for girls and boys back in 1927. With the arrival of the anti-feminine movement in the late 60s, styles that were devoid of gender became popular. Paoletti found that in the 1970s, the Sears Roebuck catalog did not market pink toddler clothing for two years.
The gender divide came back even stronger around 1985, when retailers realized that "the more you individualize clothing, the more you can sell," Paoletti says. Pink became known as a color for girls, blue for boys, skirts were worn by women only, trousers for men, the partitions go on. It's rigid classifiers like these that the millennials want to break down again. They do not want to be sexually defined by appearance or color, especially because these distinctions leave no room to include those who identify themselves as transgender or gender neutral.
"There is a material consequence to me presenting feminine, and there's not a material consequence to me presenting masculine."
In addition to color, society also recognizes certain items and accessories as feminine. Vaid-Menon, non-binary transgender performance artist, writer, and activist from New York City said to Refinery29, "There is a material consequence to me presenting feminine, and there's not a material consequence to me presenting masculine. The minute I wear lipstick, or the minute I put on earrings, or the minute I'm wearing a skirt, my entire reality shifts."
Andreas Frontaler, husband and designer of Vivienne Westwood said in a recent interview with ELLE magazine, "A dress can work for both, because there is both in us, masculine and feminine. I'm 51 per cent man and 49 per cent woman, I think. I just look like a man. But I can feel like a woman, I can understand women."
One of the first to adopt genderless clothing was Pierre Cardin, an Italian-born fashion designer known for his avant-garde and space age style clothing. Advances in technology and fabric production during the 1960s allowed the production of his streamlined, minimalist designs for both men and women. He preferred body skimming apparel for both sexes, rather than dressing women in pants as many other designers did at the time. Even then, his clothes were seen as gender neutral rather than unisex.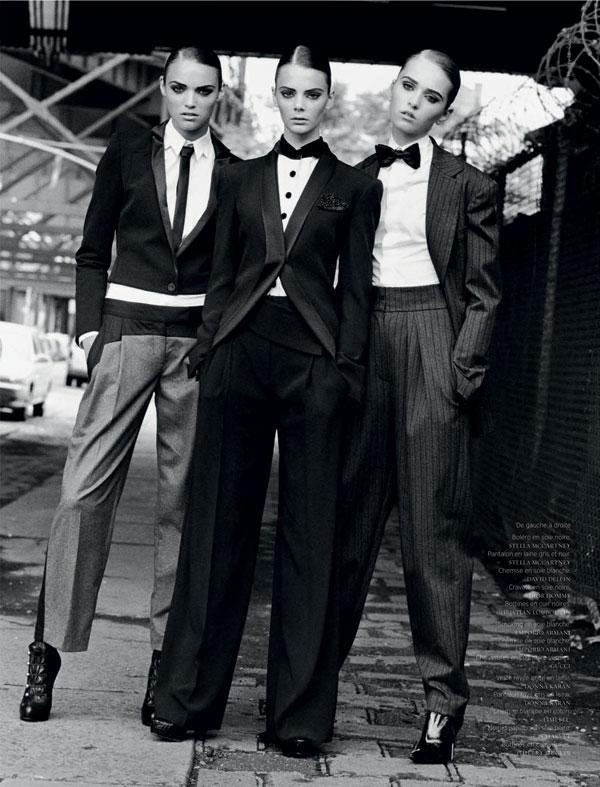 It's true that men and women will always be genetically different in their makeup, but as a civilization we have chosen to create aesthetic boundaries that separate the two even further. When we encounter one another, we recognize and accept identity this way. Including gender neutral as an option allows people to define their own identities and to live in a way that feels authentic to them. People can choose instinctively the clothes that reflect who they are, as opposed to what has been prescribed or targeted.
The norm however, is to separate womenswear and menswear in retail stores. This is known as gender-specific target marketing; essentially deciding who can wear what. Until now, it has always been one or the other, male or female, menswear shopping or womenswear shopping.
"The distinction between man and woman is disappearing, aesthetically at least…As a designer, you reflect the culture, and this is a big facet of our culture right now."
"Nobody cares anymore", says Lazaro Hernandez, cofounder of Proenza Schouler. He tells Vogue, "The distinction between man and woman is disappearing, aesthetically at least…As a designer, you reflect the culture, and this is a big facet of our culture right now." If fashion can be used as a signifier of gender, then it can diminish it too. Colors and patterns have been so distinctly attached to one gender and not to the other, that some brands have chosen to neutralize this idea completely. Others are purposely blurring the lines and redefining what may in the past have been assigned to a particular sex, flower patterns for females for example.
Gender fluidity has been dominating the runways in the last few seasons. Designers such as Gucci, Proenza Schouler, and Chanel recently used men in their womenswear shows, while Givenchy, Giorgio Armani, Saint Laurent, and Moschino did the opposite. Gucci's fall menswear collection consisted of pussy-bow blouses and high-waisted flares that echo the 70s, the era where unisex dressing flourished. Miuccia Prada stated in the New York Times recently that, "more and more, it feels instinctively right to translate the same idea for both genders." At a recent runway show she emphasized this point by leaving a printed card on the seat of viewers stating, "gender is a context and context is often gendered."
The runway is not the only the arena to recognize the movement; clothing stores and gyms are building non-gendered changing rooms, dating apps have gender fluid options, and there is an increase in gender neutral bathrooms in public areas.
The shopping experience has changed. Revolutionary clothing brands like Acne, Vince, and Rag & Bone intermix their clothing racks to allow the shopper to define the offering for themselves. The historic department store Selfridges of London, launched an experimental popup earlier this year called 'Agender', which they described as "a celebration of fashion without definition." It examined shifting gender boundaries through, music, design, and fashion collaborations, where gender-fluid labels like Nicopanda, Ann Demeulemeester and Yang Li cohabited the same space. Liberty of London's fall merchandise is 25 percent unisex.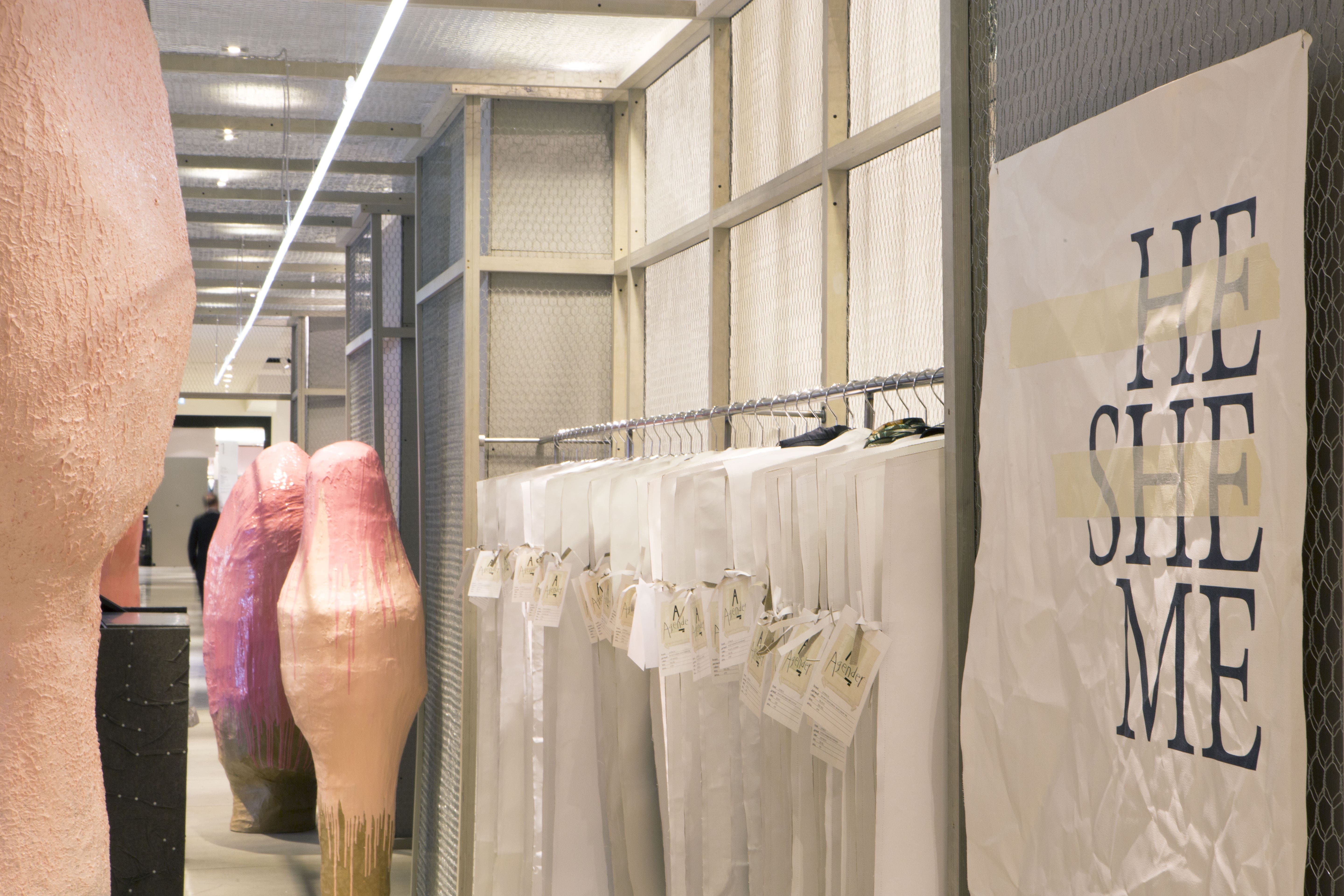 "We're not abandoning the versatility of unisex. We're just not targeting it."
Some brands have even surpassed trying to be unisex, expressing that another label, is still putting people into a ternary or third gender category. Judson Harmon of Odd, the New York based gender fluid brand says, "We're not abandoning the versatility of unisex. We're just not targeting it. People want to and can shop without limitations, or stereotypes." It's clothing geared toward a new generation.
It seems this time around, in the generation of the millennial, that gender neutral is here to stay. "The trend has a label, and it's gained acceptance by a mass audience," says the designer of gender-fluid brand Humberto Leon. The perception of gender-based fashion design and marketing with its dire need for redefinition is being heard, considered, and respected. Millennials are using the hugely effective power of social media to make it known. We are dictating how we want to be accepted in our culture, and how we need perceptions to change. Aesthetics are a huge part of how we define ourselves, and who we are in a culture. With a generation creating change and a fashion industry that is responding, the lines that separate are being stripped back, blurred, and in many cases disappearing altogether.
Written by Faye Harris for her magazine What it Takes.