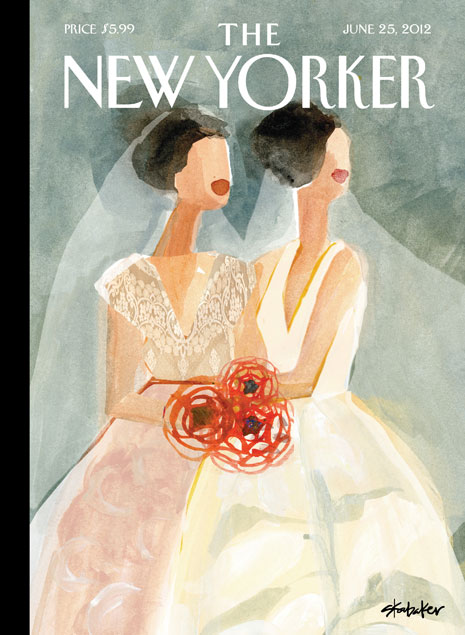 Gayle Kabaker, online fashion drawing instructor and former Academy of Art University student, has landed her work on the cover of The New Yorker! The magazine's art editor, Françoise Mouly, found Gayle's image through her blog – Blown Covers. Each week, Mouly holds a contest on the blog, asking artists to design covers that are aligned with the themes that she suggests to her regular contributors. Gayle submitted four images – and received a personal email from Françoise asking her to withhold one of them from the blog, because she wanted to bring it to The New Yorker creative department. "Just seeing [Françoise's] name in my inbox was a trip!" Gayle told Fashion School Daily.
After a few weeks, Gayle received a phone call from Françoise telling her that the piece was seriously being considered for the cover, but not to tell anyone because things can always change at the last minute. She finally got word that the cover had been sent to print, and could not believe it. "It was the realization of a lifelong dream," said Gayle.
Follow the jump to read more!
The painting had originally been part of Gayle's most recent exhibition, for which she decided to paint what she loved most – women and fashion. For Gayle, "this proved to me that when one really does what they love, it's the best way to go." We certainly agree.
This is the first cover that has ever gone from Blown Covers to the actual cover – but maybe not the last.
Congratulations Gayle!!