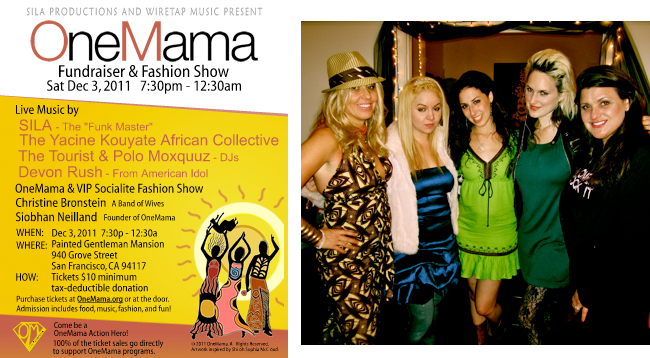 L-R: Siobhan Neilland – One Mama, Shae Lynn – VIP Socialite, Devon Rush – American Idol, Amanda Michelle Foschia – Mannequin SF and VIP Socialite, Hyla Molander – Women Rock it
Saturday December 3rd marked the annual One Mama Fundraiser and Fashion show, an annual benefit to raise money for the non-profit organization, One Mama, founded in 2007 by Siobhan Neilland. The evening was held at the Painted Gentlemen's mansion at Alamo square. It was a night full of fashion – with a runway show put on by One Mama and VIP Socialite. There was music and live entertainment by "Funk Master" Sila, The Yacine Kouyate African Collective, Bay Area DJs and a performance by Devon Rush from American Idol. There were also belly dancers, speakers and much more. It was a fun event that brought everyone together for a great cause. 100% of proceeds from the event went to the One Mama programs in Africa.
I have modeled for the One Mama collection before so when I was asked to be a part of this event and to model for One Mama once again, of course I said yes. On the day of the event I met up with a couple other models in the city to make our way to the event together. After a quick stop at Coffee bean, we arrived coffee in hand, right on time around 5 pm. The mansion was still being set up and there was a lot to be done before the event opened its doors to the public at 7:30. The hair and makeup teams were at the ready to prep the bevy of models.
Follow the jump to read more!
Shae Lynn from VIP Socialite organized the fashion show, and was busy making sure everything was in order for the evening. Since she had some things to pick up for the show before she got there I decided not to model, as there were more than needed, and stepped in to help setup and run backstage. Three designers showed their collections at the event: Victor Tung, a bay area designer who specializes in "one of a kind, handmade, hand-painted, wearable art". His gowns and wearable art have been featured in The New York Times, The San Francisco Chronicle, examiner.com, Town and Country and the Nob Hill Gazette. Daniel Chimowitz, a bay area artist and designer, who paints wearable canvases for both men and women, also showed his collection on the runway.
The One Mama collection of dresses, handbags, baskets, earrings, and necklaces closed the show. All of the items are handcrafted and made by the women in Uganda that One Mama works to support. All of the proceeds are donated to the One Mama clinics in Uganda, whose purpose is to provide onsite nurses, birthing kits, medical supplies, malaria tests and treatments, and economic sustainability education to communities.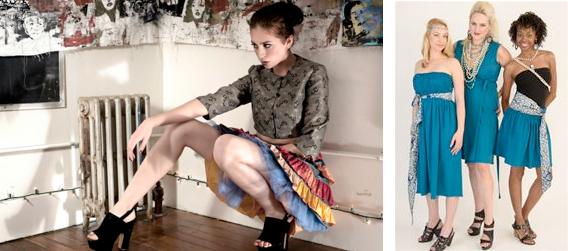 A look from VT Couture, Photo Courtesy of Herm Pugay; the One Mama Collection
Around 5:30 all 35 models were placed into groups for the three collections, and gathered for a run through. The models all lined up and rehearsed their walk as if the show was actually happening. The run through was a success and it was time to get everyone in hair and makeup while the venue was still being setup. At 7:30 people began to arrive – fast-forward 2 hours it was time for the fashion show. The VIP Socialite camera crew was there to tape and take pictures of the event. The fashion show came together amazingly thanks to the designers, models, hair and makeup teams, backstage assistance, VIP Socialite and One Mama. After the last model walked off the catwalk everyone gathered around to become one, uniting for a prayer and speech delivered by the founder herself Siobhan.
Even though I wasn't able to model as planned, it was an honor to be a part of it and help out backstage. I absolutely love fashion events that benefit the greater good. It was a pleasure working and meeting with everyone. I was able to re-connect with past friends and make a lot of new ones. I can't wait for the next event and to see the video footage on VIP Socialite tv. Until then in the words of Siobhan "We are all One Mama on this One Mother Earth! We all want to feel like we are loved and we matter in this world".
You can learn more about One Mama and purchase pieces from the Collection at OneMama.org.
Written By: Amanda Michelle Foschia