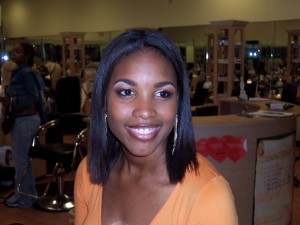 Name: Alea B Riley
Where you live: Atlanta, GA.
Area of study: MFA Fashion Design
Day job /Occupation: B2B Marketing Strategy @ Verizon Wireless
List three of your Heroes in History:
Gabrielle (CoCo) Chanel
Elizabeth Catlett
Georgia O'Keefe
List three of your Heroes today:
Uche Okonowa
Michelle Obama
Oprah Winfrey N
Name three of your favorite designers:
AKRIS
Yves Saint Laurent
Chloe
List a guilty pleasure:
Watching Law & Order
Tell us about something funny or silly that happened to you this week:
I drove all the way to work (45 minutes from my home) and realized that forgot my wallet containing my money, driver's license and credit cards on my dresser. LOL!
What is your dream job?
Effectively launch a global RTW Collection while acting as a style consultant with local television/production studio
What is the most embarrassing item in your closet?
A blouse that I made when I first learned how to sew. Its well made yet incredibly dated. I look at it to reflect every now and again but just can't get rid of it.
What is your must have item?
My Anthropologie trenchcoat – chic, cute, comfortable and goes with almost everything.
Where have you found inspiration lately?
Medieval coat of arms and medieval art
What is your most valued possession?
I would have to say my grandmother's A & B rhinestone initial pins (we have the same initials). I attached them to my work belt. She gives me hope and inspiration daily.
What is playing on your iPod?
Jay-Z, Kindred, Rhianna, Jill Scott, Marsha Ambrosious
List a person (dead or alive) whom you would like to have coffee with:
Alexander McQueen. After experiencing his exhibit – "Savage Beauty" – I would love to have the opportunity to talk one on one about his continual inspiration and see what he was working on prior to his death.
For more On Online, click here.