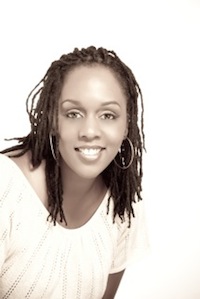 Where do you live? Norfolk, Virginia/Moving to Santa Monica, California October 2012
Area of study: MFA Fashion Journalism
Day job/occupation: I enjoy inspiring others, which is why I work as a Disability Fashion
Stylist. As one of 54 million people in the U.S. with a disability, I have personally benefited from the transformative power of disability fashion styling. For 19 years I followed clothing trends for people with physical disabilities (PWPD) as a hobby. Eight years ago my hobby turned into advocacy, when I began contacting designers, retailers and anyone who would listen to me talk about the need for clothing options for (PWPD). Three years ago advocacy turned into styling, when I styled and produced my first fashion show featuring models with and without disabilities.
I've written curriculum for training fashion stylist in the unique art of dressing people with physical disabilities. I am a fashion and lifestyle contributor for Abledbody.com and Founder of LuvWhatUWear.com, where I edit fashion styles and trends, provide easy dressing tips, and information on stylish assistive technology. I am also a disability fashion consultant, Op Ed contributor,
and public speaker. With over a decade of combined experience as a television reporter/producer and radio personality, I am poised to work as an on-air disability fashion expert.
What qualities do you most value in others? Humility, wisdom and service. People who are wise and humble enough to remain teachable are people I like to be around. I also value people who use their lives to make the lives of others better.
Name three of your favorite designers, journalists, bloggers, stores, etc.: Scott Schuman- The Sartorialist; Jeaninne Morris- Beauty Sweet Spot; Pulitzer Prize winning fashion writer Robin Givhan.
List a guilty pleasure:I can't believe I'm sharing this but I love "How I Met Your
Mother" I watch the syndicated episodes daily, sometimes twice a day, so sad but true…
What is your present state of mind? Always optimistic, I am so blessed, life is great!
What is your dream job? What I'm doing, my current job, is my dream job.
What is the most important thing that people should know about you? As a social entrepreneur I am just as concerned about the social return on investment (SROI) as I am about the return on investment (ROI).
When was the first time you recognized your interest in fashion? Wow, I don't remember a time when fashion wasn't an interest.
Where have you found inspiration lately? Ethnic prints, minimalistic clean design lines found in interior design and natural stones.
What is your most valued possession? My iPad, Oprah is not the only one who is totally in love with the iPad I love having access to multiple books, the internet, and games in one place without having to squint to enjoy it.
What music do you like to listen to? As a Zumba instructor and former Cheerleader captain for the Chicago Bulls I love music that makes me wanna dance. That includes everything from Beyonce to Arturo Sandaval to Tye Tribb.
If you had an opportunity to travel back in time, who would you like to meet, and why?
Oh without question the first fashion stylist Tobe. I would love to see her manage her business in an era when women were not encouraged to be entrepreneurs. I would also like to conduct ethnographic research and
shadow her at work for a year to see how she balanced her work/life load with her husband and family.
For more of On Online, click here.