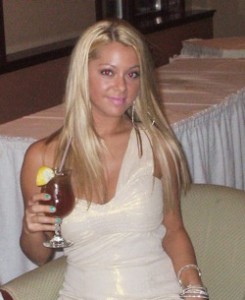 Where you live: Hopatcong, New Jersey
Area of study: Fashion Design
Day job: Contemporary Showroom and Design Assistant in the Garment District of NYC.
List three of your heroes in history: Twiggy, Marilyn Monroe, Princess Diana
Name three of your favorite designers: Emilio Pucci, Marc Jacobs, and Jen Kao
List a guilty pleasure: Perez Hilton's blog, Jerseylicious, and Jersey Shore. I cant help it, I am a Jersey girl at heart!
What is your dream job? To form a well-established clothing brand for women. One that will embrace, comfort, and compliment a women's figure, femininity, and lifestyle all in one.
What is the most embarrassing item in your closet? A blindingly silver "bling" Fetish Bag by Eve that I wanted soooo badly for Christmas when I was in high school.
What is your most valued possession? A ring my mom bought me for my 18th birthday. Its a gold ring with 3 hearts; in which symbolize past, present, and future.
What is playing on your iPod? David Guetta and MGMT!
List a person (dead or alive) whom you would like to have coffee with: This would definitely have to be Emilio Pucci. I would do anything to meet him because I truly love his work.
For more of On Online, click here.