Dear Technology,
I've been eyeing your recent partnership with the art of visual merchandising — and I love where the collaboration is going. The visual and branding industries are changing forever because of your latest sensory videos, mechanics, 4D store displays, and architectural mapping.

My recent favorite creation you made was to celebrate the launch of Ralph Lauren's new UK web site. The installation was viewed outside at Ralph Lauren's new Bond Street and Madison Avenue stores with no screens, glasses, or wires, and a splash of fragrance in the air.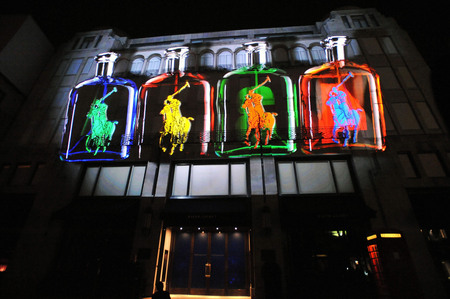 I am extremely inspired by the creativity and believability of the video. (And can't wait for more luxury designers to catch on – can you imagine a 4D presentation by Vivienne Westwood or Rei Kawakubo?)
Follow the jump to read more.

Then, there was the MAJOR, unforgettable window display at Hermes in Tokyo. I never thought that you, Technology, could capture me in such ways. I've seen this video clip a million times, yet I still get chills down my spine as I watch the serene woman blow convincing amounts of air onto the single Hermes scarf.
Lastly, how could I forget the mechanical heel display at Louis Vuitton in London? Old school (yet blinged out) technology at its finest – and yet it still captures my full attention.
So, I guess what I'm trying to say is that I'm basically in love with these new automated displays you've invented. I can't wait to see what's next. Because honestly, who can't deny the marriage of fashion and technology?
Truly yours,
Danielle
Written by: Danielle Wallis
Click here to read more of "Off the Rack"