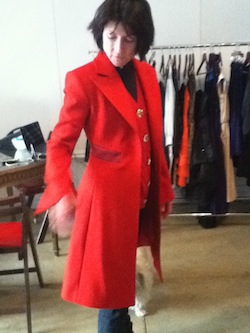 A nearly twenty year veteran of the fashion industry, this tri-lingual Duke Grad began her career as Grace Mirabella's second assistant (much as Andy Sachs did in The Devil Wears Prada. Unlike Andy, she found herself terminally attracted to the fashion industry, and eventually worked as a PR intern at Chloe in Paris and later as the PR Director for Michael Kors in Manhattan. Next, she fulfilled a lifelong ambition to be a magazine editor when she was named Bookings Editor at New Woman magazine. While there, she began her fashion writing career with a book review and interview for The Hartford Courant of then-New York Times fashion critic Constance White's latest book, Style Noir. Since then, she has contributed to numerous trade, consumer magazines and newspapers covering fashion, beauty and home décor. A two-year period followed, in which, she served as Lucire Magazine's Senior Beauty and Accessories Writer, and had the honor of profiling industry icons such as "the king of long hair", Oribe Canales, makeup maestro, Francois Nars and couturier, Ralph Rucci.
These days, she teaches online fashion journalism and greatly enjoys interacting with the online students and being tuned-in 24/7 to their particular zeitgeist and sharing her continuing fashion adventure with them in class and through her blog.
Vivian took some time to answer some questions for our "On Online" profile:
What classes are you teaching this semester?
FSH 108 – Introduction to Fashion Journalism, and FSH 619 Developments and Current Debates in Fashion Journalism. I loved writing 619, but the biggest challenge has been to keep it current.
Your blog is called The Fashion Examiner — tell us about it and what do you like to write about?
I've made "The FE" my place to cover and discuss everything fashionable from books, to designer ready-to-wear to couture. All aspects of a fashionable lifestyle are included. There's backstage coverage during New York Fashion Week, chats with Industry Insiders, as well as must-have accessories for your home. The FE pulls the curtain back on this glamorous world. My end-goal to share with my readers where fashion came from and where it's going.
Right now, I'm obsessed with a book called Gypset Style, by Julia Chaplin, published by Assouline. I discovered it at an Assouline blogger cocktail party held during the last (New York Fashion Week). I interviewed Assouline's President, Robert S. Mitchell. He pointed it out to me and said it was one of their strongest sellers. Her introduction, part of "My Life in the Gypstream" says it best: "Garth and Euva, are what I have come to define as Gypsetters. They are part of an elusive set of people who influence celebrities but are consciously hidden from the tabloids and mass media. This charismatic pair truly seem to have mastered the perfect life, where pleasure, travel, and livelihood all coexist in an eclectic style."
Follow the jump to read more.
How was New York Fashion Week? Any fun stories?
I had a great NYFW and spent 3 days with one of my best friends, Mark Behnke, the menswear writer for Fashiontribes.com and managing editor of Cafleurebon.com Because of this, I focused a lot more on menswear than usual and got introduced to Chad Murawczyk, the owner and founder of MiN New York, a 5 star apothecary at 117 Crosby Street.
Funny story — my friend, Tara Shashaty, who was managing the AOL Media Pit in Lincoln Center, covered a few shows for me and had me laughing when she told me she'd accidentally shoved Brooke Shields out of the way to beat her to a cab on her way to a show. Once inside, she realized that the woman gesticulating in the street was Brooke!
Any favorite shows?
Libertine was amazing and Johnson Hartig made for a great interview. At the Academy of Art University show, I was knocked-out by Dejchat's Sriyoopum's long black dress. Unfortunately, I wasn't able to interview him, but a fellow blogger, Judi Ecochard, my former partner of lyramag.com, and I got a nice interview of Holly Smith I'll be posting.
Are you going to Miami this year?
No, although I'm a big supporter of IMG and Mercedes-Benz, I'm going to be working on my book proposals, traveling and reporting on the scene in Los Angeles — vintage, flea markets, and saving my $$ to attend Paris and/or Tokyo Fashion Weeks. I have friends in Tokyo who can help me get around and know just where to go!
After 20 years in the fashion industry, are there designers that you miss seeing on the runway?
I liked Todd Oldham for the Circus aspect he gave fashion and Isaac Mizrahi for his wacky designs. Who can ever forget "Nanuk of the North", the collection that was featured in the documentary, 'Unzipped'? Donald Deal did some of the most beautiful evening gowns I've ever seen. Just a few days ago, publicist Deborah Hughes and I were wondering what ever happened to him.
Any advice for students who want to be fashion editors and writers?
Network – all the time. Every event you attend is an opportunity. I can't think of one party, event, show I've gone to that has been "a waste of time." Don't use the "Well, I'm shy excuse." If you are, pretend that you're not, and after some time, you actually won't be.
Read – everything. If you don't feel you have the time, scan. WWD.com is a great resource, and the new layout makes it easy to browse the stories before you commit to reading one.
Listen – to everyone. Okay, maybe they ARE a "windbag," but as a writer, you need material and lots of it. That's half of the equation. The second half is editing what you've gathered. You're not going to want to keep everything you see and hear.
Don't be afraid. It's okay to express your opinions and honesty really is "the best policy." That does NOT mean that you should "trash" people. If you don't like something, contact the publicist who pitched you the item or idea and tell them about your reservations. They almost always have another product, another client that you WILL like. If they MUST have you run an article, then it is your obligation to tell them that you will speak your mind. If something is unfavorable, I contact the publicist first, to give them the option. This is a difficult phone call to make, but they appreciate your honesty and 99% of the time, it works-out.
What is next for you in 2011?
I'm attending a META conference for creatives (my first one) in early May and look forward to brainstorming with my friend, Theadora Brack, the Paris Editor of Eurocheapo.com on some fashion and beauty proposals we're cooking-up.
Do you Tweet?
@TheFashionE
P.S. In the photo, Vivan is wearing one of William Calvert's coats from the fall 2011 Callula Lillibelle Collection at Deborah Hughes' PR office in New York.
For more of On Online, click here.