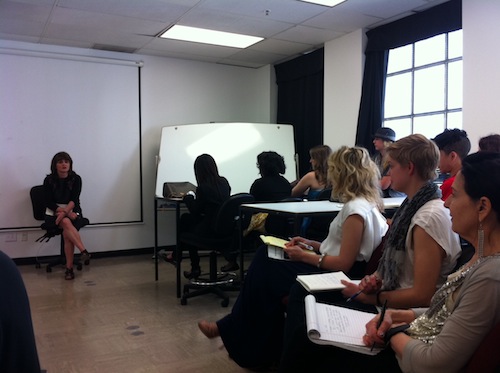 A handful of merchandising and journalism students listened intently on Wednesday as special guest, Cathy Horyn gave some insight about the world of fashion journalism. Actually, she just gave insight on the world of journalism. Fashion, although important in her career, fell by the wayside.
In the intimate hour conversation with the students, Horyn gave a brief bio of her life and her experience. After spending her first years as a journalist at The Virginia Pilot, she went on to The Washington Post and then soon wrote for Vanity Fair and, of course, the New York Times — where she has been the influential fashion critic since 1999.
Based on the symposium and the insight she gave to the class, she proved that she does have an interest and has tons of knowledge about fashion. The one thing she stressed throughout the conversation about journalism is the most obvious thing: writing.
Even though she sees the journalistic landscape changing at a rapid pace, she sees herself as a traditionalist and says that the need for good writing has remained the same. In fact she says that the industry needs "people who know how to report and write." In other words, real journalists who know the benefit of "scoop journalism."
For more information on our graduation fashion show and events, click here.