Yesterday, 601 Brannan was bustling as a tent sprouted to showcase the collections of our graduating fashion school students. In the evening show, our guests of honor which included Cathy Horyn, Nathalie Rykiel, Yigal Azrouël, Andrew Buckler, Steven Cox & Daniel Silver of Duckie Brown, Christina Neault, and Laure du Pavillon reviewed student portfolios and sat front row to view the collections of our graduating seniors. As an added bonus, International Herald Tribune fashion editor (and last year's guest of honor) Suzy Menkes made a surprise appearance and sat front row to watch the collections alongside our other guests.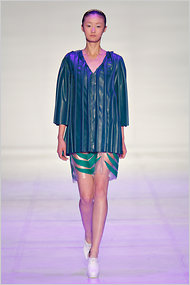 Cathy Horyn wasted no time to write up her experience at our show. This morning, she posted a piece about the collections on her New York Times blog, "On the Runway." Here's a snippet:
The Academy of Art has some standout students — among them Margaret Yoha, who managed to find symmetry in Elton John and Genghis Khan; Peter Nguyen; the prints of Darrin George; the designs of Lauren Haut; and Maggie Mo Luo, whose knitwear was selected by Nathalie Rykiel for a top prize.
To read the entire post, click here.
For more information on our graduation fashion show and events, click here.